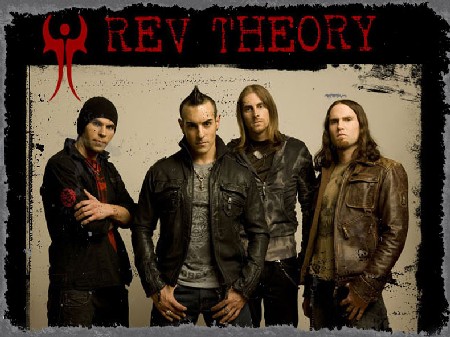 Seether & Flyleaf tour to be followed by festivals, dates with Drowning Pool and 10 Years
The road is about to become home for New York City's Rev Theory, who kicked off their first tour in support of forthcoming release "Light It Up" (Interscope/Van Howes Records) Tuesday in Denver, CO. The 12-date run alongside Seether and Flyleaf comes only a week after the band performed as part of the Wrestlemania 24 festivities in Orlando, FL, March 30, where nearly 100,000 wrestling fans descended on the Citrus Bowl for the main event of the WWE's pay-per-view calendar. The album's title track was chosen to be the Wrestlemania 24 theme song, and is featured prominently throughout the wrestling giant's "Smackdown" and "Raw" television programming.
"Light It Up" was produced by Brian Howes and Josh Abraham, and is the first joint release from Howe's Van Howes label and Interscope Records. Howes is most recently known for his work as producer and co-writer on Hinder's triple-platinum "Extreme Behavior," and also co-wrote on "American Idol" runner-up Chris Daughtry's self-titled, quadruple-platinum debut. Abraham's recent production projects include Linkin Park, Staind, Velvet Revolver and 30 Seconds To Mars.
With Rev Theory's sophomore release scheduled for a June 10 release, the WWE weren't the only ones to embrace the band. The album's lead single, "Hell Yeah," has been chosen for inclusion in EA Sports' best-selling video game "Madden '09," which will be released Aug. 12.
Following the two-week run with Seether and Flyleaf that will see the Rev Theory — Rich Luzzi, Julien Jorgensen, Dave Agoglia, Matt McCloskey and Rikky Lixx — hitting most of the West Coast, including a Los Angeles date April 18, the band will play a number of high-profile radio festivals, highlighted by KDGE Edgefest in Dallas, TX, April 27, where they will be performing alongside My Chemical Romance, 3 Doors Down, Finger 11, Filter, Puddle of Mudd and Blue October, and then the much-hyped Rock On The Range May 18, which will feature the reunion of Stone Temple Pilots, as well as performances from acts including Kid Rock, Disturbed and Staind.
Lead single "Hell Yeah" is officially released to radio today, and the band recently completed work on the track's video.   Initial tour dates follow, with more to be announced in the coming weeks…