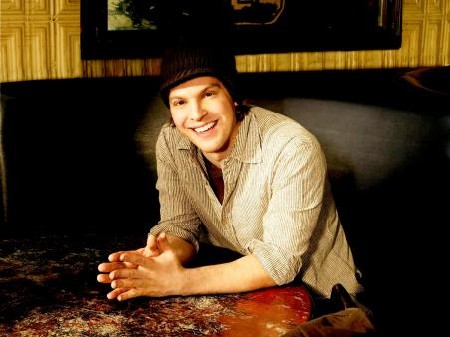 Debut Single "In Love With A Girl" Breaking at Radio
J Records platinum recording artist Gavin DeGraw will release his highly-anticipated sophomore album Gavin DeGraw on May 6th. The album is the long-awaited follow-up to his platinum debut Chariot, which featured the hit singles "I Don't Want To Be," "Chariot" and "Follow Through". Already a hit at radio, Billboard Magazine dubs his infectious first single from the album "In Love With A Girl," "A rocking home run in the same ballpark as 'I Don't Want to Be.'" The video, directed by acclaimed director Wayne Isham and featuring "Laguna Beach" beauty Kristin Cavallari, premiered on Yahoo! Music, and is currently in large rotation on VH-1. The video debuts on MTV when Gavin makes an appearance on "TRL" on April 23rd.
Gavin DeGraw – In Love With A Girl
[youtube pXTr9dLECfg nolink]
Gavin performed his hit "In Love With A Girl" on The Tonight Show with Jay Leno in March and is scheduled to perform on CBS Early Morning, Live with Regis and Kelly, The Ellen DeGeneres Show, Jimmy Kimmel Live, and Last Call with Carson Daly, the week of release.
Gavin DeGraw was produced by the famed Grammy-nominated producer Howard Benson who is known for his work with bands as varied as My Chemical Romance, Daughtry and Motörhead. The album showcases an edgy pop/rock sound evident on the first single, "In Love With A Girl." The 12 songs on Gavin DeGraw revisit the themes of love and relationships, while taking Gavin's matured songwriting in an exciting new direction.
Gavin's debut album, "Chariot", introduced the world to a vital singer, songwriter, pianist and guitarist whose abundant talent and charisma were already well known in the New York club circuit. J Records also re-released the album bundled with a live acoustic disc entitled Chariot "Stripped."A fan driven project, Chariot "Stripped" offered Gavin the opportunity to re-record his album with the raw passion he had when he first penned these songs, as well as to showcase the growth and energy of these tracks garnered from performing them live over the years.
DeGraw has performed on nearly all major national television shows and his songs have been featured in many television shows and feature films most notably his hit single, "I Don't Want to Be" as the theme song for the WB hit, "One Tree Hill." In addition, DeGraw wrote and recorded "We Belong Together" for the 2006 film "Tristan and Isolde" and has made appearances on the season premieres of NBC's "American Dreams," Showtime's "Dead Like Me," and on the WB's "What I Like About You.."