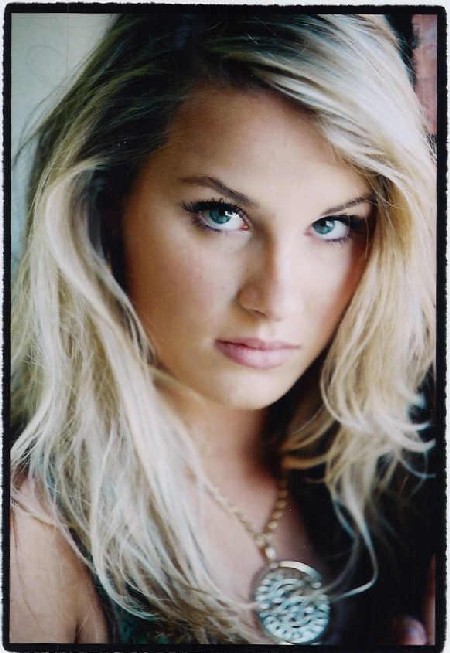 When I first saw this next musician I thought that she was a model or actress. I also thought that she was in her late twenties. They always tell you never to assume. Sara Haze has made an ass out of me. Sara is beautiful but she is also a true musician and her music is real. She is also just turning 18 and when you hear her lyrics she is wise beyond her age. Sara has a new CD out, The Ladder, and a story that needs to be told. Please allow Stoli to introduce Sara Haze!
Stoli: At the ripe age of seventeen you are still considered young. How have you been able to write such deep lyrics at such a young age?
Sara: Everything I write has come from experiences in my life. I actually just turned 18 and yes, I have been through and seen a lot already at a young age. It has all made me a stronger person.
Stoli: What happened in your life that let you know that you wanted to be a musician?
Sara: My mom was my biggest inspiration. She is an amazing singer and she was a professional vocal coach. When I was little, I wanted to be just like my mom so I would do vocal warm ups with her and she taught me everything. I've been passionate about music and singing ever since I was a little girl.
"Dust From Stars"
[youtube sAt0eGFZ1LA nolink]
Stoli: You are a very beautiful young woman. Do you think that your looks can work for or against you?
Sara: Well , first of all, thank you!   I believe that my looks can obviously work for me in this business. Appearance is important in the music industry. They can also work against me. People can just look at me and because I am young, assume that I am a bubble gum pop artist. But get me a piano and let me sing my heart out and I will prove them wrong in a few seconds.
Stoli: How long did it take to write & record your new record, The Ladder?
Sara: The Ladder has been a work in progress. It didn't take long to record it, but there are some songs that are on the album that are three years old. They have stood the test of time. It's crazy for me to look back at certain songs and think "Wow, I wrote that when I was 15?" It's very surreal.
Stoli: Have your friends & family been supportive of your musical endeavours?
Sara: I have the most supportive family and friends. My family pushed me to follow my dreams and they support me in every way they can. They know that this is what I am supposed to be doing with my life and they are so proud. My friends and family also come to every show I have. They are amazing and I am so blessed to have them in my life.
Stoli: You have a very strong buzz in Southern California. What are you doing to expand that reach to a national level?
Sara: We're working on a regional fan base right now. I start touring Northern California up into Oregon this summer. I go back and fourth to Nashville every other month to play at pop singer songwriter venues and I just got back from Toronto where I performed at Canadian Music Week . I've done concerts in Texas and Colorado and I am going to New York for my first time in June. I'll be playing some cool shows there. Currently I am in talks with a major booking agency that I am hoping to sign with this summer. Touring will increase as a result of signing with them.
Stoli: When you sit down to write a love song do you use experiences from past lovers in your real life?
Sara: I have to use past experience because it is real to me. I can always look back in my journal of lyrics and ideas and remember how I felt at any given time. I don't think my songs would mean as much as they do to people if they weren't inspired by experiences from my life.
Stoli: One of my favorite tracks is, "Addiction." What are you talking about in that song?
Sara: I wrote "Addiction" when I was in   a really bad place. I was in a relationship with an older guy who was so wrong for me, but he was my first love so I really had an obsession with him. I was addicted to his presence and the way he made me feel but I knew I had to get out of it.
Stoli: At your age most teens are heading off to college. Will you be attending school or are you pursuing music full time?
Sara: I will be pursuing music full time. I have dedicated my life to my music career and I know that this is exactly what I am supposed to be doing.
Stoli: Living in Southern California must be awesome. What is your idea of a great first date in your hometown?
Sara: I love to go down to the beach and just watch the sunset. As corny as that sounds, the moment is just perfect for me.
Stoli: What can we look forward to from Sara Haze for the rest of 2008?
Sara: This year I will be taking my fan base from regional to national. I am working with PEN Music out of Los Angeles for Television and Film placements. I have been invited to play many festivals like CMJ and POPKOMM in Europe. I am also in talks with major producers about writing and recording some new material. I have a lot going on and I am so excited to see where it all takes me this year. It will be a great 2008, and my music is now on i-Tunes!