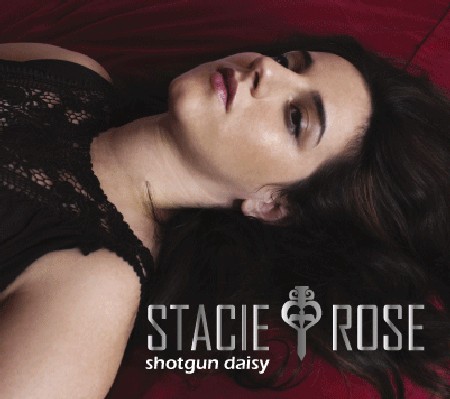 Stacie Rose holds a special place in the heart of so many of us here at Skope. As we were all working to build Skope over the years, Stacie has been busy with her career. She is an exciting musician and I will guarantee you will hear her on the Top 40 one day soon. She is truly that good. Join me as we get deep with Stacie and talk all about her new album, Shotgun Daisy, coming out 5/13!
Stoli: I have been following your career for a while now. How do you keep that fire going to work so hard at your craft?
Stacie: Let's see, fire. I am an Aries. A fiery Aries! Ask anyone. Let's just say the fire is a given for me. Working hard at my craft comes easy because I love it. I also vowed a long time ago, that If I was gonna make records and do shows where there would be busy, humans attending. I would work hard to Not Suck & be really GOOD at what I do.
Stoli: At what point did you know that you were very talented and should do music as a   career?
Stacie: I guess shortly after college. I had been writing alot in school…and playing for small groups while getting up the nerve to really perform. People started coaxing me to play and encouraging me not to stop! I really enjoyed this sort of self-expression, as it truly did come naturally.
Stoli: Where do you come up with the inspiration for your songwriting?
Stacie: Mostly my experiences with people and the things I go through internally. Sometimes it's an exterior story or scenario that affects me. The inspiration comes in waves. There is none for a while.
Then too much to handle. I find myself writing through the night, typing lyrics frantically and racing to my recorder with melodies and words.
The guitar becomes like another limb…Then the flood stops and I breathe. I have gotten used to the stop-go process and often anticipate the next rush.
Stoli: My favorite Stacie Rose song is, "Consider Me". What does that song mean to you?  
"Consider Me"
[youtube dhDHwPuGNm4 nolink]
Stacie: First off, Thank you! I guess I was tired of people being so self-absorbed. I had been caught in a web of people who could not seem to look outside of themselves to consider others. I decided I would write off those people, at least in my song. Songs often give you courage to say things that are otherwise difficult. I try to use my songs to hash out stuff and they often manifest themselves as lessons. Sometimes I learn from them. Sometimes I write another song!
Stoli: You are very beautiful as well as talented. How much does your looks matter in the music biz?
 
Stacie: That's quite a compliment. Thanks again. I am not really sure how looks factor in. I have never truly been able to gauge that. I will say this…for years I was going for the "rock chick" look. I think it felt right at the time. But as my music has evolved. I have come to realize that a more feminine, less hard, less forced look is more becoming…at least it feels more synonymous with the music I make. The world can be a very superficial place. In any case, the audio/visual experience ought to be both stimulating and related.
Stoli: Your new album, Shotgun Daisy, is coming out April 15th. What are you doing to promote and spread the word?
Stacie: We actually pushed the release date to May 15. My team at Enchanted Records operates as a fairly grass roots entity, but we are all very dedicated to spreading the music. Perhaps it's that Jersey gusto. I recently had one of the pre-released songs from the new record on Amc. This generated pre-orders and lots of fan mail. We are talking with different distributers right now and planning a record release show.
Stoli: How long and where did you record this new album?
Stacie: The record took about a year to make. I shuffled between my home in Jersey, Bass on Balls Studio in the Bronx and Defy Recordings in Chinatown, NYC. I often felt a little dizzy from the commuting. There was lots of road-rage, time spent with my iPod working out parts for songs, rushing up and down stairs, through subway stations and crowds on Canal St. to make sessions. It was a bit chaotic in general. But ultimately very inspiring working with producers Jeff Allen & and Robert L. Smith. We were a super-organized team, and tried to nurture each and every song. Casting the songs took time as well. Each person that performed on the record had a very vital role.  
Stoli: Your music has been heard on the television on such shows as THE HILLS, FX's THE RICHES, and AMC? Would you say that has helped spread the word on Stacie Rose to new fans?
Stacie: YES- For Sure. Everything helps. The press, TV placements, live shows, podcasts, radio… TV reaches so many people. I get a lot of hits on my website/myspace page and inquiries in general whenever there is a TV placement.
Stoli: The music consumer is buying more music online than at the record store. Did you set up a digital strategy for the new album as well?
Stacie: Yes. We are currently talking with new distribution companies. For starters, the record will be available on ITUNES, CDBABY, AMAZON, RHAPSODY, INDIE911, and  AWARESTORE.
Stoli: Would you say that living in New Jersey so close to NYC has helped you network your music to the power people?
Stacie: Network yes, yes, yes! POWER PEOPLE?…I don't really know who they are. I have aligned myself more with musicians and producers I respect. I guess I haven't really played the "industry game." There are a few industry people I have met along the way that have been helpful  and  insightful praising my writing/voice and have tried to steer me in the right direction. It seems the power is more in the hands of The artist these days. I have always felt that the power was mine anyway. I've pushed, and pushed to make things happen.
Stoli: What is your most proud music moment since you wrote your first song?
Stacie: Not sure that there is one single defining moment. I think it's a collection of moments like when people sing along to my songs, or tell me how they have been OD-ing on one of my tracks on their iPod. I was very proud and flattered when Shawn Mullins decided to sing on RUN OUT (a song on the new record) He is an artist I truly respect. I also went to Jamaica recently to work on a track with the Reggae/Dub/Pop/artist Garrison Hawk. That was very cool.
Stoli: Where can all the Stacie Rose fans go to buy a copy of 'Shotgun Daisy?'
Stacie: One of the Sites listed above like Amazon.com or ITUNES, or they can contact my label directly at info@enchantedrecords.com
Stoli: What can we look forward to from Stacie Rose for the rest of 2008?
Stacie: World Domination!!
www.stacierose.com
www.myspace/stacierose