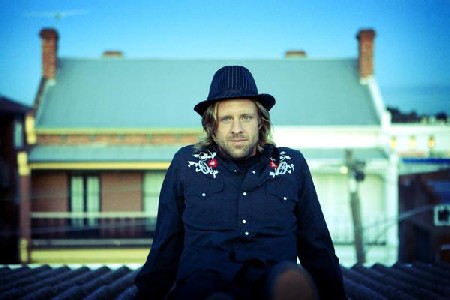 Spring EP Digital Release March 25th, Spring & Summer Physical Release May 27th
Jon Foreman, frontman for the multi-platinum band, Switchfoot, continues his solo excursion into indie-folk with Spring and Summer, the second half in a series of seasonally-themed EPs. Spring will be available at all digital music stores on March 25th, and both Spring and Summer will be available digitally and physically on May 27th.
You can download "Your Love Is Strong":
LISTEN HERE!
These releases step away from Foreman's alt-rock roots, intimately reflecting his thoughts and feelings as an American troubadour. "Because of the autobiographical nature of these songs, they became a self portrait that was far too personal for a band to release," says Foreman. "Tim, Chad and the rest of the band have been pushing me to get these types of songs out there for years. So I decided to let them go."
The first EPs in the series, Fall and Winter, available now as a two-disc set, have been hailed by critics and fans alike. Performing Songwriter praised Jon's "personal affinity for Dylan" and said "[his] weathered voice is a perfect tool for these melancholy tales." HM Magazine proclaimed him "a man for all seasons" as well as a "talented wordsmith."
With Spring and Summer, Jon leaves behind the chilly weather to step into the sun. From the first track, "March," a decidedly buoyant mood is set with female backing vocals and twinkly glockenspiel over an oompah beat. "Baptize My Mind" uses expansive instrumentation, including brass fanfare and a woodwind solo, to capture the feeling of spring's awakening. The ballad, "Your Love Is Strong," starts off with an unassuming countdown that belies the power of the song that follows. In it, Jon's voice soars above a vibrant cello and acoustic guitar accompaniment, eventually bringing the song to a crescendo of hope with a cascading chorus of voices.
These EPs are the debut releases from Switchfoot's indie imprint, lowercase people records, in conjunction with EMI Music's Credential Recordings. All four were produced by Jon Foreman with Grammy-nominated Charlie Peacock serving as the executive producer.
US Tour Dates
4/08: Indianapolis, IN @ U. of Indianapolis
4/11: Peoria, IL @ Peoria Civic Center
4/12: Kansas City, MO @ Beaumont Club
4/16: Iowa City, IA @ U. of IOWA
4/17: Poplar Bluff, MO @ Black River Coliseum
4/18: Montgomery, AL @ Troy State
4/19: Hattiesburg, MS @ Reed Green Coliseum
4/20: Huntsville, AL @ Spraggins Hall
4/25: Ft. Myers, FL @ Germain Arena
4/26: West Palm Beach, FL @ Sound Advice
4/27: Charlottesville, VA @ Charlottesville Pavilion
5/01: Ocean City, NJ @ Ocean City Music Pier
5/02: Stamford, CT @ Palace Theatre
5/03: Piscataway, NJ @ Rutgers University
5/04: Rochester, NY @ Robert's Wesleyan
5/10: Santa Clara, CA @ Paramounts Great America