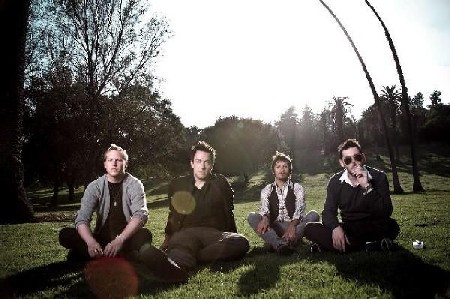 Embrace The Curse out June 24, 2008 on Glassnote Records
The Orange County quartet I HATE KATE have announced they will be releasing their Glassnote Records debut, aptly titled Embrace The Curse, on June 24th.
The twelve rock gems on Embrace The Curse were recorded with veteran producer Linus of Hollywood and platinum producer Mark Trombino (Jimmy Eat World, Blink 182, Sugarcult), and reflect singer/guitarist Justin Mauriello's life lessons and personal mantras.
Mauriello began penning tunes for a side project and creative outlet in 2004, and when he parted ways with his previous band, Zebrahead, I Hate Kate was fully realized. The band name reflects his dislike for a friend's then-girlfriend (named Kate), with Mauriello admitting "she was the most evil, vile and soulless woman I ever met in my life." The name began as an inside joke, but as the band began to build momentum, it stuck.
Since forming, Mauriello and band mates Jeremy Berghorst (guitar) and Scott Hayden (bass) have shared the stage with My Chemical Romance, Saosin, Unwritten Law, The Bravery, Plain White T's, Shiny Toy Guns and Social Distortion, to name a few. Mauriello's existing fanbase has also allowed I Hate Kate to tour overseas, headlining shows in Japan.
Embrace The Curse is full of upbeat rock songs, including a cover of Peter Schilling's "Major Tom," but it is also full of personal reflections that are very relatable.
"A lot of these songs reflect what I was going through at that time in my life. Murphy's Law is so real in my life; if something can go wrong, it will. This album is me accepting that curse," says Mauriello.
Expect to embrace the curse this summer, as I Hate Kate tour plans will be announced shortly.