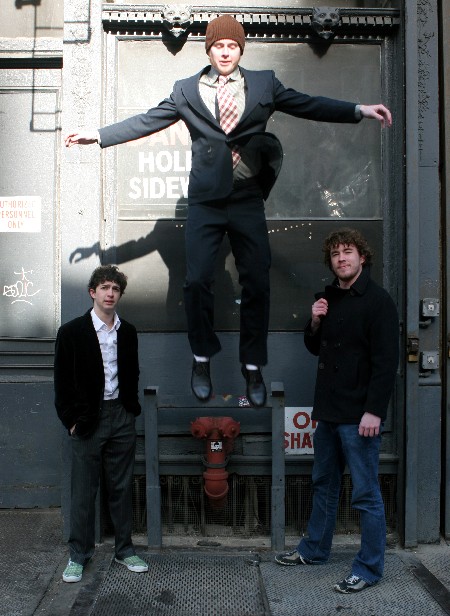 Photo By: Janette Beckman
Skope would love to offer 3 free downloads from The Frontier Brothers upcoming album for exclusive use for your site. The album is called Space Punk Starlet. This will be for a release in September of 2008. They recorded at Wire Recording in Austin, Texas with Stuart Sullivan.
"Everyones A Neutron Bomb"
LISTEN HERE!
"Space Punk Starlet"
LISTEN HERE!
"Take It For Love"
LISTEN HERE!
The Frontier Brothers come in peace. Beings from somewhere beyond in outer space, they've entered the realm of our solar system to brighten our musical soundscape. Proofs that garage rock knows no celestial boundaries, the three lads bear guitars for the good of all humankind, to free us from the constraints of the three-chord hook. With their keen extra-melody perception, The Frontier Brothers have crafted an aural manifesto foretelling our future: "Solar Power Struggle!" Disseminated exclusively via Final Frontier Records, SPS! is a generous display of goodwill as we all strive toward tolerance and inter-SOLAR-tary harmony.
From the initial pulsating beat looping beneath "Jump Blues", The Frontier Brothers signal for our attention with a form of Morse code. Then lead singer Marshall Galactic's voice bellows in with a rebel rousing yell befitting of our time. Suddenly we are at attention and transfixed by the jangley rock and psychedelic guitar-strumming streaming through the five-track EP. By the time T.E.S.S. "TechnicalElectronicSupersonicRobot" arrives we are fully enraptured in an intergalactic dance party.
Born in space, razed in Fort Worth, and now regenerating in Austin, The Frontier Brothers have only just arrived, yet early notices are truly something for the E.T.s to phone home about. "The Frontier Brothers cover the wicked terrain between The Beach Boys and The Kinks with just a touch of mad Syd Barrett," says Vivien Goldman (BBC America). While the Fort Worth Weekly declares, "(The Frontier Brothers) have a love for the pure pleasures of music-making." Individually known as Marshall Galactic, Brett Moses, and Travis Newman, TFB craft a new breed of danceable indie-pop inspired by artists ranging from David Bowie and ELO to Wilco and Arcade Fire. However you describe them, The Frontier Brothers are simply out of this world. The trio is currently on tour recruiting more terrestrial visionaries for their intergalactic exchange program.
www.myspace.com/thefrontierbrothers
www.thefrontierbrothers.com