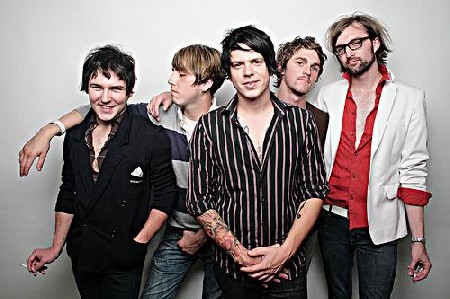 Spring Tour with Tally Hall & Summer Tour with Nada Surf
 
The Republic Tigers will be releasing their debut album, Keep Color on May 6th. The Kansas City-based quintet — Kenn Jankowski (vocals, keyboards and guitar), Adam McGill (guitar, vocals), Ryan Pinkston (guitar, keys, vocals, auxiliary percussion), Marc Pepperman (bass, keys, accordion) and Justin Tricomi (drums) – have quickly become ones to watch. They will perform on KCRW's Morning Becomes Eclectic on May 12th and the station has already made Keep Color's lead track, "Buildings & Mountains" a Top Tune on KCRW.com. The band will be releasing a video for "Buildings & Mountains" directed by Brian Savelson (Band of Horses) soon.
The first signing to Chop Shop Records, the new imprint on Atlantic Records owned by Alexandra Patsavas of Chop Shop Music Supervision (Grey's Anatomy, Gossip Girl, Mad Men), The Republic Tigers will also perform at an exclusive live music showcase, Breaking the Band sponsored by Target and curated by Patsavas as part of the Tribeca Film Festival on Friday, May 2 at Webster Hall.   The line up will also feature The Hold Steady and The Virgins.
Keep Color is a bold and beautiful collection of intimate tracks that uniquely weave future folk, euphoric psychedelia, and exuberant symphonic pop with intricately crafted electronic textures. Urb Magazine picked them as one of their Next 100 saying they "combine(s) genuinely delightful acoustics with the bloopity-bops that are always in demand" and Pitch Weekly recently featured them on the cover, saying "people need to hear this album, get drunk to it and pull it out years from now when they want something reliable."
They are currently on tour with Tally Hall for the first half of April and will be on the road with Nada Surf in June (see dates below).
Apr 8 2008             Jack Rabbit Slim's                     Albany, New York
Apr 9 2008             Kirkland Arts Center               Clinton, New York
Apr 10 2008         Iron Horse                                                 Northampton, Massachusetts
Apr 11 2008         Toquet Hall                                             Westport, Connecticut
Apr 13 2008         Great Scott                                               Boston, Massachusetts
Apr 14 2008         Southpaw                                                   Brooklyn, New York
Apr 15 2008         Bowery Ballroom                         New York, New York
Apr 17 2008         DC9                                                                     Washington DC
*** All dates above with Tally Hall
June 1 2008         The Social                                               Orlando, Florida
June 2 2008         Studio A                                                       Miami, Florida
June 3 2008         State Theatre                                     St. Petersburg, Florida
June 5 2008         Mercy Lounge                                   Nashville, Tennessee
June 7 2008         Bluebird                                                       St. Louis, Missouri
June 9 2008         The Music Mill                                 Indianapolis, Indiana
June 10 2008     The Basement                               Columbus, Ohio
June 11 2008     Beachland Ballroom           Cleveland, Ohio
*** All dates above with Nada Surf