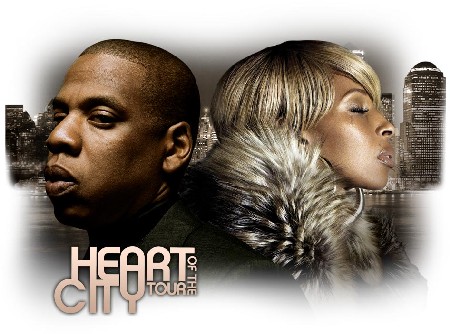 By: Mikey Frieds aka Stoli Razz
When I woke up on Thursday morning at 6 am I had knots in my stomach. I was so excited because the big concert had finally arrived. It was 4/3/08 and Jay-Z & Mary J Blige were coming to Boston, MA to play the Garden!
To be honest I began feigning for these tix the minute I got the first press release about the tour in the summer of 2007. There are certain shows that as an urban music enthusiast I just cannot miss. My good friend, Tresa Sanders, over at Geffen hooked me up with two floor seats. Tresa is one of the classiest & most respected figures in the music biz. Tresa has dealt with so many hot artists from Mary J, Keisha Cole, D-12, Akon, and beyond. Tresa has been down with Skope since 2002 and we appreciate that relationship to the fullest.
David Letterman – Jay-Z & Mary J Blige (4/4/08)
[youtube hnNe10PrrzM nolink]
I started my night at my homie's place in the North End in Boston. We were going to chill out and get our party on before heading to the Garden. Around 8 pm we decided to head up Causeway Street to the TD Banknorth Garden.
The Garden was bumping on the inside & out. People were all over the place and you could tell they were there to see Jay-Z & Mary J. One thing that struck me was the diversity of the crowd. You could see all sorts of people from preppy suburban kids to the thugs from the hood. It made you realize Jay-Z is so succesful because his music is for everybody.
The plan was to hit the restroom and then grab a beer before heading to the seats. While waiting for my girl to get out the restroom you could hear, "Can't Knock The Hustle" coming from inside the Garden. I said forget the beer and we got seated.
Mary J & Jay-Z kicked off the show with such energy that the whole place was on their feet. I did not sit once the whole concert. I was planning on writing down Mary J's set list but I was too busy dancing. She had songs from the past like, "Be Happy" & "Real Love" to her new hits "No More Drama" & "Be Without You".
"Just Fine"
[youtube jKMG4l7rQF4 nolink]
Mary J was on for over an hour. I have never seen Mary J live before but I was blown away. Her energy is non-stop. Also her voice is just as amazing live as on record. Mary J has no need to lip synch and that is a testament to her talent. As Mary was performing I was looking at the crowd. I noticed how brilliant this tour was. There is no better date night than taking your lover to see Mary J & Jay Z! Mary J closed her set with "Just Fine" and she walked off stage to a standing ovation!
Before I go into Jay-Z's set there was alot of background going on leading up to this night. First off was that Jay-Z just signed a $150 million deal with Live Nation. The second is that Jay-Z was going to marry Beyonce in NYC the next night on 4/4. All of that news was perfect to put Jay-Z in the right mood to perform.
Jay-Z's set was incredible in all aspects. His set list comprised of the old tracks from 'Reasonable Doubt' to the new tracks from, 'American Gangster.' The crowd was electric the whole show. At one point Jay-Z put a picture of GW Bush for the crowd to curse & boo. He then let the crowd know that it was time for a change and put up a picture of Barack Obama.
Towards the end of the show Jay-Z played deejay. He began playing the intros to about 15 of his hit songs over the years. That made everyone in the crowd recognize just how many hits he has compiled over the years. Watching Jay-Z perform is like watching a legend in his prime. I have seen Jay-Z perform 3 times and this was the best show yet!
Overall the 'Heart Of The City Tour' was amazing. It had something for the ladies & the fellas. Mary J and Jay-Z gave the fans their monies worth. If you love music and love hip hop this tour is a can't miss!