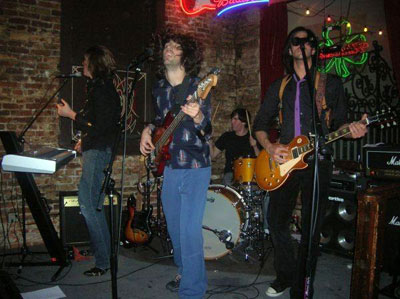 The Biography: The label 'original' in the world of rock and roll has become something of a misnomer in the last 10 to 15 years. The seemingly daunting task of creating a new sound has given rise to the mass production of typical 3 chord songs with nasally driven vocals. Yet within the incessant musical waves of the 'same', some bands have and do embrace the unique musicianship that each member brings and in turn, foster a distinctive sound. It is within this vision that NeoRelic aspires to create its music and in turn be self-defining.
NeoRelic's story began several years ago when David Wells (vocals, keys, guitar, and harmonica) and Brandon Davar (vocals and lead guitar) became friends and artistic collaborators at Mission Viejo High School in Orange County. Besides sharing a love of theater and a quirky sense of humor, these two friends quickly learned of each other's deep-rooted passion for music, ranging from classical to blues and classic rock. David and Brandon especially cultivated an appreciation for such 70's rock bands as Queen, Led Zeppelin, and Styx.
In the winter of 2001, Brandon and David started performing at local high schools and coffee shops as a duo, and then as a four-piece under the name NeoRelic. Soon thereafter, NeoRelic started playing such venues as the Coach House in Orange County and the Roxy in Hollywood. In the fall of 2006, Brandon and David parted ways with their rhythm section in the hopes of finding members that shared their musical aspirations and vision.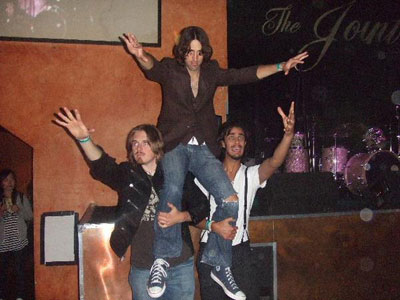 Throughout the endless process of scouring the internet and auditioning for "the" right band (Hanson included), Harry Ostrem stumbled upon a NeoRelic add. Hailing from Montana, Harry was relieved to finally play bass and sing for a band that desires a rich harmony based sound and musically layered songs with thought provoking lyrics. These were the qualities that intrigued Wisconsin native Zak St. John when he auditioned with the band in February of 2007. While playing drums and percussion for various artists throughout LA, Zak has become steadily devoted to NeoRelic and brings his varied musical and business skills to the band. In August 2007 they released their first CD, NeoRelic.
Currently, NeoRelic is awing audiences with its musically challenging yet radio friendly songs, pristine harmonies and larger than life stage show throughout Los Angeles and Southern California. At the Emergenza Music Festival on Feb. 2008, NeoRelic won runner up in the competition.
I asked band what this competition was about, they said, "The Emergenza competition is actually an international battle of the bands in which bands participate in three to four preliminary rounds throughout various cities in the world. One winner from each city goes to Germany and competes in the finals in front of 20,000 people. Currently, we have won first place in two LA based rounds and are playing in the third round on April 18th. So hopefully we'll keep winning and won't be runner up!"
SKOPE: Are there any plans for a new CD?
"We would like to record more songs and make a full length album, but finances are a little tight at this point. The band will probably enter the studio in the summer months to record a few of our most current and radio friendly songs. At this point we have 16-20 songs ready to record; and since we have three songwriters in the band, there is tons of material to work with. We all believe and feel that our best work is yet to come."
SKOPE: What do you want people to get from your music?
"NeoRelic aspires to be multi-layered, so that different types of people can gravitate towards the band. Musicians are going to get excited about guitar solos and matched rhythms by the drums and bass; whereas other people might be drawn in by the band's harmonies, lyrics, or live shows. Most importantly, we want to sustain a fan's interest, and this can best be achieved by having variety and depth."
"NeoRelic's defining factor is diversity. The band has more than one singer; everybody in the band writes; we all have varying influences and personalities. By celebrating diversity, NeoRelic stays true to the goal of being open to all possibilities.
SKOPE: What do you want to be doing 5 years from now?
"The only way to achieve success is to fully believe that you will. Right now, every member of NeoRelic is working tirelessly in multiple areas to be recognized nationally and internationally. Five years from now, we hope to be enjoying some success, while continuing to progress artistically and musically."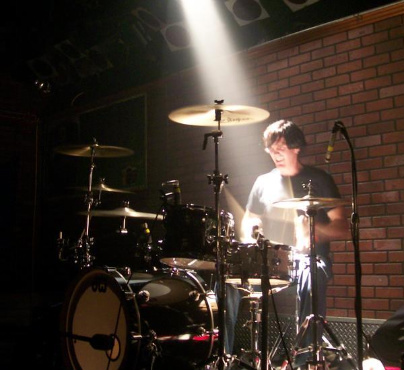 Zak St. John on drums