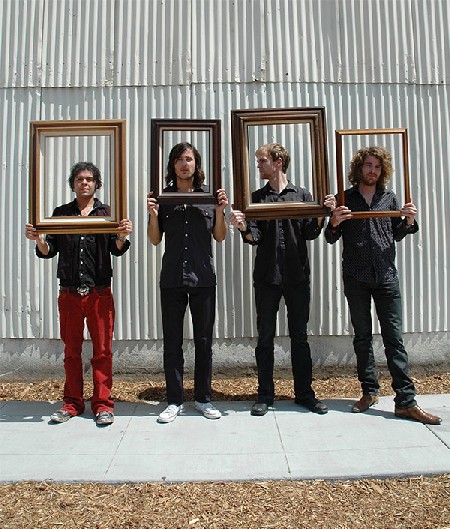 Having played together in various incarnations for years, David, Tony, Phil, and Kurt of Voxhaul Broadcast always considered themselves more of a live band than a studio one.   So on a sunny summer afternoon last year, they blazed out 8 tracks of raw enthusiasm in one day and conceived their debut EP Rotten Apples, out April 29, 2008 on Retone Records/Fontana.
Harnessing a sound that reflects a range of influences from James Brown and Al Green to The Beatles and Donovan, David Dennis (guitar, vocals), Anthony Aguiar (guitar, organ, backing vocals), Phillip Munsey II (bass) & Kurt Allen (drums) combine danceable beats, falsetto soul, a dash of southern-rock swagger and a tightly wound groove to form their own configuration of modern indie-rock.
Recorded live by Dwayne Larring, mixed by David Larring and mastered by Mark Chalecki (Sublime/Brian Jonestown Massacre) at Capitol Mastering, Rotten Apples (the title at least) is both a frustrated commentary on the current state of the music business and a boastful nonchalance citing that the band is hardly worried.
The Luke Guidici directed video for "Rotten Apples," the band's first single, is dubbed a 'surreal journey in the old west' and features Dennis roaming the dusty outback on a coin operated horse.  
"I was on that coin horse for like 5 hours," bemoans Dennis.   "That thing was violent… My ass hurt so bad!"
The video also features some heavy stunt work by the band in the shape of elaborate falls and stunt drops, some of which led to minor shoulder injuries.
"Next video we're going to have stunt doubles… but they're going to be dogs," offers the band.
Check out the video for "Rotten Apples"at:
[myspace 26126789 nolink]
(No coin operated equines or canines were harmed in the making of this video)
Less than a year old, Voxhaul Broadcast have already showcased at CMJ, played Sundance in January, performed at the Noise Pop fest in SF in February and will be appearing at Milwaukee's Summerfest this summer.   The band also made their SXSW debut this year with 4 captivating performances and UK dates are scheduled for later this year.
Voxhaul Broadcast's debut EP Rotten Apples is available on Itunes and will be released on April 29, 2008 by Retone Records / Fontana.
For more information, check out http://www.myspace.com/voxhaulbroadcast