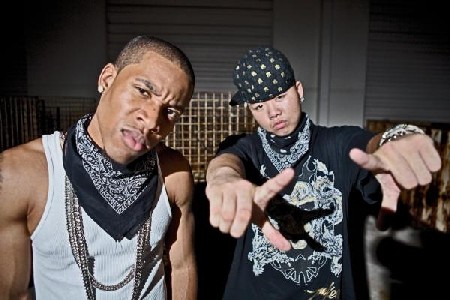 It is very rare that my sweet Jewish mother gives Stoli the hook up on upcoming hip hop groups that are making major noise.   Well that is exactly what happened when I was in FL for vacation last week. As a family we all jumped on MySpace to check out D League after her friend at work gave her the 411. When I saw these two I knew it was on. Two emcees from Ft Lauderdale, Demo & Uncut who are making major moves locally but I see national recognition coming soon. These two got a strong movement brewing and the music is fire, real talk. I got to hang with the boys and see what's really hood with D League. Props to ma dukes for the hook up!
D League is: Demo & Uncut
Stoli: The way you two flow together is crazy but you met playing ball. How did you both realize to take it off the court and into the studio?
 
Demo: Well Uncut was really the rapper first. Uncut and our peoples would always just mess around with the music thing so I was just chilling one day and one of my boys had writers block and I liked the beat so I started writing and after that a star was born, (Laugh).
 
Stoli: I was down in Lauderhill recently and that is when I was introduced to D League. How did you create such a strong buzz all over Florida especially Ft Lauderdale?
 
Demo: We do what we love so we are always in the street promoting ourselves wanting people to listen to our music and myspace helped a lot so just being digital and in the streets helped create our buzz.
[youtube UL_19K35Xyk nolink]  
Stoli: Florida is hot right now with Rick Ross, Khaled, Pitbull, Trick Daddy, Plies, Flo Rida and many more. Where do you see you two fitting into that movement?

Uncut: That's the 305 movement right there showing unity and getting cake together. Of course we gotta get our hands on that piece of the pie too when the time comes, but we have our own movement to build and lead. Our features will also be broader then the usual features we are seeing now.  
Stoli: When you two come together to write songs is it equal input from both or does each member play their own position?

Every song that we have together the song is done 50/50 we would both make a chorus to see which one we like best and then we would rap each other our verses and if one person didn't like the others then we would switch it up or say what the other person should put there. Teamwork, work hard.  
Stoli: As of now you are not on a major label but you promote like you are. How are you able to earn a living & still get your music heard on the level that you do?

Uncut: Basically music is plan A, B, and C, so we treat it like that. Personally, I'm real business also so we make the connections we need and get the job done. Shout out to all our sponsors and Urban Relations Marketing Group.  
Stoli: If you could choose two tracks that you feel best represents D League what would they be & why?

Demo: I don't think there are just 2 songs that can sum up what D LEAGUE is. We are so versatile that every song that we do is D LEAGUE because what ever mood that we are in or however that beat makes us feel that's what type of song we are doing in that moment and time and that's what makes  D League CURRENT.  
Uncut: He just about summed it up, (Laugh).  
Stoli: Do you feel that hip-hop is in a good place right now or could some new stars raise the level?

Uncut: I feel as if hip hop is going through it's cycle and right now we are on ring tone music, but that doesn't mean it's in a bad place. I think we need music like this so it will wake up the real artists to make music BOTH for the digital world and to sell records. D League caters to both and that's just another reason we stand out from the rest.  
Demo: I love hip hop overall no matter what the status is but there can always be something new to the table that can change hip hop as a whole and I think that  D League can do it.  
Stoli: Music consumers are turning to downloads more often than buying CD's, does that frustrate you as an artist & do you have a digital strategy?

Uncut: Like I said, we're businessmen and I treat this like a business. It would be uncivilized not to have a digital strategy, (Laugh), feel me? I actually think we are going to be ahead of the competition once we kick off and make ourselves more relevant than any new hip hop artists or group.  
Stoli: Being in the music industry has it's ups & downs. How do you two stay grounded and unified to keep pursuing your passion?

Demo: Well like you said it's our passion, we love this. Music can take people places they haven't been before emotionally and I believe our music can take a person out of its element and show them a different side to life. For me and Uncut, we are just who we are. We don't let any one mess up a good thing and we don't mind the haters. We'll just be us and have fun, and do what we love and that's music.  
Stoli: Now that your movement is growing major, would you say that the women want to holla at you more now?

Demo: (Laugh) Well yeah that's like everyone else. When woman see that you're doing your thing of course they wanna hop on the bandwagon and hey i'm not mad at em (Laugh). I'd hop on too if I see what  D Leagues doing, (LAUGH).  
Uncut: Also I think that we are just in the spotlight more so we kinda stick out from the rest since they have already heard of us. Our music also gives us a head start because the ladies can visualize and get a picture of what they could expect. Ladies check out "I'm a freak" and "u & me".    
Stoli: When you set up to write lyrics, how much of your real life do you express in your rhymes?

Demo: 100 percent because I write music on how I'm feeling in that moment in time. If I just made a lot of money I'm gonna talk about that if I just seen a fine ass girl I'm gonna talk about that or if I have family problems believe I will talk about that because when you talk about experiences and what life has brought to you don't even have to think it just goes on the paper  
Uncut: And just to add to that, the reason we do speak on real life matters is so people can actually relate whether it's good times like clubbing or getting bread to the bad times where you stressed and just wanna scream "F%$ a 9 to 5!" We're real people so we make real people music.  
Stoli: A lot of groups & duos often end up going solo. Have outsiders tried to break you two up and how do you keep it tight with each other?

Demo: Of course people talk shit here and there about us going solo but I don't think I can ever leave my brother we might maybe in the future drop solo cds but it will still be D LEAGUE as a whole. If it wasn't for Uncut I wouldn't be doing what I love now and to turn my back on him I can't. We were best friends before music and will be after  
Uncut: Basically… this my brother right here. We performed at my cousin's wedding; he's there at family events. We even tell the ladies he's Vietnamese/Jamaican when joking around. We got our headstrong and will be a good example for hip-hop groups like Outkast is and UGK was. R.I.P. Pimp C.    
Stoli: Your track "Lauderdale" is bangin' for real! What does being from Ft Lauderdale mean to you & could you ever see yourself moving to another city?

Uncut: Thank you. I appreciate it. Broward County as a whole needs a stronger support system and this was our first notion to do so and give back to where we from. I can't see us moving permanently, but we can be sure this won't be our only location.  
Stoli: What can we look forward to from D League for the rest of 2008?

Demo: I just want ya'll to look out for the new BACK 2 Business Mixtape coming out real soon and I don't wanna give out any surprises just yet but all I gotta say is 08 is great and 09 is mine…  
Uncut: Gotta do the promoting thing…
www.dleaguemusik.com
, the best site you will see hands down. We won 3 awards for that joint. And, of course the
www.myspace.com/dleague
. Skope Magazine you're now affiliated with the best. Back 2 Business!
Stoli: Thank you fellas, you two are some  real  artists and I am excited to watch D League keep building!