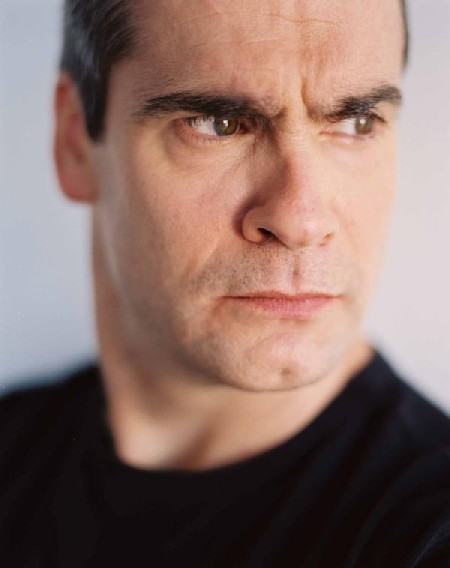 Fresh off the second leg of his 120-date PROVOKED world tour, HENRY ROLLINS returns with a CD from the tour, released April 1 on HENRY's own 2.13.61 label. PROVOKED…QUINTESSENTIALLY AMERICAN OPINIONATED EDITORIALIZING AND STORYTELLING features more than an hour of material culled from shows on both sides of the Atlantic — along with a bonus DVD of HENRY's 1999 Comedy Central special LIVE AND RIPPED FROM LONDON (previously unavailable on DVD).
The two disc set is available at all Best Buy stores, www.BestBuy.com, www.21361.com, and digitally via the Best Buy/Rhapsody Music Store.
Flowing seamlessly from light-hearted ruminations on the Van Halen reunion tour to hard-hitting criticism of President Bush, HENRY finds cultural meaning in the absurd and the absurdity in serious situations as he fills both broad observations and personal anecdotes with a blend of humor and outrage. Among HENRY's other targets — some timely, some timeless — are kids, gay marriage, and Sen. Larry Craig.
"Rollins' spoken-word shows have become a lengthy but exhilarating forum," wrote syndicated columnist Alan Sculley of the PROVOKED tour.
"Not many people can hold a crowd of hundreds transfixed for three hours using only a microphone, but Renaissance Man Henry Rollins is one of them," adds the Reno-Gazette Journal. "Rollins' talks are so fluid, it's hard to tell how much is planned how much is off the cuff."
Meanwhile, HENRY will be hitting the road again this fall with a new show focused on the upcoming election. Also this election season, IFC will be airing several new HENRY ROLLINS specials. Currently, both IFC and Fuse are airing re-runs of Season 2 of The Henry Rollins Show.