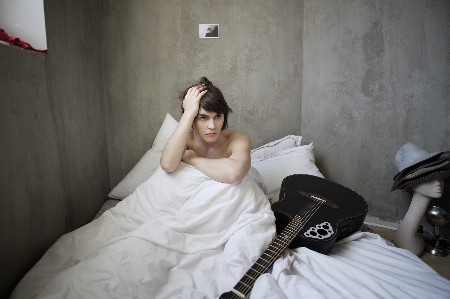 Kaki King Gets Mobile with Mobiles! Enter Mobile-Photo Contest To Win Secret Prize!
WHAT?
The always-innovative Kaki King has worked hard to release her most impressive album yet, Dreaming Of Revenge, on March 11, 2008! She is now challenging you to show how artistic you can be with her Mobile Photography contest! Read below for more information and instructions on how to enter and win her secret prize!
HOW?
In the packaging of Kaki King's album, Dreaming Of Revenge, there are several cut outs, representative of the "four elements", which can be assembled into a mobile, similar to the one above her on the album cover. Once assembled, fans can e-mail photos of themselves with the mobile, the mobile hanging in a cool place, etc. to: mobile@kakiking.com
Get as creative as you can!
WHERE?
Think you can be more inventive than your favorite celebrities?
Click here to see photo entries made by fans and celebs including, Dave Grohl, Robin Williams, Dave Eggers, Amy Tan and Matt Groening!
VIEW HERE!
WHEN?
NOW!