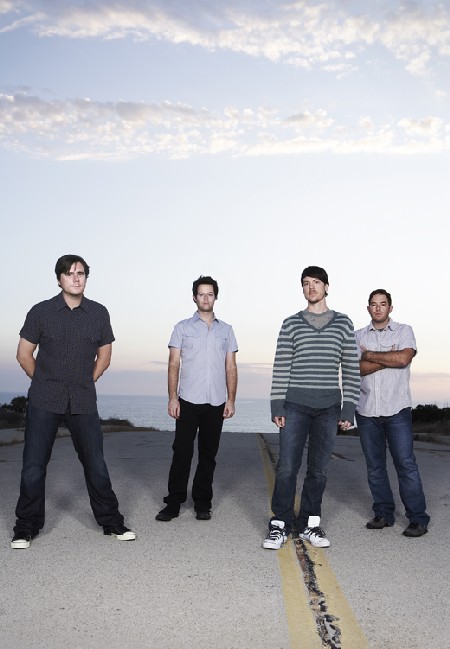 Photo: Jason Odell
2-Disc Edition Features Rare Import Tracks, B-Sides, Previously Unreleased Live And Demo Tracks, Newly Recorded "Your House 2007"
For every artist paralyzed with fear and frustration as to how to "make it" in today's terrifying marketplace, the story behind Jimmy Eat World's Bleed American provides both inspiration and a lesson in Perseverance 101.
Circa August 1999, things couldn't look much more dire for the Mesa AZ foursome. Jim Adkins, Rick Burch, Zach Lind and Tom Linton had seen their two major label full lengths, Static Prevails and Clarity, ignored by mainstream media, radio and their label Capitol Records, who had just unceremoniously dropped them.
However, this same turn of events that has broken the will–and the bank–of many a lesser artist found Jimmy Eat World celebrating its newfound independence with a self-promoted five-week tour of Europe. That their label had never released Jimmy Eat World material overseas was hardly an obstacle: The band began buying its own records from the label's distributor and shipping them to Europe independently. Within a year, Jimmy Eat World was playing Europe's biggest festivals as Clarity hit the German charts, self-releasing and independently releasing compilations and EPs, doing Japanese licensing deals, and touring touring touring… ultimately channeling everything back into the recording of Bleed American.
Having recorded it on their own dime as a dedication to the fans that had kept them alive during the lean times, the members of Jimmy Eat World couldn't possibly have predicted that Bleed American would become a platinum-plus, MTV VMA-nominated bona fide career breakthrough smash. Released in July 2001, in a world with no iTunes store, no MySpace, no Facebook, and charts still utterly dominated by the Britneys, N Syncs and Limp Bizkits, four down to earth guys from Arizona who'd just been dropped by a major label improbably rode this self-funded album to platinum status, their biggest tours to date and an appearance on Saturday Night Live.
For anyone looking to do the same, the path is simple: Just create songs as heartfelt, tuneful and instantly indelible as Bleed American's title track, "The Middle," "Sweetness,"   "A Praise Chorus" or "The Authority Song," all of which remain staples of the band's live set to this day. And for those who crave something other than the perfect upbeat and optimistic pop anthem, the minor key whisper-to-a-scream "Get It Faster," the five and a half minute "Cautioners" and the somber "My Sundown" all stand as proof of Jimmy Eat World's daring and depth.
This 2-disc deluxe edition of Bleed American not only restores the record's original title-the band re-titled the record Jimmy Eat World following the events of 9/11 and the subsequent deployment of U.S. troops to the Middle East-but also provides further documentation of Jimmy Eat World's powerful and prolific output circa 2001-2002: Obscure fan favorites "No Sensitivity," "Softer" and "(Splash) Turn Twist," the collectors item holiday single "Last Christmas"/"Firestarter," the band's cover of Guided By Voices' "Game of Pricks," and the piece de resistance, the never before heard "Your House 2007." The stunning reimagining of the Bleed American track the band debuted on its 2007 stripped down semi-acoustic tour elicited an unexpectedly intense response from fans at the shows and later on message boards, moving the band to commit the arrangement to tape to honor its fans if nothing else…
The 2-disc Bleed American deluxe collects all this and more for the first time in one place, creating an essential and comprehensive document for any fan of Jimmy Eat World-or any fan of what USA TODAY called "euphoric, uplifting, reassuring rock."
DISC ONE: THE ORIGINAL ALBUM
1 BLEED AMERICAN
2 A PRAISE CHORUS
3 THE MIDDLE
4 YOUR HOUSE
5 SWEETNESS
6 HEAR YOU ME
7 IF YOU DON'T, DON'T
8 GET IT FASTER
9 CAUTIONERS
10 THE AUTHORITY SONG
11 MY SUNDOWN
BONUS TRACKS
12 THE MOST BEAUTIFUL THINGS
from the Good To Go EP
13 NO SENSITIVITY
from the German "The Middle" single
14 (SPLASH) TURN TWIST
from The Middle (And More) EP
DISC TWO: B-SIDES AND BONUS TRACKS
1 CAUTIONERS early version
from the Good To Go EP
2 FIRESTARTER
b-side of the "Last Christmas" single
3 GET IT FASTER sessions @ aol version
previously unreleased
4 BLEED AMERICAN live
from The Middle/A Praise Chorus Tour EP
5 A PRAISE CHORUS live
from the Good To Go EP
6 SOFTER live
from the Good To Go EP
7 THE MIDDLE acoustic
from The Middle/A Praise Chorus Tour EP
8 IF YOU DON'T, DON'T XFM session
from the UK "The Middle" single
9 GAME OF PRICKS Radio 1 session
from the UK "The Middle" single
10 THE AUTHORITY SONG demo
from the German "Bleed American" single
11 MY SUNDOWN inner ear recording
from Believe In What You Want
12 SWEETNESS live
previously unreleased
13 LAST CHRISTMAS
limited edition single
14 MY SUNDOWN demo
from the German "Bleed American" single
15 SPANGLE
from the Good To Go EP
16 HEAR YOU ME inner ear recording
from Believe In What You Want
17 THE MIDDLE early demo
from the German "The Middle" single
18 YOUR HOUSE 2007
previously unreleased