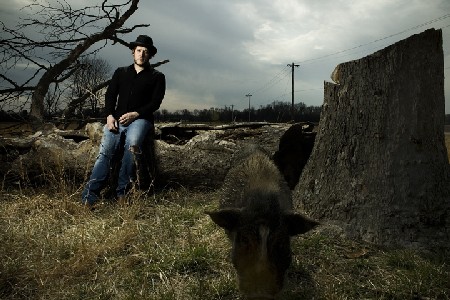 Photo By: Bo Streeter  
The Tennesee-based singer and songwriter, James Jackson Toth, will release his debut solo album, Waiting In Vain, on Rykodisc on July 29, 2008.
On Waiting In Vain, Toth's scenarios are intriguingly tawdry, his sounds tantalizing, with beautifully layered, almost-dreamlike harmonies; touches of blues, country and soul; the occasional flash of punk swagger; and even some sweet Fleetwood Mac-inspired pop. With his evocative, world-weary drawl of a voice, Toth assumes the role of storyteller, maybe even confessor, spinning inter-linked tales of hope and misfortune, romantic trials and spiritual yearning with an underlying theme of "temptation and redemption, and the varying ways you can view these things" throughout.
Toth's approach to recording Waiting In Vain was "to plug in and see what happens, but I certainly had a lot of preconceived ideas, some of which were a reach and some that weren't. My favorite period of music is rock and roll right before disco, when those elements just started sneaking in. I'm obsessed with mid-period Rolling Stones and Neil Young, Royal Trux, stuff like that. I wanted the album to have a mid-seventies-like feel, prosperity be damned!"
Waiting In Vain is the first album that Toth, long a cult figure among underground rock followers, has chosen to release as a solo artist, and it marks a new beginning for him. For several years, he and wife Jexie experimented with a folk-psychedelic rock hybrid, releasing music under many pseudonyms including variations of the name Wooden Wand. For his last Wooden Wand release, James and the Quiet (2007), Toth stated that he was deliberately trying to make an "un-weird" album, and he set aside the psychedelic ramblings for more concise song-forms leaning toward the sound he's realized on Waiting In Vain.
Despite his solo billing on Waiting In Vain, Toth, who plays some electric guitar, is joined by a small circle of musician friends, most of them San Francisco-based, including guitarists John Dietrich (Deerhoof), Nels Cline (Wilco) and Andy Cabic (Vetiver); alt-country multi-instrumentalist Carla Bozulich (Geraldine Fibbers); bassist Shayde Sartin (Giant Sunflower Band); drummer Otto Hauser (Vetiver/Devendra Banhart) and Pacific Northwest indie-rock figure Steve Fisk (Screaming Trees, Nirvana) as producer.
Nothing Hides MP3:
LISTEN HERE!