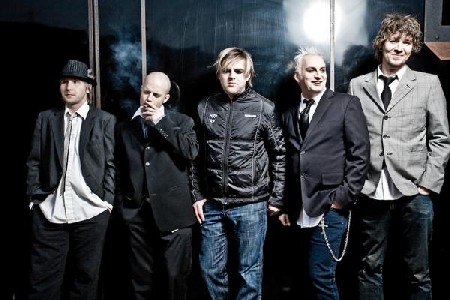 Photos By: Chuck Arlund
A band comes along every so often that I automatically dig. I was introduced to this band, November, through Sonicbids.com and I have not turned back. These guys reside in Nashville, TN but their sound resonates far beyond. My buddy Mark Tortora who is the band's manager hooked Stoli up with the exclusive on what's up with November! Check out the bands new album, Superstar Parades, out 4/12/08!
Stoli: How did the five of you come together to form the band?
Michael, Albert and I (Hunter) all knew each other from previous restaurant/bar gigs. We all started working together at once, and Michael eventually asked Albert to simply start playing good rock music together but they still needed a singer. I was bartending at the time, the bar was incredibly busy one night and Mike heard me scream out across the bar that we needed more Bud Light. Mike says that he heard me hit a "High C". He immediately asked me if I sang or not. I had been in previous bands before and was glad to start jamming with the guys. We met Erik or "E" as we call him on a group trip to Florida one year and before we even heard him play, we knew he had to be in the band. We started playing every week at Erik's house, got 3 songs together and then Mike asked his long-time best friend and bass player Jeremy to join the band. Mike and Jeremy had been playing in a band together before November was born and Mike knew the rhythm section wouldn't be complete without him. So, we started having supper club night every Monday until one day Albert came in and said "we have a show in 3 weeks!" So from then on we were officially November.
Stoli: You are based in Nashville, TN. Does that offer you an advantage to being based in NY or LA?
(Hunter) I wouldn't say it's an advantage, but I will say it is not as much of a disadvantage as it used to be. Especially in today's Internet based DIY music world, location is not as important as it used to be back in the 90's. Nashville is a real hotbed for great rock music, not just Country with all different genres of music succeeding on a national level like Kings of Leon, Paramore, Luna Halo and a lot more.
Stoli: As the lead vocalist does Hunter come off as the leader of the band as the stand out member?
(Hunter) Every member of the band is just as important as the other. We all play different roles in making November what it is. First and foremost we are all best friends and brothers. If you removed one of us, November wouldn't be November anymore.
Stoli: How do you make sure to keep egos in check and to keep the bands union in place?
As I said, everyone has a very defined role in the band and that is key to our success. We all have a firm grasp on that.
Stoli: When you are creating new music, do you like to improvise & jam or do you go in the studio knowing exactly what you want to record?
Studio magic is something you pray for. There were several beautiful mistakes that were kept in the recording, and helped make the record what it is now. We do however have a pretty good idea on what we want to do and how to execute it in the studio. But we also have been in the studio and Albert might throw down something new on the guitar right on the fly that fits perfectly with what Michael has been working on lyrically and then watch it turn into something completely new.
Stoli: How much does your real life experiences play out in your songwriting?
(Michael) Some people have therapists, I write songs. It usually starts with an unbearable emotion. Once I get it out on paper, I can set that emotion aside and work on creating the music. Inspiration hits me at anytime and just like that my songs are born. If I don't have something to write the lyrics down with, I will call my phone and sing the lyrics and music back to my voicemail so I don't forget.
Stoli: The indie scene has become saturated these days which is great for music as a whole. How do you make sure to keep November different from the rest?
We can't concern ourselves with what other people do. Are we influenced by popular culture past and present…yes but we have to stay true to what we know in our heart is good music and good music will always stand out from the rest. Think GNR mixed with Duran Duran – heard anything like that recently?
Stoli: Does your band have groupies and has your status in the band ever got you lucky with a hot fan?
That would be a question you would need to ask Jeremy!
Stoli: Skope Magazine represents music enthusiasts that listen to a wide array of genres, would you say that is a plus for a band like yours?
Absolutely! In this day and age, music enthusiasts are consuming more music than ever (legally or not) from all different genres. Our new record, Superstar Parades (April 12th, 2008) is packed with kickass rock songs that will speak to many different types of fans. We love Led Zep, The Beatles, Duran Duran, GNR, Johnny Cash, Sonic Youth, Portishead, and Miles Davis. There's an array of genres for you!
Stoli: When you are on the road what specialty do you need to help keep you sane mentally & physically?
Everyone's got their own thing. Thirty minutes of meditation before each show and control of the radio keeps me as close to being sane as I can get! Michael runs 2-4 miles in the hotel gym. Erik's a big fan of the snacks. Snack sanity. Done deal. Jeremy? Our commander-in-chief on the road. Forget On-Star, it's On-Jeremy that get us across the country in one piece. Just let that boy sleep! Hot wings and hot girls for Albert. And we all can't make it to our next gig without Michael's interstate comedy routine. And a trailer hitch that stays CONNECTED to our truck will keep us all sane!
Stoli: Has the digital age in the music industry altered your strategy when you are putting out a record?
Absolutely, the standard industry model for the way to "make it" in music has been blown out of the water. In today's age, we have more and more power to get our music out to the masses than ever before with the Internet and all the technology out there but record sales are still dropping and record labels are still suffering so it's definitely an 'interesting' time for everyone. We can't just send our music out to labels and sit back and wait for the call. We are constantly using all the digital technology to keep moving forward. Although, who wouldn't love a tons of labels knocking down their door! Now, we just need to see who gets smart to the new "way" and can live to tell about it.
Stoli: What can we look for from November in the next 6 months or so?
Continue to tour in support of our new album, Superstar Parades. Working with our CD Release Party Sponsor, Coors Light on other exciting opportunities. Record deal, endorsements, Billboard cover, Rolling Stone cover, worldwide audience, world domination. Standard stuff. Keep checking back on our myspace page, www.myspace.com/novembernashville, to stay up to date!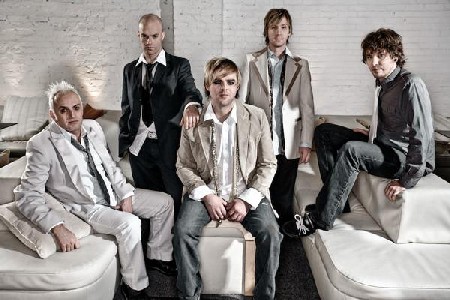 Listen to "The Grind"
[audio:The Grind.mp3]
www.myspace.com/novembernashville
www.sonicbids.com/November