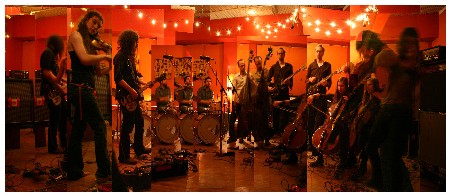 Photo By: Mark Slutksy
Thee Silver Mt. Zion Memorial Orchestra and Tra La La Band will be touring the U.S. in May and early June in support of their new Constellation release, 13 Blues For Thirteen Moons.
Silver Mt. Zion Tour Dates
Fri. May 16 Burlington, VT @ First Unitarian Universalist
Sat. May 17 Cambridge, MA @ Middle East
Sun. May 18 Northampton, MA @ Pearl Street Nightclub
Mon. May 19 Brooklyn, NY @ Music Hall of Williamsburg
Tue. May 20 New York, NY @ Bowery Ballroom
Thu. May 22 Philadelphia, PA @ First Unitarian Church
Fri. May 23 Washington, D.C. @ Black Cat
Sat. May 24 Asheville, NC @ Grey Eagle Tavern
Sun. May 25 Atlanta, GA @ Drunken Unicorn
Mon. May 26 Nashville, TN @ Mercy Lounge
Tue. May 27 St. Louis, MO @ Bluebird
Wed. May 28 Des Moines, IA @ Vaudeville Mews
Thu. May 29 Minneapolis, MN @ Varsity Theater
Fri. May 30 Milwaukee, WI @ Turner Hall
Sat. May 31 Chicago, IL @ Logan Square Auditorium
Mon. Jun. 2 Detroit, MI @ Magic Stick
Tue Jun. 3 Columbus, OH @ Skully's Music Diner
Wed. Jun. 4 Cleveland, OH @ Grog Shop
Thu. Jun. 5 Milvale, PA @ Mr. Small's Theatre
Silver Mt. Zion, formed in Montreal by Efrim Menuck, Thierry Amar and Sophie Trudeau (all of Godspeed You! Black Emperor), has become known for their overt redefinition of protest music, their long-form, multi-movement compositions and uniquely inventive punk-rock, and their unfettered honesty and emotion. With a focus on live performance and special projects since the release of 2005's Horse In The Sky, SMZ has logged well over 100 shows in Europe and North America, and collaborated with Carla Bozulich, Vic Chesnutt and Patti Smith in the studio and in concert.
Live shows by this humble and hard-working band are nothing short of mesmerizing, only now they've become much looser and much louder. Walls of sound, exploding sheets of free noise, dive-bombing swirls of strings, heart-rending melodies, plus layers of group-singing, comprise a typical set. For each show on this tour, the full Silver Mt. Zion band, arrayed in a semi-circle, playing, singing and shouting, will perform the entirety of their new album, 13 Blues For Thirteen Moons, and some re-tooled versions of songs from their first five records. Additionally, new material composed during their pre-tour rehearsals always find its way into their sets, evolving nightly, on its way to finished form.
Thee Silver Mt. Zion touring band:
Thierry Amar (contrebasse)
Eric Craven (drums)
Rebecca Foon (cello)
Ian Ilavsky (guitar)
Efrim Menuck (guitar)
Jessica Moss (violin)
Sophie Trudeau (violin)
vocals by all
Listen to an edit of Silver Mt. Zion's "13 Blues" here:
DOWNLOAD HERE!