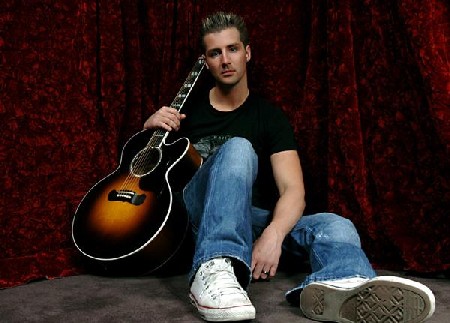 Playing Main Stage at Bamboozle and Bamboozle Left
Photo by Ben Fink Shapiro
SECONDHAND SERENADE has recently announced a string of headlining tour dates that will take John Vesely and his band from coast to coast, playing the main stage at both Bamboozle Left on April 6th and Bamboozle Right on May 3rd.   Please see all tour dates below.
A Twist In My Story (2/19, Glassnote), Secondhand Serenade's sophomore album, was produced by Danny Lohner (Nine Inch Nails, Angels & Airwaves) and Butch Walker (Fall Out Boy, All American Rejects) and debuted at #44 on the Billboard Top 200, reaching as high as #7 on the iTunes Top Albums.   The video for   "Fall For You" is in rotation at MTV, mtvU, Music Choice and The N, and Billboard commented on the song, stating "Take this track for a spin and break bad with one of the most promising acts of the year."   Secondhand Serenade has recently performed the song on national TV, making appearances on the CBS Early Show and Late Night With Conan O'Brien.
Singer/guitarist John Vesely has been performing as a solo artist under the moniker Secondhand Serenade since 2005, and became MySpace's #1 unsigned artist for seven consecutive months before signing to Glassnote Records in 2006.   Vesely is known for his stripped down, acoustic recordings and solo tours, but has enlisted a full band to help bring the lush, layered songs from A Twist In My Story to life on this current tour with Yellowcard, and upcoming headlining tour.
www.secondhandserenade.net
www.myspace.com/secondhandserenade
www.glassnotemusic.com
Secondhand Serenade tour dates:
April 2 — Salt Lake City, UT @ Avalon Theatre
April 3 — Boise, ID @ The Big Easy   (w/ Yellowcard)
April 4 — Seattle, WA @ El Corazon (w/ Yellowcard
April 6 — Irvine, CA @ Bamboozle Left (main stage)
April 8 — Roseville, CA @ The Underground Café
April 9 — San Jose, CA @ San Jose Skate
April 10 — Bakersfield, CA @ Golden State Hall
April 11 — Phoenix, AZ @ The Brockhouse Theatre
April 12 — Las Vegas, NV @ Jillian's of Las Vegas
April 13 — Las Vegas, NV @ DeepRockDrive.com (Live, on-line concert)
April 15 — San Antonio, TX @ The Crossing
April 17 — Houston, TX @ Java Jazz
April 18 — Memphis, TN @ University of Memphis
April 19 — St. Charles, MO @ Hunter Stadium/Lindenwood University
April 21 — Fayetteville, AR @ George's Majestic Lounge
April 22 — Tulsa, OK @ The Crush Lounge
April 23 — Little Rock, AR @ Juanita's
April 25 — Louisville, KY @ Headliner's Music Hall (w/ Cartel)
April 26 — Hiram, OH @ Hiram College (w/ Relient K)
April 27 — Tinley Park, IL @ Mojo's Rock House
April 29 — Covington, KY @ Mad Hatter
May 1 — Buffalo, NY @ Town Ballroom
May 2 — Troy, NY @ Revolution Hall
May 3 — East Rutherford, NJ @ Bamboozle Right (main stage)