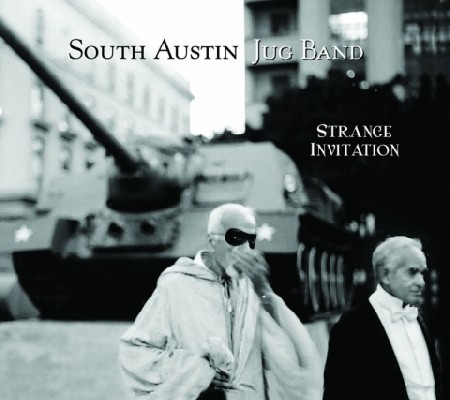 Progressive-Acoustic Rockers Mark April 1 Release in Austin,   Then Set Off on Album Release Tour Across Region to California
South Austin Jug Band, the no-jug string band with the fiery instrumentals, releases today its third album, the "exhilarating" STRANGE INVITATION, featuring what one writer calls "the consistent acoustical prowess of all three [core] members."
The quintet — lead vocalist-guitarist-lyricist James Hyland, championship-winner Dennis Ludiker (mandolin and fiddle) and multi-instrumentalist Brian Beken (Suzuki-trained fiddler, guitar) backed by Matt Mefford (bass) and Rob Kidd (drums) — marks the occasion of the release with two performances in Austin and an extensive album release tour to back it up.
South Austin Jug Band performs during an in-store appearance this afternoon at Waterloo Records & Video, Sixth Street and Lamar, and then plays a STRANGE INVITATION Release Show on Friday, April 4, at Threadgill's World Headquarters in South Austin.
The new recording, holding steady on the Americana radio chart, captures the nimble-fingered fiddle and mandolin playing that amazes audiences, the clear vocals and the evocative original songs that make for the band's progressive-acoustic Americana rock. New inspiration found in the band's travels, new themes and a new collaborative songwriting philosophy are tangible.
The "flickering flame" of "Come to Me" …"gently opens STRANGE INVITATION, but airtight instrumentals quickly spill gasoline. Buckle up," says the Austin American-Statesman, citing "dreamy splashes of frenetic Jackson Pollock imagery across a wheat-field backdrop" that "peel out like teenage brothers jacking a '69 Camaro. Meanwhile, 'Reprise' rolls and thunders and explodes like their parents rediscovering honeymoon thirst, its gentle coda a blood-orange sunset. Exhilarating."
Two weeks ago, the band's Official SXSW Showcase at landmark Jovita's elicited praise from longtime Austin Chronicle writer Jim Caligiuri. He wrote, "Nearly gone is the happy bluegrass, replaced by an introspective feel that was always there, just not in the quantity presented on third release STRANGE INVITATION. … There's no sluggishness, just superb musicianship [and] enticing songsmithing …"
Armed with its STRANGE INVITATION, recorded all-analog at Willie Nelson's Pedernales Studio outside Austin, South Austin Jug Band plays across the Southwest and reaches California in May.
Upcoming South Austin Jug Band shows include:
April 1, Waterloo Records & Video, Austin (In-store performance)
April 3, Cheatham Street Warehouse, San Marcos, Texas
April 4, Threadgill's World Headquarters, Austin (Album Release Show)
April 5, Chelsea's Café, Baton Rouge, La.
April 6, Four States Fairground, Texarkana
April 10, Brewster Street Ice House, Corpus Christi
April 11, Schotzi's, College Station, Texas
April 12, Dan's Silver Leaf, Denton, Texas
April 18, All Good Café, Dallas
April 19, McGonigel's Mucky Duck, Houston
April 25, Larry Joe Taylor's Texas Music Festival, Stephenville, Texas
May 1, Shady Grove, Austin
May 9, Momo's, Austin
May 10, Taste of Addison, Addison, Texas
May 15, Santa Fe Brewing Co., Santa Fe, N.M.
May 16, Overlook Park, Los Alamos, N.M.
May 17, Flagstaff Brewing Company, Flagstaff, Ariz.
May 20, Huntington Beach, Calif.
May 21, The Mint, Los Angeles
May 22, Bluegrass Buffet @ Freight & Salvage, Berkeley, Calif.
May 23, McNear's Mystic Theater, Petaluma, Calif.
May 24, Strawberry Music Festival, Camp Mather, Yosemite, Calif.
May 31, Dulcinea's, Denver
June 5, Wakarusa Music Festival, Lawrence, Kan.
June 6, Norman, Okla.
June 7, Kerrville Folk Festival, Kerrville, Texas
June 8, Fort Worth Botanic Garden, Fort Worth (Concerts in the Garden series)
June 13, Warren Sports Complex, Frisco, Texas (Frisco Grooves)
July 26, Fredericksburg, Texas (2008 Roots Music Series)
July 27, San Marcos River Pub, San Marcos Texas
www.southaustinjugband.com
www.myspace.com/southaustinjugband