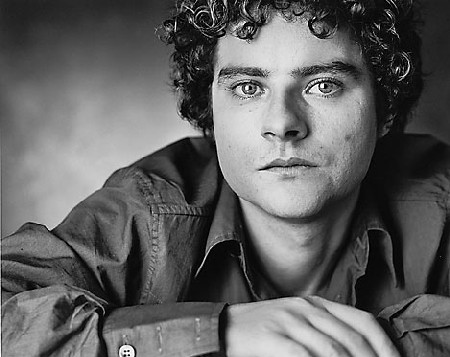 US release of Irish star's new full length LP & he announces spring tour dates with Jason Collett and KT Tunstall
From an early age Casey spent a great deal of his time busking on the streets of Dublin and Galway, crossing paths with musical comrades Damien Rice, Shane McGowan and Sinead O'Connor, as well as a ragtag array of traditional Irish musicians. Paddy learned his craft the hard way, teaching himself guitar from songs books for The Smiths and Prince.
A Sony A&R scout first heard Paddy sing on Dublin's Grafton street, but after returning the next day, couldn't find Casey as he moved around the city so much.   After tracking him down, Paddy signed a deal with Muff Winwood's of S2 Records UK, and soon thereafter inked a management contract with Paul McGuinness and Principle Management Dublin & New York who also manage the careers of U2, PJ Harvey and The Rapture.
After the massive Irish success of Paddy Casey's previous album, Living, eleven times platinum in Ireland, Casey felt he wanted to break fresh ground with his next release and came up with the blueprint that would include blues licks, funky wah-wah guitars and Stax-style trumpets. Paddy traveled to LA and met up with George Drakoulias, producer of records by Rhett Miller, Tom Petty, Tift Merritt and The Jayhawks amongst others. After hearing Paddy's new material, Drakoulias rounded up a stellar circle of musicians, people who had played with everyone from Beck to Eric Clapton.
Casey crafted a powerful and moving canvas of sound, style and spirit. A moving 14-track song cycle resplendent in soulful melodies and heartfelt lyricism, the music found on Addicted To Company is a self-described marriage of the dirty funk grooves of Sly Stone and pastoral folk of Simon & Garfunkel. Casey sites a wide range of musical influences, everyone from Sufjan Stevens and The Strokes to Parliament and Jimi Hendrix, and while those touchstones are a part of the record's stylistic thread, what's most impressive is the manner in which he weaves those influences to make them his own.
 
"Sun comes up and life goes on its way…but inside these walls, they are taking you away" sings Casey on the bittersweet ballad "Leaving." One of the album's highlights, it's a stark and emotionally moving tale of mortality. "It's about an artistic person that I connected with who was part of the hunger strikes in Ireland back in the 70's and he knew he was gonna die," relates Casey. "Lyrically, I didn't want the song to be too literal; I wanted to leave it a bit open to the imagination."
 
On "Fear," the first single from the album, Paddy relays a very raw and honest examination of the fear he feels of the ills in the world that his daughter will inherit. "I pray my child lives happy and long," he sings. "I hope she never sings this song."
On a brighter note, title track, "Addicted To Company", is a breeze of a song with a Philly Soul undercurrent. Paddy sings "Don't want to sell tragedy and confusion, Don't want to add to these tales of illusion" and he immediately establishes the lyrical pattern of the album – the most narrative-driven, people-centered songs Casey has ever written.
A spin or two of Paddy Casey's new CD and soon you too will find yourself addicted to his musical company.
PADDY CASEY WITH JASON COLLETT
April 10th 2008     The Mercury Lounge, New York, New York
April 11th 2008     IOTA, Arlington, Virginia
April 12th 2008     Carrboro Arts Center, Carrboro, North Carolina
April 15th 2008     World Cafe Live, Philadelphia, Pennsylvania
April 16th 2008     Luna Lounge, Brooklyn, New York
April 17th 2008     Great Scott, Allston, Massachusetts
April 18th 2008     Le Petit Campus, Montreal, Quebec
April 19th 2008     Zaphod Beeblebrox, Ottawa, Ontario
PADDY CASEY WITH KT TUNSTALL
May 3rd, 2008         Spreckels Theater, San Diego, CA
May 4th, 2008         Marjorie Luke Theatre, Santa Barbara, CA
May 5h,   2008         The Wiltern, Los Angeles, CA
May 7th, 2008         Warfield Theatre, San Francisco, CA
May 9th, 2008         Crystal Ballroom, Portland, OR
May 10th, 2008       The Moore Theatre, Seattle, WA
May 11th, 2008       The Commodore, Vancouver, BC
May 14th, 2008       Historic State Theatre, Minneapolis, MN
May 15th, 2008       Barrymore Theatre, Madison, WI
May 16th, 2008       The Vic, Chicago, IL
May 17th, 2008       Power Center, Ann Arbor, MI  
May 19th, 2008       W. L. Lyons Brown Theatre, Louisville, KY
May 20th, 2008       Ryman Auditorium, Nashville, TN
May 21st, 2008       Egyptian Room, Indianapolis, IN —
May 23rd, 2008       Carnegie Library Music Hall of Homestead, Pittsburgh, PA
May 24th, 2008         Danforth Music Hall, Toronto, ON
May 25th, 2008     Danforth Music Hall, Toronto, ON
May 27th, 2008     Orpheum Theatre, Boston, MA
May 28th, 2008     The Town Hall, New York, NY