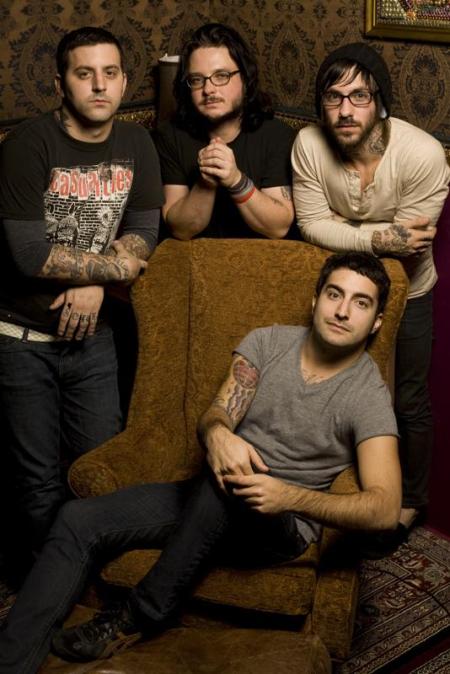 Photo credit: Matt Wysock
Long Island's beloved BAYSIDE are to release The Walking Wounded: Gold Edition on July 22, 2008, a deluxe CD/DVD package of their fourth studio album. The extended CD package will include live acoustic tracks to be recorded at a special performance that will be filmed at Looney Tunes in Long Island on Monday, May 12th. (Visit www.ltcds.com for more details on the in-store performance). The accompanying DVD is planned to include the full Looney Tunes performance, behind-the-scenes documentary of the band on their Spring 2008 tour, and their music videos from The Walking Wounded.
Directed by Josh Horowitz, Bayside's new video for their track "Carry On" will debut as the "Featured Video" on MySpace.com this Wednesday, March 26th.
Once their current national headlining tour with The Starting Line wraps up in late Spring, the band plan to enter Los Angeles' Red Bull Studios in June to write and record their fifth studio album, tentatively titled Shudder. The follow-up to The Walking Wounded is set for release September 30, 2008 and will be produced by David Schiffman (Weezer, Jimmy Eat World, Johnny Cash).
"I think we know what Bayside is supposed to sound like," explains vocalist/guitarist Anthony Raneri. "We have figured it out and we don't plan on changing the formula. We love what we've become and we can only hope to get better at what we do. We have the most time we've ever had to prepare for this record from the writing process to the recording process but we want to be sure not to overthink the songs and let them sound the way they were meant to sound. It is going to be the fastest, most energetic, catchiest and most exciting record we have ever made. We are feeling youthful and excited as people and I think it is going to come out in the music."
Tour dates with the Starting Line
Apr 01 Hawthorne Theatre Portland, OR
Apr 02 McDonald Theatre Eugene, OR
Apr 03 Slims San Francisco, CA
Apr 04 The Boardwalk Sacramento, CA
Apr 05 BAMBOOZLE — Left Irvine, CA
Apr 06 Jillians Las Vegas, NV Apr 07 The Rock Tucson, AZ
Apr 09 White Rabbit San Antonio, TX
Apr 10 House Of Blues Dallas, TX
Apr 11 Meridian Houston, TX
Apr 13 House Of Blues Orlando, FL
Apr 14 Revolution Ft. Lauderdale, FL
Apr 15 Jannus Landing St. Petersburg, FL
Apr 16 Masquerade Atlanta, GA
Apr 17 Norva Norfolk, VA
Apr 18 Electric Factory Philadelphia, PA
Apr 19 The Palladium Worcester, MA
Apr 20 930 Club Washington, DC