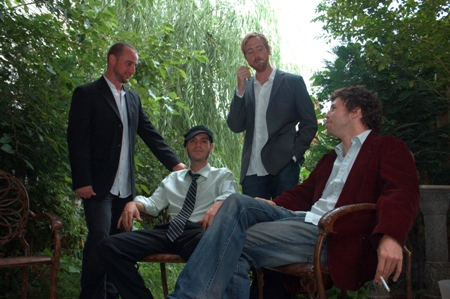 Like all brilliant, beautifully rendered albums, American Babies' new release washes over you with wit, wisdom and tenderness. For the self-titled debut, re-released April 1, 2008 on SCI Fidelity Records, Philadelphia-bred front man and songwriter Tom Hamilton has combined his urbane mindset with the country music of his childhood, creating work that places him alongside career artists like Ryan Adams, Conor Oberst, and Jeff Tweedy. The buzz is already on.
American Babies was silently self-released by the band a year ago. But the secret soon spread. Together for a little more than a year, American Babies have already landed several influential gigs, including much-talked-about performances at Philly's World Music Café, Chicago's Wicker Park Festival and Bonnaroo. In addition, American Babies have become "next-big-thing" darlings for such prestigious showcases as the Paste/OurStage South by Southwest Opening Night Party at Stubb's and the Rhapsody/CMJ Conference Kickoff Event. The chemistry and magical X-factor this band possesses is already apparent, even contagious.
At the time Hamilton started writing acoustic roots material like the titled track, "American Babies," he was far from home. He'd been writing, performing, and enjoying a swell of critical acclaim with his band Brothers Past — yielding a wellspring of positive notices that could possibly have been his ticket to the big time. But his heart wasn't entirely in the process as it stood. "For some time, I had wanted to get more into the music I grew up on."
Which is exactly what he did. He returned to the Willie Nelson, Merle Haggard and Johnny Cash records his dad made him listen to as a kid, but heard them differently this time. The sounds inspired him wholeheartedly and he began writing in a similar vein. "I don't want to get too deep on it," says Hamilton, a candid realist who equates writing songs with any other job. "I write songs and I play the guitar. It is what I do and it is who I am."
Some people undertake their occupations better than others, though, and Hamilton is a top-rate songwriter. And with the accompaniment of bassist/brother Jim Hamilton and drummer Joe Russo, and Guitarist Scott Metzger, American Babies has developed into something extraordinary.