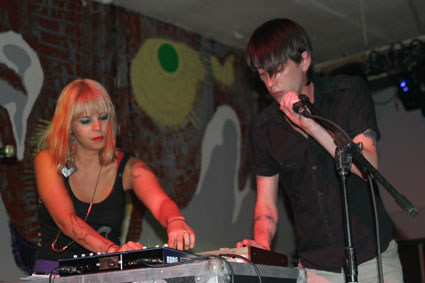 Respectable Street Cafe has played host to an impressive parade of rock groups throughout its 20-year existence. Respects, as the locals casually refer to it, is located on Clematis Street in West Palm Beach, Florida. The founder and owner Rodney Mayo opened the club when Clematis was a haven for drug dealers and prostitutes, a seedy ghetto neighborhood in a sleepy Florida city. Over the last 20 years the neighborhood has gone through many transformations with the present day finding this area one of the hottest nightspots in Palm Beach County. The club has survived the ebb and flow of real estate hype and urban decay by offering an uncompromising musical experience including live rock acts and DJ nights. It continues to be the heart and soul of West Palm Beach's music scene.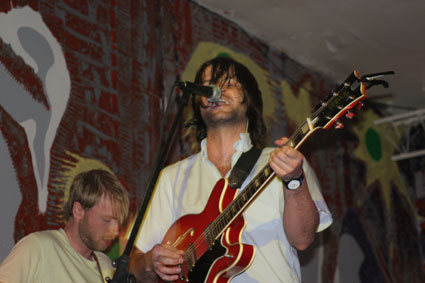 Last night Respects was host to Violens and Handsome Furs. Violens opened with a textured psych-rock set built with synths and guitars. The New York band settled right in on Respects small stage and filled the club with their heartfelt and warm lyrics. The soft voice of lead singer Jorge Elbreckt caressed the crowd with its gentle falsetto affecting a reverie of introspective grace with his honest lyrics. The well-composed instrumentation and the onstage dynamism of the group allowed them to put on a finely tuned performance.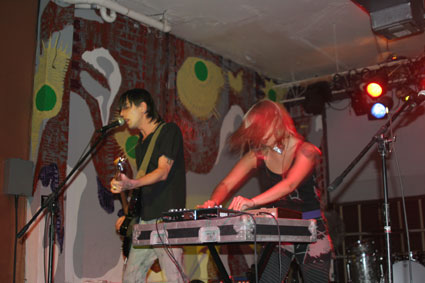 Handsome Furs is an indie rock band from Montreal, Canada. The band is made up of married couple Dan Boeckner and Alexei Perry. Boeckner plays guitar and sings while Perry operates the drum machine and keyboard. Boeckner opened the set with an introduction, how they were enjoying the beach getting sunburned while trying to get a tan and offered up an amusing quip on Spring Break, "I lost my virginity at Spring Break 2008." The couple demonstrated their wonderful chemistry on stage as they crafted atmospheric soundscapes and achieved emotional peaks in Boeckner's plaintive lyrics. It was an incredible display of musicianship; creating a full sound out of two individuals is no small feat. If you turned your back to the stage or closed your eyes your ears would tell you were listening to a band of five. The music was lush and layered; a richness due to Perry's able command of the electronics. She bobbed over the drum machine with her platinum blond hair swinging pendulum-like as she intently worked the knobs, buttons and keys.
Listen to "What We Had"
[audio:What We Had.mp3]
They interacted with the crowd throughout their set and joked about Canada and how it was -5 Celsius — they couldn't say how cold that was in Fahrenheit and refused to even think about that. The warmth of Florida's climate seemed to buoy their spirits and certainly the warm reception they received from the audience at Respects would give them pause returning back to the cold embrace of an arctic winter.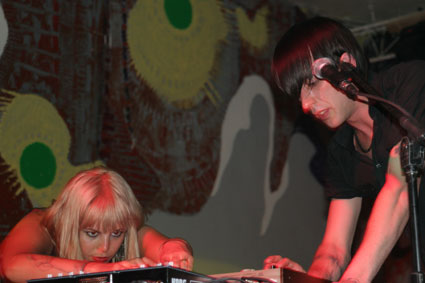 [album:http://www.skopemag.com/images/Respects032808/]