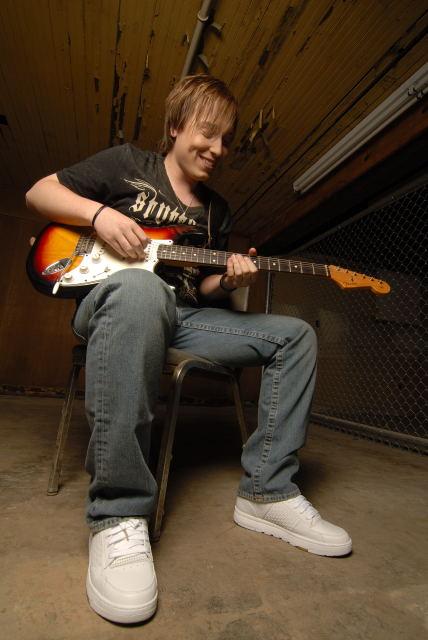 Brandon, only 24 years old, is a Twin Cities based singer/songwriter/guitar player from Sleepy Eye, MN.   His music stylings have been compared to those of John Mayer, Johnny Lang, Stevie Ray Vaughan and Jimi Hendrix.   There is growing excitement about this young player.
These are comments from a fan of Brandon's "He has a huge number of loyal fans who know this is no average musician.   Like a woman at one show said, "its like he sucks you out of the crowd right onto the stage with that guitar.   I've seen tears stream down faces of men and women alike, I've witnessed people fall to their knees and bow like they are worshipping him and many times I have seen people in the front of his crowds reach out to try to touch his pant legs and shoes while he plays.   He'll no doubt make Minnesota famous again.   If you ever have a chance to see him, grab the opportunity and you will see what I mean.   Be sure to get up close and watch his fingers move all over that guitar!"- Linda Tauer
Jim Dandy of the longtime southern rock band Black Oak Arkansas, with whom Sellner has toured, says, "Man that kid sure can play." Sellner also has rocked the house with former members of Canned Heat, Walter Trout and Junior Watson.
Mike Sjulstad of Applauze magazine based in Mankato, Minn., wrote, "This is not your grandfather's blues. There are blues bands and blues musicians, but few have the blues in their soul."   "Sellner's voice is instantly recognizable and that the sky is the limit for this tremendous blues guitarist."
I asked Brandon a few questions:   When did you start playing guitar?
I started playing guitar when I was about sixteen years old. Stevie Ray Vaughan's guitar playing and Jimi Hendrix's music were my two biggest influences. I started singing about four years ago when I started paying more attention to Jonny Lang's music. Most of my latest originals however, have been inspired by the music of John Mayer.
 
Are you working on a CD?
Two years ago, we were distributing a blues demo that I co-engineered and co-produced at Junior's Motel Records in Otho Iowa. About a year ago, we released my current single, "Things Are Gonna' Be Good", a song I wrote in a Fort Dodge Iowa hospital (I suffered from a ruptured appendix which was nearly fatal, this experience changed my life and inspired me to further pursue my career in music). In May, we look forward to releasing a six song ep including all new original music and a re-mastered version of "Things Are Gonna' Be Good".
 
What do you want people to get out of your music?
I take into serious consideration the response of my fan base and listeners. When I'm onstage, its a constant exchange of energy and emotion between the audience and myself. Its very important for me to know that the crowd is as into it as I am and also, I try to let them know how important it is to me to share the music with them. The people make it all worth it.
 
Do you have a favorite song you like to perform?
I've always been a fan of Joe Cocker. His rendition of Dave Mason's "Feeling Alright" is by far my favorite song. We perform it (in our own way) at our shows on a regular basis. Also, a recording that I believe stands the test of time is "Bold as Love" by Jimi Hendrix. Hendrix had a way of putting so much of his inner emotions into his music. Whether it was joy, sadness, paranoia, or just purely raw/in your face, rock and roll, Hendrix had/has a way that makes you feel the music.
 
What is your favorite venue to perform at:
Its difficult to pick just one venue that I would say I enjoy playing at more than any other. I've been the opener at Bunkers in Minneapolis on a few occasions. That stage has hosted so much talent through the years, its an honor to play there. I was fortunately a part of the Jimi Hendrix Rememberence Concert at the Cabooze the year before last. Listening to and performing with some of the most talented musicians in the Twin Cities area was a monumental and motivational point in my career. I guess if I had to pick just one venue that I really enjoy performing at, it would have to be the Georgia Theatre in Athens Georgia. Its always a pleasure to play there and the crowd gets so into it.
 
What do I see yourself doing in five years?
I want to see the world. Traveling all over and playing music is what I love and live for. We recently returned from a four week road trip which my manager/good friend and rhythm guitarist Hardy White III organized (he wears a lot of "hats"). With him and my band (Ky Haub on drums and Rick Montpetit on bass), we showcased at the "world famous" Tootsie's in Nashville TN, performed at the Georgia Theatre in Athens GA for the third time in less than two years, sat in on a southern blues jam in Jackson MS, performed three times at South by South West in Austin TX (thanks to Red Gorilla Music), and performed for the first time in California at the Hi-Desert Cultural Center in Joshua Tree CA. Music has allowed me to meet new people and see new places. I'm blessed to be able to do what I love and love what I do.