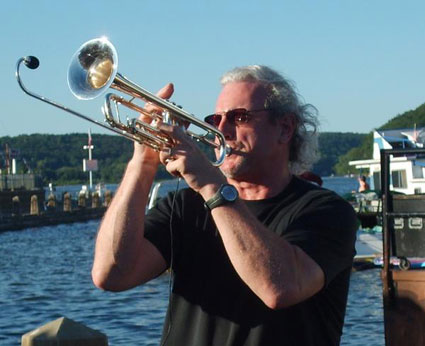 Jeff Carver is regarded as one of the Twin Cities most versatile and dynamic trumpet players.   Known for his powerful sound and range, he is a sought after player for both live stage shows and studio recording sessions.   Jeff is also highly regarded as a soulful jazz artist, performing inspiring trumpet and flugelhorn with national gospel artists and various local jazz and blues groups.
Since the early 80s, Jeff has performed lead trumpet and been a featured soloist with professional dance and club bands throughout the Midwest.   In addition, he has energized audiences by performing as guest soloist and clinician with high school and college jazz and marching bands throughout the Midwest.   He spent years as a lead trumpet player and soloist for the NFL's Minnesota Vikings Band and owned his own band, the Power Player's, for the NHL's Minnesota Northstars.   Jeff has also performed the National Anthem at several Minnesota Twins professional baseball games.
Jeff's biggest thrill came when he joined trumpet legend, Maynard Ferguson, on stage to perform a couple of songs with Maynard's band.   In fact, The Boss handed Jeff his own personal trumpet to play!
After a few years away from music pursing several business interests, Jeff's music career came roaring back.   First co creating and performing with the local R  and B Band, Power of 10 and later performing with the Minnesota Music Award winning, Soul Tight Committee. During that time, Jeff also recorded a nationally marketed, smooth jazz CD project for beverage sponsor, Southern Comfort.   The CD featured Twin Cities songwriter and saxophonist, Joe Alley and World class musician, arranger and producer, Ricky Peterson.
Currently, Jeff performs lead trumpet for the Minnesota Music Award nominee 12 piece band, High and Mighty.   In addition, he performs strolling jazz holiday entertainment at Twin City based Bonfire Grill restaurants, making him one  of the  Twin Cities' busiest trumpet performers.
Besides his professional performing, Jeff, a former award winning high school band director, has a thriving trumpet lesson studio and works with students on improving their trumpet playing and having more fun doing it.   Adding to his already busy schedule, Jeff can be seen performing at weddings, corporate VIP functions and church services throughout the Midwest.
Jeff is a member of The International Trumpet Guild (ITG), International Association for Jazz Education (IAJE), National Association for Music Education (MENC), The Minnesota Music Education Association (MMEA) and The Twin Cities Jazz Society (TCJS).
Jeff Carver's career has taken him from music to business, back to music and now he's enjoying the business of music more than ever!
"When I graduated from college with a music teaching degree, directing high school bands was all I wanted to do.   I had some great experiences and some fantastic students, some who have become lifelong friends.   But after 7 years I was ready for something really different."
"I took off on a new path and began a business career that spanned many, many years.   It was a terrific time and I got a chance to know some tremendous people, many who were incredibly creative.   Unfortunately, during that time, I put my trumpet down and even sold off my piccolo trumpet and other horns and accessories.   I didn't think I would ever pick it up again.   However, I am here to tell you, you can come back, you can rediscover your passion and you can do whatever you set your mind to.   For me, its teaching kids and playing trumpet live.   It doesn't get any better than that!   As Miles Davis said, "sometimes you have to play a long time to be able to play like yourself."
I have seen Jeff perform a number of times with the High and Mighty.   The horn section of the band is always exciting and involves the audience by spreading out over the venue (standing on chairs, rails and anything else they can find to stand on) and blowing their instruments with authority and energy.   This dance band keeps their fans out on the floor wherever they perform.       If you go to Jeffs myspace (listed below) you will find a special treat in his version of "Somewhere over the Rainbow".  
How and when did you start playing the trumpet?
I began playing in 5th grade, like a lot of kids do. I started on a cornet. During those days, young would-be trumpeters started on a cornet because it was easier to hold. Trumpet wasn't really my first choice I wanted to play drums! However, my parents would have none of that and convinced me to play cornet, and eventually the trumpet.
I struggled on cornet and trumpet early on and even tried to quit band in 9th grade, which my parents were furious about. They said I made a commitment and I was sticking with it through high school. Once I got into high school, my band director, Marty Crandell, inspired me to practice more and become more involved in jazz. My junior year in high school, my dad took me to a concert by trumpet legend, Maynard Ferguson, and I was hooked!! I wanted to play like that! Like so many trumpet players my age, Maynard, who passed away just a couple of years ago, became the trumpet player's hero. I had some great trumpet teachers over the years including my college teacher, Philip Cansler.
Who were your early inspirations in music?
My trumpet influences are wide ranging but I have always liked the big sound and high range players. I wanted to be like and play like Maynard Ferguson, but I was also strongly influenced by Doc Severinsen, Chet Baker, Bill Chase, Maurice Andre, Claude Gordon and the trumpets from Tower of Power and Chicago.
Have you written any of your own compositions? Do you have a CD out?
I did a record a few years ago with former Minneapolis Sax player and LA producer, Joe Alley, as a promotional project for Southern Comfort Bourbon. Joe wrote all the tunes and its kind of an easy, smooth jazz thing. It did pretty well.   We sold a decent amount of copies and got some airtime. Ricky Peterson, of David Sanborn, Stevie Nicks and John Mayer fame, plays a couple of smokin' tracks on the CD.
Your deeply involved in education, what do you get out of teaching others?
I was a high school band director in the late 70's and 80's. Although I had success and really super kids, music education wasn't providing what I needed, both as a career and financially. So I did some other things, focusing on the business scene. Now, after all these years, I am back to music and exactly where I want to be. I have about 20 really wonderful brass students and do a lot of public school clinics and trumpet/brass master classes, many sponsored by my friends at Schmitt Music. With my performing and recording work, it's a nice place to be! I enjoy the teaching aspect like never before! My students range in age from 6 years old to over 50! I really enjoy it when my students come out to hear me perform, too. I try a little harder for them!
What do you want to be doing 5 years from now?
In five years, I hope to be doing more of what I am doing now. I really love playing with High & Mighty and I am sure we will be more successful than ever in five years, as we keep improving all the time! I want to be doing more school clinics and have a few more private brass students. I also want to continue to work on my trumpet playing and be the best I can be.
What is your favorite venue to play at in the TC's?
I don't really have a "favorite" venue when performing. Every night is a new experience for us so each club takes on its own personality based on the audience that night and how well I can hear on the stage.
Besides The High and Mighty, are there other groups you enjoy playing with?
Over the last 10 years, I have played with club bands such as Power of 10 and Soul Tight Committee, as well as Davina and the Vagabonds. However, I really feel like I have found my home with High and Mighty and have a riot playing with those guys. I also have a ball playing my Holiday jazz music at Bonfire Grill on Grand Avenue in St. Paul every year. I do quite a lot of noon to 3pm jazz gigs between Thanksgiving and Christmas. I am also putting a trio together with Todd and Rhonda from High and Mighty, to play some jazz gigs during the week, happy hours and such. We play a happy hour at Bonfire on Grand on Friday, April 4 from 4-6pm. Todd and Rhonda are really fine musicians and I am really looking forward to playing some nice jazz with them.
What do you want people to get out of your music?
I work hard to put on a great show on every gig I play. I am sort of old school in that I love the audience and really get turned on when they goes nuts over what we are doing. There is nothing like that and it takes me to a higher playing level.   I have a lot of friends that come out to gigs from time to time and its always-extra fun if there is a trumpet player in the audience!
I have kicked my trumpet to the curb a few times over the years. I don't regret it as its part of the journey of life. However, I feel like the balance between my life and where music and my trumpet fits in is perfect. So, I guess you can go home again.
www.jeffcarvermusic.com
www.myspace.com/jeffcarvermusic
High and Mighty Schedule
March 28   Minnesota Wild Game — Excel Center
March 29   Mainstreet — Hopkins
April 11       The Junction — Minneapolis
April 12       The Narrows in Navarre
April 19       Elko Speedway
April 25       Black Dawg — Burnsville
April 26       Minnesota Music Café
May 2               PD Pappy's   – Stillwater
May 3               PD Pappy's — Stillwater
May 10         Narrrows North — Maple Grove
May 115     Mainstreet — Hopkins
May 23         Minnesota Music Café
May 30         Narrows North
May 31         Black Dawg — Burnsville
Jeff with Rhonda Johnson and Todd Burrell
April 4       Bonfire on Grand — St Paul
Jeff as Guest Soloist with The Rockford High School Jazz Band
May 22
See Jeff Carvers website for future schedule