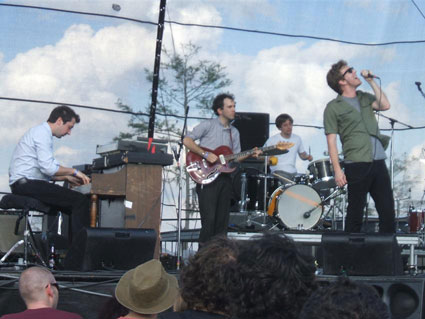 The Walkmen
Part  1  
I have no idea who any of these bands are!"
Heard on the way back from the Chickee Hut stage at the sixth annual Langerado Music Festival after The Walkmen's set, I was hoping the college-age girl who said that was enjoying discovering such bands rather than merely killing time before the show she was really looking forward to – like, say, 311 or G. Love and  Special Sauce.
Don't get me wrong – Langerado, the Florida fest which serves as the season's opening salvo, had picked up its game as far as headliners go, with the Beastie Boys, R.E.M. and the Grateful Dead's Phil Lesh and Friends the big names out there.
But for me, the fun of a festival like Langerado is seeing lesser-known music acts, some for the very first time. In many cases, there was a real joy of discovery: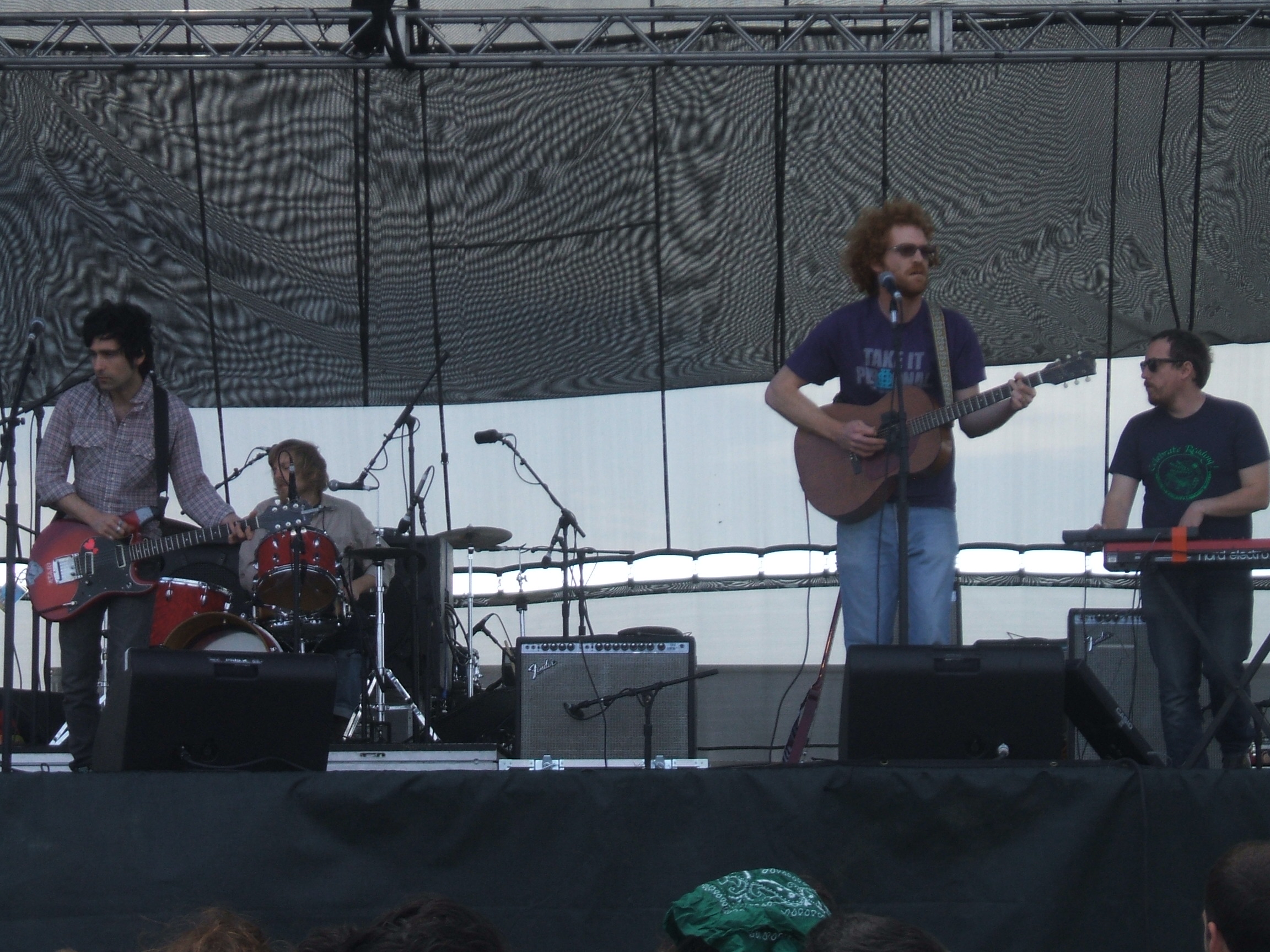 Blitzen Trapper
Portland, Ore.'s Blitzen Trapper caught my attention with their outstanding range. I never knew what direction this six-man band would take next — throwing electronics and feedback out one minute, heartfelt country-rock the next.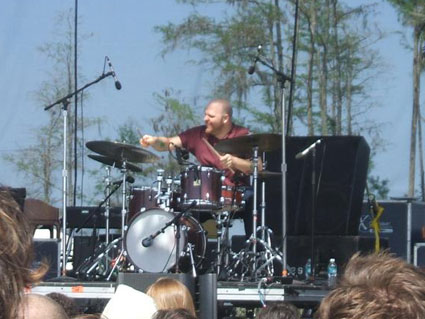 Dave King
Wisconsin's The Bad Plus had pulled me into modern jazz a few years back, but seeing this trio live was a real treat. I knew Ethan Iverson was a superb pianist, but seeing drummer Dave King play every square inch of his drum kit is something that is worth your time, if you get the chance.
I also knew well of Built to Spill's music, but their set went well beyond what I knew of them. Doug Martsch and company created a solid wall of guitar.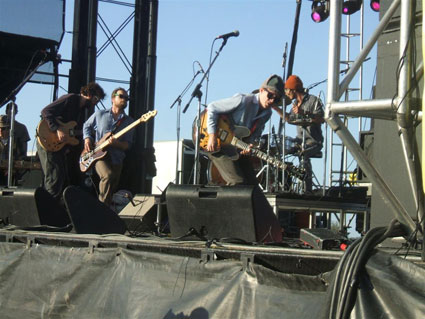 Dr. Dog
Even New York's !!! had a lot of charm, despite their lead singer's remarks some might've considered off-putting – "Had I known what kind of festival it was, I wouldn't have cut my hair!" Whatever, you guys had massive beats and freneticism in spades.
Speaking of massive beats, no one quite brought them like Thievery Corporation, probably my favorite live act of the entire festival. They could handle chill, they could handle party, they were pros in every sense of the word.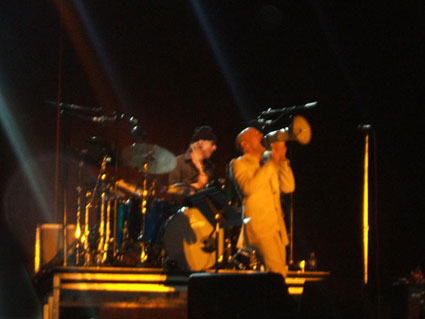 REM
Part 2
I wish I could tell you that my lasting memory of Langerado 2008 was a mix of the joy of seeing R.E.M. and the Beastie Boys for the first time, and the perturbed feeling from the site itself, an inaccessible, ill-marked place known as Big Cypress — a Seminole reservation deep in the center of Florida's southern end.
But it will always bear the scars of horrible reality.
At approximately 1 a.m. on Sunday morning, while riding on a shuttle bus back from the site to a hotel about 25-30 miles to the east, I was awakened by a loud crunching noise and being jerked forward in my seat. The bus began to swerve before coming to a stop along the dark two-lane road, bordered on both sides by swamp.
Everyone was checking to see if all was well with the passengers. Didn't seem to be a problem. The bus driver, a nice older gentleman, was trying to keep everything calm and orderly. Quickly a passenger called 911, explaining the situation.
When it became clear that the bus wasn't going to tip over — and for this, I will be eternally grateful to our driver — I looked out my window and saw debris from what turned out to be a pickup truck scattered all over the road.
The pickup's driver — whom we found out days later was a woman who practically lived across the street from Big Cypress — was killed.
When the police arrived, they checked for injuries — our driver complained of pain on his side, and was taken away by ambulance. We were escorted one by one off the bus. I looked back once outside, and a chunk had been taken out of the front of it.
It would've been one thing if somehow we could be processed by the police (which they actually did in fairly quick order, considering) and be shuttled away, at least as far as the gas station 5 miles away.
Instead, us passengers were constantly bombarded by the reality of it all — the unseasonably chilly air, the sight of police and fire workers walking back and forth as they worked the scene. Sleep was an impossibility. All my focus was on keeping as warm as possible.
And as I put my name on a list of passengers for the police, I couldn't help but notice the birthdates of others on that road. 1986. 1990. It was one thing for me — a man approaching his 40th birthday — to deal with. It was quite another for some of these kids, many of whom weren't even close to being out of their teens.
Instead of seeing in their mind's eye Michael Stipe wearing his green Obama T-shirt proudly at the start of R.E.M.'s set, or reliving Thievery Corporation's exotic voyages of sound, or even smiling about Dan Deacon's playtime atmosphere, I'm fearful all they'll be able to think about is that noise. And that swerving. And seeing that debris.
And all that reality.  
By Jon Tully