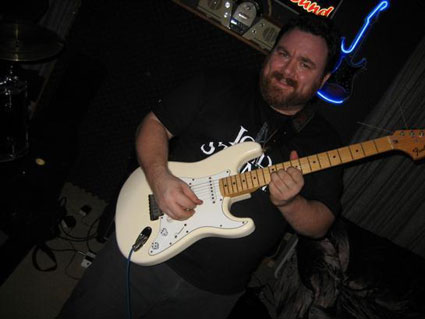 Dan Guitar Rogers was born on January 4, 1971 in Blue Island, IL.   The ultimate blues fan has become the ultimate guitar player through his musical addiction.
At a very young age, Dan Rogers had been sleeping at night with an A.M. transistor radio tucked under his pillow, fascinated with what he heard in the 1970s in Chicago on the airwaves at WLS 89AM Radio.   Emerging from the Disco of the 1975-1979 era, he took notice of several amazing new Rock sounds he heard and would never forget Mick Jagger, Rod Stewart, Foghat, Robin Trower, Styx, Journey, Led Zeppelin, and others.
Like most white Irish/Catholic middle class boys his age on Chicagos South Side, one had to choose between the Beatles and The Rolling Stones.   Dan heard "Brown Sugar" from 1971 Sticky Fingers album and was forever going to be a Devout Rolling Stones disciple.   At 7 years old his album collection already had the likes of Sam Cooke, The Moody Blues, Elvis, The Rolling Stones, The Beatles, Fleetwood Mac, Steve Miller Band, and The Who.
 
As Fate would have it, one day a babysitter in 1979 brought him to a garage to visit her boyfriend that was practicing.   As Dan walked up the driveway hand in hand with her, quite nervous seeing all of these rough looking older guys, complete with guitars, tank tops, bell bottoms, high heeled boots, and very long hair, from the neighborhood and heard the Live Electric Guitar for the very first time.   He was shocked and stunned as he and his teenage babysitter approached and watched his very first live performance ever as this band was just started the opening lines of "Hot Blooded",   "Cold as Ice", by Foreigner.   As the drums and guitar began the buildup to the electric guitar solo, a young Danny Rogers watched these "Rock Musicians" belt out the Hot Blooded guitar solo exactly note for note with a vocalist that had an uncanny ability to sing exactly like the vocals from Foreigner, Bad Company, and Foghat.
Dan was so shocked, and deeply impressed to see that these amazing talented individuals, who lived only a few streets over from his home, were so talented that they could actually re-produce the same Majestic sounds that he had been hearing all summer long at night on his little A.M. Radio that was usually pressed to his ear and stuffed inside his pillow to avoid seizure of the radio by his single mother.
As the band launched into "Slow Ride" by Foghat, Daniel stared in awe at the Guitar Player as the very heavy electric Blues was coming from the Les Paul guitar. A lifelong addiction to the Blues and specifically the guitars part in the band, was planted forever in Dans mind…the Rock music he had heard was coming from a very special place: The BLUES.
At that moment he said to himself: "I'm going to learn to play the guitar like that and "I want to be a part of this world of guitar forever."   The guitarist noticed as Dans jaw hit the floor hearing and watching the intense Blues that was coming from the guitar amplifier and the man reached out to hand him the electric guitar. "Do you want to try?"     At this moment the drummer, the bass player both stepped forward as well to compete with the guitar players offer.   Dan did notice that each musician was needed equally to create the amazing sound he heard, when one stopped playing, they all stopped playing.   As the boy looked at each person, he noticed they were all being very friendly and were offering and wanted him to try to play their instruments as much as the guitar.
In a daze, Danny walked straight over to the guitar player and was so scared of the man that he couldn't speak or even swallow as the guitar was handed to him.   As Danny took hold of the neck of the guitar, he could feel the weight and power of the instrument and felt as though he was holding a gun that was loaded.   Then the guitar player sat him in his lap and started holding his hands on the neck of the guitar and showed him how to make a few sounds with an electric guitar as the other musicians clapped and then began to play along.   As Dan looked around seeing all the amplifiers, microphones, equipment, and cables he thought, "I could actually someday become part of a musical team such as this."   This was the summer of 1979.
Through 1980-1989, Dans musical addiction began to increase daily as he begged, borrowed and traded Albums with anyone he could find and he discovered Jimi Hendrix, Robin Trower, Jimmy Page, Jeff Beck, Eric Clapton, ZZ TOP, Duane Allman, Edward Van Halen, Deep Purple, Led Zeppelin, Black Sabbath.     Following the traditional searching backwards and then "hitting the Jackpot" by learning that many of his British guitar heroes were pointing directly to the Blues musicians that were living close nearby in the surrounding Chicago neighborhoods where he grew up (Muddy Waters, Otis Rush, Buddy Guy, Lonnie Brooks, Sugar Blue, Billy Branch, Willie Kent, KoKo Taylor, BB King, John Lee Hooker, James Cotton, and Junior Wells).
Now its 2008, and Dan Rogers has never stopped playing and practicing the guitar and throughout his life he has researched the Chicago Blues and The British Blues that so heavily inspired him on to even become a semi-Pro musician that has also been teaching others to play the guitar since 1983.   Many years of collecting Blues and Rock albums, attending live concerts, and live jamming with other musicians in Chicago, all over the United States as well as England and Ireland.   Dan Rogers has searched and sought out some for advice, autographs, friendship, and even played with some of the greatest Blues acts in history including, Willie Kent and The Gents, Billy Branch and The Sons of The Blues, Big Time Sarah, KoKo Taylor, Lonnie Brooks, Buddy Guy, Otis Rush, Albert Collins, Billy Gibbons and ZZ TOP, Bill Lordan, Robin Trower, Sugar Blue, Mavis Staples, Pops Staples, Phil Guy, Mike Gibb & The Homewreckers, Jody Noa and The Sho Nuff Blues Band, Nick Charles, Buddy Miles, Jim Manns Blues Band.
Says Bill Lordan (formerly Robin Trowers drummer), "Dan has a gutsy raw guitar style with a classic blues/rock tone and plays from the heart. Not a lot of fancy runs but you can feel his passion and power coming through his hands from his soul. He has been influenced from great blues and rock players."
The joy of playing the Blues, meeting musical icons, and watching them perform continues for him as he approaches his 40th birthday.   Danny Guitar Rogers can be contacted on "MYSPACE" at: myspace.com/thegangsterofluv