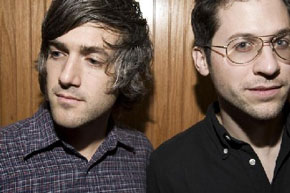 Astralwerks is pleased to announce the US release of We Are Scientists' Brain Thrust Mastery on May 13, 2008. The release follows the New York-based band's critically acclaimed 2005 debut, With Love & Squalor which Spin asserted- "It might take an alchemist to morph lead into gold, but these Scientists can mix punk, funk, and a lil' bit of disco to yield a shiny, metallic bar of infectious, genre-bending rock."
Over in the UK, the new single "After Hours" is climbing up the charts and currently in the Top 15. NME has declared the new album "A wave of pure charm…f*cking awesome". The band will launch a European/UK tour later this month, with a US tour to be announced shortly.
Fans can witness guitarist/lead singer Keith Murray and bassist Chris Cain as they go about the serious business of determining which songs will make the cut for Brain Thrust Mastery at the following link: http://www.youtube.com/watch?v=2hr0y8_-oj8
We Are Scientists began, in spirit, at Pomona College, in Claremont, California, in the Fall of 1997, when Murray and Cain met at a viewing of Dawson's Creek held in the latter's dorm room. Though at the time they couldn't suspect any of the details of the coming decade, it was apparent to both of them that they would spend many long years riding buses together — some kind of pro-sports, they assumed. In 1999, freshly graduated and moved to Berkeley, CA, the two started We Are Scientists with little more between them than a dream, a couple of cut-rate instruments, and $1.4 million in lottery winnings.
Nine years later, the band has long-since relocated to New York City, seen many countries their parents swore to them were "myth, accursed myth," and finally dated girls. Fueled by the dance floor hits "Nobody Move, Nobody Get Hurt, "It's A Hit" and "The Great Escape," With Love & Squalor sold over 150,000 copies in the U.K. The band capped off 20 months of touring behind the album with a sold-out UK tour.   At home in the US the band performed on The Late Show With David Letterman and Late Night With Conan O'Brien. Shows in the US were much lauded as well, with Time Out New York marveling at their "intrepid rhythm arrangements, clever lyrics and the highly unpredictable element known as booty shaking."
The track listing for Brain Thrust Mastery is as follows:
Ghouls
Let's See It
After Hours
Lethal Enforcer
Impatience
Tonight
Spoken For
Altered Beast
Chick Lit
Dinosaurs
That's What Counts
http://www.wearescientists.com
http://www.myspace.com/wearescientists