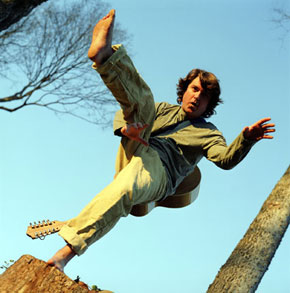 He is talented beyond belief, a showman beyond comprehension, and humble to a point of pure charm. Keller Williams hasn't had it easy, hell; the man has fought through the muck to earn himself a place in a community of music enthusiasts that thrive on the art of improvisation.
Now in 2008 what Keller Williams has channeled artistically for close to a decade is changing. Traditionally a one-man band sustained by the technological dominance of looping devices, now has Williams teamed up with String Cheese Incident bassist Keith Moseley, drummer Jeff Sipe, and guitarist Gibb Droll to form his dream live band: the Weapons of Mass Destruction.

"The project was all about timing, Martin," explains Keller Williams from his home is Fredericksburg. "I have been doing the solo thing for ten years, as far as being in the public eye. I always wanted to have a band, but in the beginning I couldn't really afford it. I have been around the country so many times on my own and after a while I was putting myself in the position of an audience member. It was always fun and exciting for me but I just felt like it was time to do something different."
Keller Williams is a Deadhead at heart. A lawn dancer before the industry swept him away. He stands as a Virginia native who got his start playing for free ski passes along the mountain ranges of Colorado. His stunning performances caught the eye of The String Cheese Incident, and the rest, well, is Jam history.
"You have to understand, I was fans of these guys! Gibb Droll and Jeff Sipe came into my world around the same time, when I was in my late teens. It was a very influential time in my playing career. I was much more of a sponge than I am now. Meaning, I was just absorbing everything."
"Jeff Sipe, Jimmy Herring, Oteil Burbridge, and Matt Mundy were something totally different that was happening. It was covering the spectrum of music. Bluegrass, jazz, funk, and I was just latching onto Jeff Sipe. I thought his whole style of all over the place drumming was really cool. I remember meeting him a long time ago, around 1995, and telling him I wanted to be in a band with him. Over the years and crossing paths with him we kept saying we were going to do this. It finally happened!"
"As for the rest of the band," says Keller with a sort pause. "Gibb was always a rock star in my eyes, and Keith was a no brainier for a bass player."
With praise of his band mates in the wings he shifts his thought process to the alterations made through entering the band dynamic.
"The band dynamic has definitely affected me for the positive. Just to be able to do something new and over the top exciting has put a whole new spin on things. Especially the songs I have been doing for years that we are now doing differently. They seem to be breathing a whole new life. I have camaraderie with the guys who I have been admiring musically for years. I think the creativity is happening in the improves and in the jams."
"I am constantly adding more songs," Keller explains. "They [his band] are at the top of their game and are really sought after. I am trying to keep them interested in the material. I am hoping one day we will be together long enough to sit down and really create a record."
With a musical ideology that is pure and unadulterated Keller Williams has lured audiences with not just an artistic premise but an unmatched candor and grace.
"I believe in rhythm and the power of taking the listener out of the day to day thought process," he divulges. "I want to transfer them into something else that is not their routine stresses, because that is what happens to me. I get taken out of the long term and my entire thought processes molds into what is happening when I am playing. It is about the dance. It is about the rhythm. It is all about the Jazz and the disco."
"As long as the musician is playing what he truly loves to play, I think their integrity is intact. If you are playing something just to make a living, or you are in a band because the pay is good I don't think your intentions would be the same. If you come off stage and you feel good about what just went down then the integrity is there, and it is 100% intact."
Keller Williams is a survivor, a staple in a business which has seen the rise and fall of more hopefuls than star high school quarterbacks. But the lessons which he has learned as helped him persevere in the single most underdog business on the face of the planet.
"I think it is not putting everything into the music business. Have some kind of income other than the music business in the beginning. Look at is as something that is fun and exciting, and try to take the lowest pressure gigs in the beginning as you can. The gigs that are low cover, no pay, and where you could go into a restaurant and get dinner. If you happen to earn some money use it as a paid rehearsal. Get as much stage time as possible and start out as grass roots as possible."
"My advice would be to not put to much stock or hope in the music business. Everyone knows it is not a thriving metropolis of income. For some people it is, but for the millions of bands on the internet, it is nothing more than a hobby. It is important that you don't look at the music business as some savior to your life. You have to do it for yourself and enjoy playing music. Hopefully the gigs, and the money, and the support will come. Because once you don't make the money you want you are going to start looking at music as something that is going to bring you down or make you depressed. Where the reality of the situation should be the total opposite," the artist concludes.
By Martin Halo