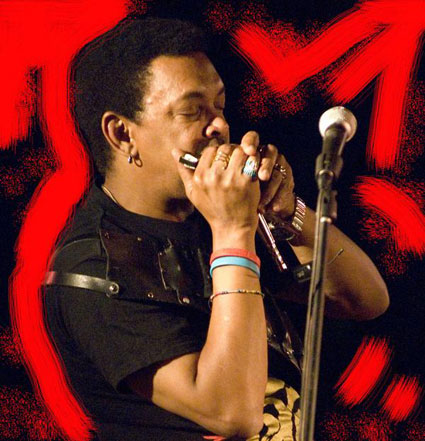 Grammy award winning Sugar Blue has been called the Jimi Hendrix or the Charlie Parker of the Harmonica, both appropriate names for the revolutionary and eclectic blues harpist. He grew up listening to jazz — specifically, Lester Young and Dexter Gordon, and soon fell in love with Muddy Waters and the blues greats. He has toured and recorded with The Rolling Stones, Willie Dixon, Bob Dylan, Stan Getz, Ray Charles, Frank Zappa, Prince and many more.
Sugar Blue was born James Whiting in New York City in 1950. The son of a singer/dancer who regularly performed at the legendary Apollo Theater. Blue received his first harmonica from his aunt, and proceeded to hone his chops by wailing along with Bob Dylan and Stevie Wonder songs on the radio. He was soon to be influenced by the jazz musicians such as Dexter Gordon and Lester Young. Sugar Blue has used this background to his advantage, creating an ultra-modern blues style and sound.
Blue began his career as a street musician, and made his first recordings in 1975 with blues figures Brownie McGhee and Roosevelt Sykes. The following year he contributed to recordings by Victoria Spivey and Johnny Shines before moving to Paris on the advice of Memphis Slim.
While in France, Blue met Mick Jagger and members of the Rolling Stones, who invited Blue to join them in the studio. Besides his work on the Some Girls album, he can be heard on Emotional Rescue and Tattoo You. He appeared live with the group on numerous occasions and was offered the session spot, but he opted to return to the States. Before returning to the U.S. in 1982, Blue cut two albums: Crossroads, and From Paris to Chicago.
Blue's decision to return home, despite his growing renown as a session player, was spurred by his desire to work with and learn from the best blues harmonica players. Thus, he came to Chicago and proceeded to sit in with Big Walter Horton, Carey Bell, James Cotton and Junior Wells. Blue went on to spend two years touring with his friend and mentor Willie Dixon as part of the Chicago Blues All Stars before putting his own band together in 1983. He then jointly received the 1985 Grammy Award for his work on the Atlantic album, Blues Explosion, recorded live at the Montreux Jazz Festival.
He recorded on Dixon's Grammy-winning Hidden Charms album in 1989, and has performed on festival stages with artists like Muddy Waters, B. B. King, Art Blakey and Lionel Hampton. He sat in with Fats Domino, Ray Charles, and Jerry Lee Lewis for the Cinemax special, Fats Domino and Friends, and has appeared on screen and in the musical score of Alan Parker's Angel Heart, starring Robert De Niro. He has appeared across America, Europe and Africa at many festivals – Chicago, Zürich, The Hague, Antibes, Nice, Cannes, Montreal, Pistoia, Berne, etc U.S. In 2007 he released CODE BLUE.
SUGAR BLUE: LIVE AT BUDDY GUYS LEGENDS, CHICAGO 3/15/08
We were treated to another mind-altering performance by the legendary Sugar Blue here in Chicago on Saturday night. I have kept in contact with him as a fan for many years and was first introduced to him at Rosas here in Chicago by none other then the late great Blues bass player Willie Kent.
[youtube qgMCkQUUjA0 nolink]
I have always been in awe of Sugars Blues playing and asked him to sign my guitar and he willingly obliged. He started out his set, burning the house down at Buddy Guys with a stunning top-speed version of "I Aint Got You" and continued on throughout the night to support his new Live album "Code Blue", playing at Warp Speed, with the technical ferocity of his Harmonica playing seeming to become more intense, as all the shimmering delicate notes began to rain down upon the audience almost like some type of magical, meteor shower from the stage.
There was a time in the 1990s when people were pointing to John Popper of Blues Traveler as the next great harp wizard. If he were to engage Sugar Blue on stage he would be found to be a mere "pre-school" student of Sugar Blue, and pales in comparison to the speed and precision of this absolute master of his instrument.
Quite simply put, Sugar Blue is a Living Legend of the Blues and Jazz. He is one of the all time greatest of the genre and once you have witnessed this performer live, and in person, you will understand why he is known as the "Jimi Hendrix" of the Harmonica.
I must say that he is beyond a shadow of a doubt, Sugar Blue is the Greatest Harp player of any style, and of all time.    Dan Rogers,   Chicago
I asked Sugar what his favorite gigs were and he answered, "Favorite gigs I have played with The Greats?? That's tough!!! I have had the great fortune to play with cats like Lionel Hampton, Dexter Gordon, Bob Dylan, BB King, Hubert Sumlin, Muddy Waters, Taj Mahal, Prince, James Brown, Fats Domino, Frank Zappa, Rick Danko, Phish, Johnny Littlejohn Stevie Wonder, Sunnyland Slim, Louis and Dave Myers, Toots Thieleman, Buddy Guy, Junior Wells, Paul Butterfield, Branford and Wynton Marsalis, Jimmy Rogers, James Cotton, John Lee Hooker, James Cotton, Jimmie Reed, Louisiana Red, Willie Dixon, Robert Jr. Lockwood, Sammy Price, Horace Silver, Art Blakey, Eddie Jefferson, Larry Grahm, Howard Johnson, Mick Taylor, Lucky Peterson. Lonnie Brooks, Phil Collins, Paul Quinicette, Buddy Tate, Archie Shepp, Rico Mcfarland, The Kinsey Report, Melvin Taylor, Hiram Bullock, Fats Domino, Brownie McGee and Sonny Terry and many more truly monster players!!! I don't mean to be a namedropper but I am really very proud and fortunate to have been in the same room with these wonderful musicians let alone to have played, jammed and hung out with them! How do you possibly choose which player or situation? It would be like choosing a single star from the universe and saying it was brightest, I can't do it! Is there anyone that I'd like to play with? Sure man, but just who that is will be something I know when it happens!"
"I just got back to the EU a few hours ago and jet lag's got me in its clutches!" said Blue. Do you like touring? I asked. "Does Dracula like pretty young girls? I couldn't live without it baby! That's where the living, loving and creating happens, on the road and on the stage!" said Blue. It's a good thing he likes touring…. look at this schedule just for the next month:
March 28 Borgosesia Blues Festival Borgosesia
29 Rain Dogs Savona
31 Le Batard Club San Prospero, Italy
April 1 Deep Blues York
2 Borderline London, UK
3 BBC Session London, UK
4 Unta Da Lindn Steyr
5 Budapest Festival — Petofi, Hal Budapest
6 Blue Garage Frauenthal
8 Tunnel Wien
9 Gwoelb — AT Komeuburg
11 SPAZIO MUSICA Pavia
12 Dimmi DiSi Rome, Italy
28 Ingolstadt Blues Festival Ingolstadt
"With regard to my CD "CODE BLUE" My favorite trax?…hmmm! Let it Go, Chicago Blues, Walking Alone and Crystalline I guess but not necessarily in that order, oh and High You Can't Buy! Cold Blooded is cool too…I really like them all ya know!"
I asked Sugar what he wants to be doing five years from now. "I want to be living the life I love, watching my daughter graduate college at the head of her class and see a little more peace, love, understanding and appreciation for the planet we live on and those we share it with! Thank you very much for your interest and for promoting the music. It is one of the keys to the door to harmony among Gaia's children and I'm sure Mother Earth likes that as well! Blessings on you and all!"