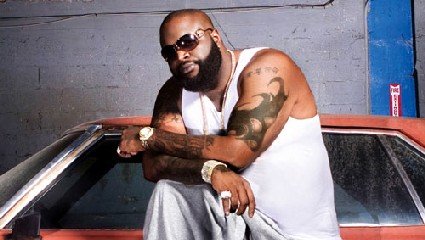 Slip N' Slide/Def Jam recording artist Rick Ross joins the exclusive VIP club reserved for MCs whose first two consecutive major label album releases have entered the Soundscan chart at #1, as TRILLA (in stores March 11th) debuts at #1 on first week sales of over 198,000 units.   The #1 chart debut- and #1 Digital Album –   was powered by Rick's current single, "The Boss," featuring T-Pain, coupled with an aggressive street marketing campaign and a release week performance on ABC's Jimmy Kimmel Live.   TRILLA follows the success of Port Of Miami, Rick's IDJ debut album (released August 2006) which entered at #1 with first week sales of 187,000 units.
"We are thrilled to bring home this hard-fought #1 for Rick Ross," said Island Def Jam Music Group chairman Antonio "LA" Reid. "The Def Jam and Slip N' Slide staffs, and especially Ross himself, pushed really hard to get here. I'm proud of the work, but more importantly, I'm proud to have Ross cemented among hip-hop's elite, where he belongs"
"The Boss" was produced by Jonathan Rotem, L.A.-based hitmaker for Sean Kingston, the Game, Snoop Dogg, Jennifer Lopez, Chamillionare, and others.   The new single moves up to #14-bullet on both the R&R/BDS and Mediabase Urban charts; and also breaks the Top 40 on both the R&R/BDS and Mediabase Rhythmic charts.   The song's Hot 100 Airplay audience continues to build, now over 28 million with 3,600-plus spins.
Online, Rick's personal "TrillaWorld" blog is in its second month of operation.   His http://www.myspace.com/rickross website shows more than 14.3 million profile views, and over 366,000 friends, with an amazing 22.8 million total plays.