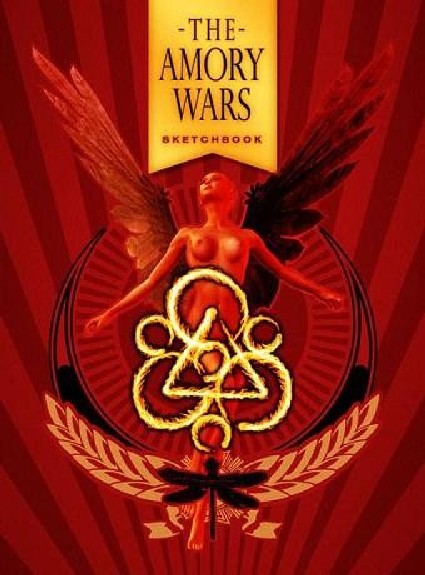 Claudio Sanchez, singer/guitarist of Coheed and Cambria, announced today that the first five issues of his best-selling comic book mini-series, THE AMORY WARS, will be released as a paperback graphic novel.   Sanchez will debut the book, with a brand new cover by superstar artist Tony Moore ("Walking Dead"), at the New York Comic-Con in April.   The book will be available everywhere books are sold, while the Hot Topic chain will carry it with an exclusive "variant" cover that will be unique for books purchased in their stores.
 
Sanchez, who created the sci-fi/horror mythology behind THE AMORY WARS, and who wrote the critically-acclaimed comic book, said that the graphic novel will also feature new, previously unreleased material from the mini-series.   A brand-new, five-page sneak preview of the next THE AMORY WARS mini-series, set to debut this summer, is also included.    
THE AMORY WARS, which is published through Sanchez's comic book imprint, Evil Ink Comics, and distributed by Image Comics, bridges a world between rock and roll and comic books like never before.  
 
The comic books expand and elaborate on the epic lyrics from Coheed and Cambria's four albums, which include: The Second Stage Turbine Blade (2002), In Keeping Secrets of Silent Earth: 3 (2003), Good Apollo, I'm Burning Star IV, Volume One: From Fear Through the Eyes of Madness (2005), and the band's latest release No World for Tomorrow (2007), which features the hit single "Feathers."
Critical response to the album has been fantastic. Besides being highlighted in fall preview features in "New York" magazine, "USA Today" and the "New York Times," "Blender" magazine said that with the release of the new record, "Coheed have found their sweet spot." David Fricke in "Rolling Stone" noted the band's "impressive resolution in the decisive pop arc of the mutating riffs and slippery time signatures," and concluded, "there is plenty worthy of rewind here." "Revolver" gave the record four stars in their lead review and said that, "this record feels like the beginning of something new," as it marks Coheed's "ascent from the geek-metal underground to the heavy-music mainstream."
The band just finished a national arena tour supporting Linkin Park and will be touring worldwide throughout the summer.
The New York Comic Convention will take place at the Jacob Javits Center, April 18-20. Sanchez will be signing copies of the book at the Evil Ink Booth, as well as the Image Comics booth.
 
www.coheedandcambria.com
www.theamorywars.com
www.myspace.com/coheedandcambria
www.columbiarecords.com