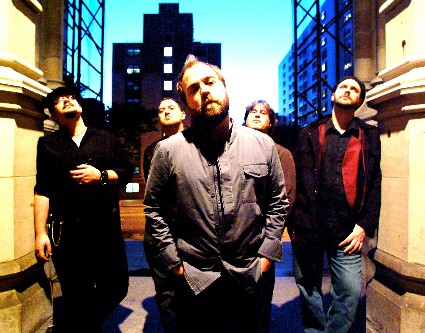 With no distortion or digital effects tainting their sound, the dreamscapes project delivers music with nothing to hide. Raw and bare, the group brings a simple and honest sound to the table with an acoustic guitar, bass, two percussionists, and shimmering cello accompaniment. "I think there is something so disarming about acoustic music. There are no walls of distortion to hide behind," says singer/songwriter, Keith Center. "To express emotion, you just have to express it."
With one of the strongest local followings throughout the Washington D.C.-area and an impressive catalogue of releases, the dreamscapes project is ready to bring their raw acoustic exuberance to the national scene with their new full-length Pity In A Heartbeat, being re-released May 6, 2008, on Figmental Records.
The record displays Keith Center (vocals/guitar), Jeremy Rodgers (bass guitar/vocals), Ben Guy (cello/vocals), Gordon Shankman (drums/percussion) and Eric Sanford (percussion/drums) at their finest musical potential, gently wrapping the ardor of Center's lyrics with Guy's strikingly engrossing cello lines and precise percussion.
"Anger and frustration isn't about stepping on a box or hitting a switch, it's about lashing out and flailing, and an acoustic guitar forces you to do that," says Center. "There is no short cut, sometimes you just have to start breaking strings and bloodying fingers to get the sound you want."
TRACK LISTING:
1. Excess
2. Food For Thought
3. Try Cycle
4. Seldom A Sword
5. Still Love
6. Blues
7. Act V, Scene I
8. Shadowbound
9. Burning Bridge
10. Still Love (Hager Mix)  
11. Act V, Scene I (Juliano Mix)
THE DREAMSCAPES PROJECT ON TOUR:
3.29 Gaithersburg, MD @ Dogfish Head Alehouse  
5.16 Mount Joy, PA @ Bube's Brewery  
5.18 Leesburg, VA @ Tarara Winery  
6.01 Herndon, VA @ Herndon Festival  
6.07 Fairfax, VA @ Celebrate Fairfax  
7.19 Columbia, MD @ Mad City Coffee  
8.23 Chestertown, MD @ Andy's
Official band Web site: http://www.thedreamscapesproject.com