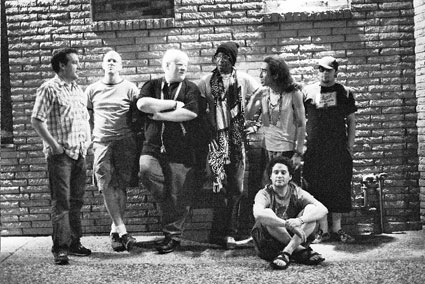 (From left to right) Tom Peterson, Joel Arpin, Brian "Snowman" Powers, Stan Kipper, Chico Perez, DJ Trichrome and
(lower front) Javier Trejo
Formed in early 1999, New Primitives explores popular music through high-energy Rhythm & Blues, Ska, Reggae, Calypso, and World Dance Music.
The music of New Primitives is an amalgam of the communities and lives of its members. Performing regularly in the Minneapolis-St. Paul area, this diverse group of talented musicians is dedicated to bringing people together.
Stan Kipper returned to Minneapolis in 1989 after nearly 20 years in Los Angeles touring and recording with such artists as Minnie Riperton, Bill Withers, Joe Walsh, Jay Ferguson, Andrew Gold, Randy Meisner, Barry Gibb, Little Richard, Bo Diddley and Karla Bonoff. Stanley has composed songs for several films and commercials, and has also won top honors in the Coors Light National Song Contest. Stan has played drum's with the Big 3 on separate occasion's – – Chuck Berry, Little Richard (who stopped his band and jumped up screaming at Stan by acknowledging that, "This boy got that thang, this boy got that thang!"), and Bo Diddley – – playing with him every time Bo came to the Twin Cities area.
Stan first appeared at the Whiskey Ago-Go playing drums with Jazz violinist and Downbeat Jazz Poll winner, Don Sugercane Harris. Stan met Bill Zymzyck, legendary producer for the Eagles, BB King, Jay Ferguson, and Joe Walsh, in 1970 at Tumble Weed Record's in Denver. Bill said, "One day we are going to make hit record's together". . he was right! Valerie Celene brought Taj Mahal into the National Camera Exchange store in Golden Valley, MN on a lazy Friday to see Stan. Taj offered Stan a chance to work on his label . . . and the story is still being written!
He offered his musical talent in an award winning ad for Los Angelos' Pioneer Stereo's, along with director's Ridley Scott and Brent Thomas, and has also worked on 2 film's, including working with Christian Slater and Marisa Tomei in "Untamed Heart" and the movie "Factotem" with Marisa Tomei and Matt Dillon. Stan played Bob Marley emerging from a cloud of smoke, for the Guthrie Theatre's television ad campaign for "A Christmas Carol", and played percussion with Bob Dylan's original "Blood on the Tracks" Band. He is a BMI writer and has his own music publishing company, Pilot Knob, named after his first dog. Stan was and still is a member of the legendary band Gypsy, which was just inducted into the Minnesota Rock/Country Hall of Fame last year. His travels have taken him around the world, including 6 trips to Japan. He has appeared on Saturday Night Live, (w/Andrew Gold) and The Tonight Show.
His current band, New Primitives have been voted Minnesota's Best Reggae Band/Best Artist for five years in a row! Stan is quick to point out, "we have so many influences that our music is a stew of cumbia's/reggae, r&b and rocked out world music!"
Here is information on the band members:
Chico Perez: percussion and backing vocals
Chico has been an active percussionist for many years, touring with such groups as Crow Cola, Gypsy, Jump Street, and 7th Wave. His professional career includes numerous studio projects, as well as keeping busy as a drum-maker and teaching African and Afro-Cuban percussion at the Minneapolis Drum Center.
Joel Arpin: trap drums, percussion and backing vocals
Since completing his degree in Percussion Performance from the University of Wisconsin in 1987, Joel has been an active percussionist in the Minneapolis music scene. Joel currently stays active studying and performing African, Afro-Caribbean percussion and World Music.
Matthew Stevens: bass guitar, backup vocals
Matthew grew up in a musically rich environment, learning his first blues lines on bass guitar at age 14 from his father. Soon, he began playing with brother, Nate, and Javier Trejo in The Beads. Matt has studied and played with Gary Hede and Jeoffry Baily and played Jazz at the U of M School of Music. He also played with his group, The Jazz Bastards, and with Hip-Hop group, United States of Consciousness. In 1999, he and Mason Hozza re-formed The Beads. Soon after winning the Cabooze's contest for "Best Unsigned Band in the Twin Cities", The Beads released their 2003 CD, "Ordinary Sunday People." After The Beads' run, Matt formed the Stevens Brothers Band with longtime friend, Dave Libman (aka Juice), brother, Sam, on drums, and Nate on Vox and Harp. In the spring of 2005, Matt began performing with Wookiefoot, adding another dimension to his repertoire.
Matthew first met New Primitives in 2003 when they co-billed a show with The Beads. A few months later, Matt was invited to fill-in for Tommy Peterson while he was away on his honeymoon. During a practice/jam session before the gig, Matt remembers his feeling of glee over the rhythmic differences and all the possibilities of playing with this group. He finished the show, but did not hear from them about playing until 2005. This is when Javier called to say that Tommy was working on a new endeavor with his business partner and would he be interested in filling in regularly?
Since then, Matt has played many gigs with New Primitives. His experience playing jazz, hip-hop, reggae, and world beat converges with New Primitives' style: multi-genre, percussion-driven music at its finest.
Tom Peterson: bass guitar
Tom is the guy in the band that the crowd never notices — until the bass drops out. . .Tom first heard Stan, Chico and Joel at a festival in St. Paul with their group, One World, and handed Stan his card saying, "If you ever need a bass player, give me a call". Nearly two years passed, when Stan finally came to his senses and called Tom. Along the way, you may have spotted Tom with many other fine bands in his 15 years in the music industry, but New Primitives offer up the Reggae/Afro- Latin Soul thing that he so desperately needs. In addition to playing with New Primitives, Tom is also co-owner of 318, and the Greenroom, and enjoys a sporting match of bocce.
Brian "Snowman" Powers: saxophones, ewi, vocals, and producer
Created deep in the swamplands of Louisiana by an accident involving a mad scientist, some bleach, and a jar full of mystery goo, the "Snowman" emerged from his home to spread the love and pure joy of music to the world village. Strong New Orleans traditions of the blues, R&B, and jazz seem to be infused into his very soul. After finding that there was nothing he could do to prevent the demise of the Atari 2600 gaming system, Brian turned his focus to the saxophone. After winning everything from first in the "All State" competition, to the "most likely to eat a vat of un-ground community coffee beans" contest, he clis by way of a brief layover in NYC. . .which lasted about eight years. Let this be a lesson that you should never piss off your flight attendant lest you be stranded in a really big city. While stuck in New York, Brian "Snowman" Powers earned a BFA in Jazz, toured the country, and shared the stage with wonderful folks including Blues Traveler, The Spin Doctors, Reggie Workman, Chico Hamilton, The Samples, Swampadelica, Deep Banana Blackout, Pat Mcgee Band, Antigone Rising, Minneapolis Gospel Sound, Ecselsior, and Junior Mance — just to name a few. After finally reaching his destination here in the Twin Cities, Snowman found his home preaching the message of peace with the New Primitives, as well as cultivating a promising producing career.
Javier Baldemar Trejo: guitar and vocals
Javier started playing music at a very young age. He started playing the violin at three, moved to the piano at age seven, the saxophone at age twelve and guitar only a few years later. "I feel very fortunate to have found my calling in life! I still believe that music has the power to save the world, and that we all need to get together on this and raise the global consciousness because there are other people out there who feel the same way!"
"Latest additions to the band are Daryk "Durwood Narum who plays tenor and baritone sax with us. We plucked him from the No Dakota Boys. Also, Erick "afro-keys" Anderson whose day job is keys with atmosphere, is a bonna-fide New Primitive as well, and a brand new father. Millicent was born just a couple of days ago!!"
The name New Primitives comes from Kipper's appreciation of the elements and life's simple pleasures such as "love, drum beats, laughter, rain, sun" and his respect for the "tribe of mankind, ancestors, family, what holds us all together", he says. When asked what he wants in the future for the band, he said, "We would like to get tighter, reach a wider audience, make better records, do better lives shows and make our family and friends proud while bringing it with heat and daily passion".
"There is a live CD available, you can get at the shows or on line at newprimitives.com. It was recorded at the earth day show from Harmony Park, last year. We are returning to the 10KLF festival (Detroit Lakes Mn.) again this year. Our second studio CD (working title "American Nomads") has a summer release date…We are at Nye's Palonaise Room (voted the best place to hear music by Mpls/St.Paul Magazine) every Thursday night, if we are in Minneapolis."
www.myspace.com/newprimitives
www.newprimitives.com