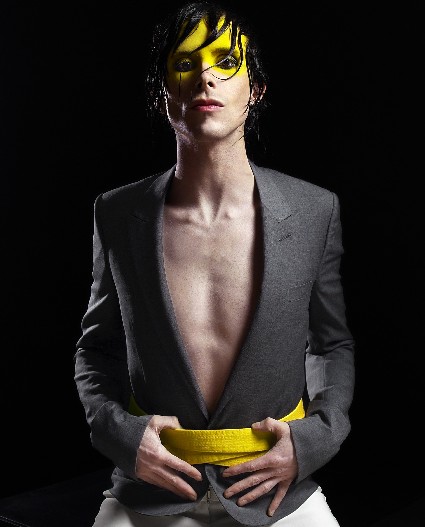 Releasing A Remodeled Version of The Alternative on May 7th and Expanded Version of Kiss + Swallow on June 24th
Photo: Nickie Mcgowan
After conquering the U.S. underground with two sold-out tours without the having any domestic albums instores, the heavily-buzzing glam noir band IAMX (led by the ultra-charismatic and beguiling Chris Corner of triphop pioneers Sneaker Pimps) have signed to Metropolis Records and will be making their Stateside debut with the release of their two groundbreaking albums The Alternative and Kiss + Swallow.
With an overhauled version of their breakthrough album The Alternative that has been remixed, remade and remodeled to a more realized and powerful version than the European original, these Berliners are ready to unleash their brand of dark and sexy electro/rock/punk/goth synthpop on May 7, 2008. Their 2004 debut album Kiss + Swallow will follow on June 24th with the added Moonbootica remix of the title track and the video of the fan favorite "Missile". "It's so refreshing to work without the chains of industry bullsh*t and still be able to reach people," says Chris Corner about avoiding U.S. label intervention until now. "I was completely blown away by the spirit and attitude of the audience over the years. There is a deep affinity from our fans and that makes us very hungry for more."
 [youtube BPNmc71b7iE nolink]
Like an 80s electro glam soundtrack to a Jan Svankmajer film or an almost unfathomable hybrid between the sexy swagger of Prince and the cool and collected respectability of Roxy Music, IAMX mixes the erotically-charged vocals of Chris Corner with music that is, at once, frantic yet intensely controlled. With such strikingly cinematic songs as the waltzy cabaret drama of "President" to the percussive sexual predatory dirtiness of "The Negative Sex" to the indelibly infectious synthpop of the sweeping "Spit It Out", The Alternative is just that – the alternative to the cookie-cutter music scene that dominates the airwaves. A visual and aural intersection, IAMX's live performances have sold out venues across Europe, the UK and the US, even landing on US music industry trade magazine Hits' best SxSW showcases in 2007! Voted Number One Album of 2007 by XM Radio, The Alternative is the sound of an independent revolution offering the perfect "alternative" to the insipid radio drone of the mainstream.
The European marketplace has already gone berzerk for their blend of dramatic synth-rock, darkness-infused pop, and intricately-constructed indie dance and IAMX has been headlining festivals overseas in Brussels, Berlin, Russia, etc. and supporting (and sometimes overtaking) such stalwarts as Placebo, Franz Ferdinand, Duran Duran and The Cardigans. And now, with the upcoming U.S. release of the two IAMX albums, it's not a question of "when he'll conquer the U.S." but "how soon?"