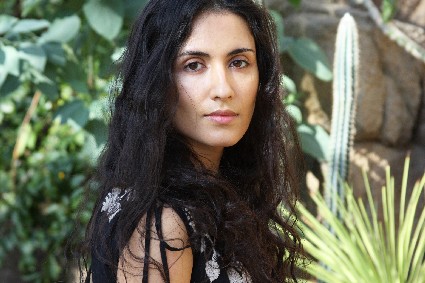 LOOK FOR HAALE ON TOUR IN SPRING 2008.
Haale (as in halle-lujah, or jale-peno ), is a downtown New Yorker of Iranian descent. On her breathtaking full-length debut, No Ceiling, she draws on that heritage freely, but filters it through a contemporary prism. That is, she extracts the Persian influence of her bloodline – including the work of the mystical poet Rumi – and the Sufi trance tradition, while weaving in her fondness for Hendrix, Dylan, Radiohead, and psychedelia. No Ceiling synthesizes the diverse elements of Haale's personality into a single, impressive approach. Haale sounds pretty much like who she is.   The ten songs on No Ceiling encompass a musical journey in the truest sense, while Haale's substance and versatility stand in stark contrast to today's fashion-show mainstream pop. With the release of No Ceiling, at a time when so many bands sound painfully alike and imitative, Haale offers a much needed voice.     No Ceiling is released today on Channel A Music.
Made in partnership with percussionist/producer Matt Kilmer, and a number of NYC musicians, No Ceiling is a group effort. Haale and company have earned a secure place in the downtown scene while also generating opportunities for more mainstream exposure. She released two mesmerizing EPs in 2007 – Morning and Paratrooper. Haale has recorded with Sean Lennon (on 'Before the Skies'), has been presented by David Byrne, and has worked with producer Dougie Bowne (Cibo Matto, Chris Whitley, Cassandra Wilson). She has dazzled audiences at SXSW, Bonnaroo, the Mimi Festival in France, and shared the stage with Frank London of the Klezmatics as well as the legendary Hugh Masakela and Odetta on the Songs of Spirit tour.  
Haale is on tour this spring in support of No Ceiling. The current list of confirmed tour dates is as follows:
March 19 Univ. of North Carolina ~ Memorial Hall Chapel Hill NC
March 20 IOTA Café Arlington VA
March 21 Tin Angel Philadelphia PA
March 22 Brooklyn Academy of Music (BAM) Brooklyn NY
March 23 Drom New York NY
March 26 Messiah College ~ Brubaker Auditorium Grantham PA
March 27 Thunderbird Café Pittsburgh PA
March 28 Beachland Tavern Cleveland OH
March 29 Kinetic Playground Chicago IL
March 30 High Dive Champaign IL
April 01 Shank Hall Milwaukee WI
April 02 Cedar Cultural Center Minneapolis MN
April 03 The Crofoot – The Pike Room Pontiac MI
April 04 Lula Lounge Toronto ON
April 05 Bellows Falls Opera House Bellows Falls VT
April 06 The Paradise Boston MA
April 10 Narrows Center Falls River MA
April 11 The Tralf Buffalo NY
April 12 Cornell University ~ Risley Hall Ithaca NY
June 12 Flushing Town Hall Flushing NY
July 26 & 27 Hillside Festival Guelph Ontario
More dates to be announced.