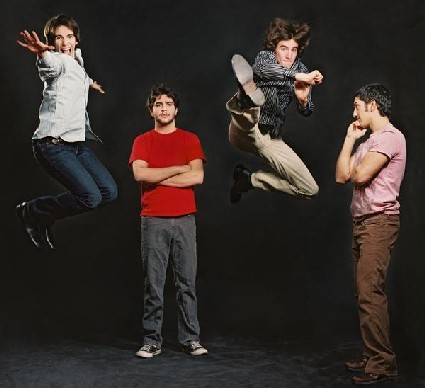 The Shake are a indie rock band from NYC that have a sound that is catchy & contagious. These guys have been together for a while and they have become veterans in the indie scene. The Shake  will release  their new CD, 'Well, Oh Well' on May 27th, 2008 which I love so I had to dig deeper and chat with the boys.
Stoli: When you first decided to form The Shake as a band what kind of music did you want to create? Would you say that you have stayed true to that original mission?
Jon: We simply wanted to create music that we would listen to, and would enjoy performing.   We knew it would need some soul and emotion to be authentic.
Eliad: I think that we wanted to create music that we could enjoy listening to. Something that was honest to what we enjoyed listening to as people who enjoy music.
 
Stoli: A lot of fans consider indie bands a sellout once they make it big. What is your opinion on selling out and how do those fans effect you?
Jon: The people that have those opinions are the ones who tried their hand and indie rock and never became successful. We want our music to be heard by as many people as possible.
Eliad: People will have their opinions. That's cool. Like Jon said, we want as many people to hear our music as possible because we feel that we have something to say and something that's worth listening to. We don't expect everyone to see things our way.
Stoli: Gas prices are rising at a fast rate. Do you think that bands will begin to pull back on touring because of this?
Jon: This won't stop bands from making the effort to tour, because there will always be the drive (no pun intended) to make it big.   It just adds another layer of difficulty to successfully playing in different cities and making it financially feasible.
Eliad: I don't think that we'll see a decline in tours. If anything, I think that we'll see bands pass on the expense to fans in the form of higher ticket prices. One can only guess how that'll impact things like merchandise sales, concert attendance, etc.
Stoli: There are four of you in the band. How do you keep the peace and keep egos in check to stay focused on the music?
Jon: Anyone that tells you it's easy to keep egos in check is lying, or makes shit music.   There's a constant effort to keep everyone satisfied and use the ideas of all four members regarding any aspects of the band.   However, we all know the ultimate goal of the band is to write the best songs that we possibly can, so we usually do a good job of putting our egos aside for the sake of the music.
Eliad: We fight ALL THE TIME. It can be difficult and very frustrating but it's part of the fun of writing music as a group. We all have good taste in music and we thankfully all have strong enough opinions that we're willing to get behind an idea until our voices get sore from arguing. In the end, we know we're going to produce something that all of us and other will enjoy.
Stoli: Would you say that your experiences with the opposite sex help inspire your songwriting?
Eliad: No question, but I don't think that they're by any means our sole inspiration. There are enough love songs out there. Still, we've got a couple of our own.
Stoli: Would you say that being in The Shake has got you laid on that fact alone?
Eliad: The last time it did, the girl ended up being a little less than sane, so I usually don't discuss too many things relating to the Shake until I've gotten to know a girl better. I mean, I'd like to think that there's a little more to me that just this band…I hope…
Stoli: Coming from NYC, would you say that the music scene in NYC is oversaturated?
Jon: That's an understatement.   NYC is arguably the most difficult music scene in the world to make an impression and break through to a broader level of popularity.   With dozens of clubs featuring 5 bands playing 7 nights a week, it is extremely tough to stand out as a band worth paying attention to.   We pride ourselves on our live show and our ability to make fans out of spectators after just one show – that's what we've got to do.
Eliad: The things that make New York City a great resource are the same ones that make it so difficult to play in. Anyone who's ever picked up a guitar dreams of coming to New York to make it big. Like Jon said, there are so many bands here that we're forced to stick out and always bring our A-game in a Darwinian struggle for survival.
Stoli: Was there a major difference in the recording process from, Kick It, to Well, Oh Well?
Jon: We worked in the same studio and recorded the songs in the same manner for both albums.   However, for Well, Oh Well, we put in more time to perfect the smaller details of the songs, which are more layered and textured in general compared to those on Kick It.
Eliad: We also put more though into the lyrics so that they focused on subject matter that we felt was different from and more mature than the lyrics on the last album. I also tried using the guitar in less conventional ways to produce what I call "guitar textures."   A good example of when you can hear it is within the instrumental of the title track, "Well, Oh Well."
Stoli: How did you come up with the title for the new album, Well, Oh well?
Jon: The original lyrics for the outro of the title track were a very generic "Yeah, yeah, yeah," but one practice I just belted out "Well, oh well" and it fit so perfectly with the content of the song.   After some more thought, we realized how well it sums up so much of the lyrical content of the entire album in one simple phrase.
Stoli: The Internet has given indie bands lots of reach to gain fans. How do you keep The Shake original and unique from the crowd?
Jon: It's not easy to stand out on myspace and other such websites, but we try to keep us on the minds of our fans as much as possible, via blogs, news updates, posting new songs, videos, pictures, etc.   We personally message people who we think would enjoy our music, and we always respond promptly to messages and fan mail.
Eliad: The key is to show fans that you're not better than they are. Fans are always pleased to learn that we're just four guys who love doing what they do. Often we'll ask fans to drop by before a show and enjoy a drink with us. We really mean it. We love meeting fans.
Stoli: What other music or artist do you listen to that is not in the same genre as you?
Jon: The Temptations, a lot of Motown.
Eliad: I've been listening to a lot of Art Tatum, Robert Johnson, Miles Davis, Pete Seeger, Thelonius Monk, and a few others. You know, good stuff.
Stoli: Would you say that the amount of friends or plays on MySpace will directly predict how many albums you will sell?
Jon: There's quite a difference between someone listening to our tracks on myspace and buying our album.   We can only hope that one predicts the other, because every person that listens to a few of our songs should want to hear more!
Eliad: That said, we've seen a significant increase in our album sales since we've started targeting fans on myspace. To our surprise, we've discovered that fans will buy our music if they like what they hear.
Stoli: What can your fans get ready for from The Shake for the rest of 2008?
Jon: More shows, a new video, and just a whole lotta fun.
Eliad: A gig at Madison Square Garden wouldn't be a bad idea.