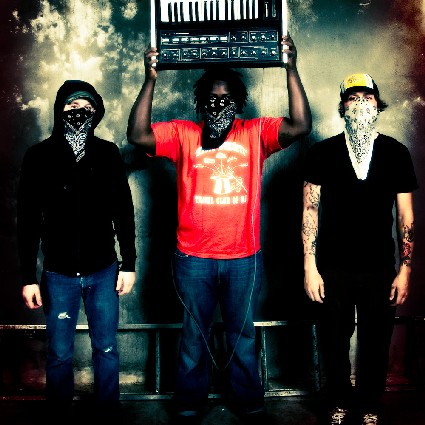 (c) Jauhien Sasnou 2008 / www.jauhiensasnou.com  
I was pitched this band named, Kid Kreyol and to be honest it was the name that caught me. Then I dug deeper and I realized that these guys are the real deal. These musicians are straight out of Philly but have a sound that is contagious. I wanted to meet Kid Kreyol and the lead vocalist Blayer Point-du-Jour was kind enough to offer a real & raw look into the group.
Stoli: I love the name of your group. I know it is a take off the Haitian language but what is your link to the Haitian people & heritage?

Blayer Point-du-Jour: I have a vivid memory from my childhood that's always reminded me of my Haitian heritage. I was about five years old and I was coming home from school one day and I told my Dad that today in school I learned that I was from Africa. My father angrily pulled out a map and pointed to Haiti, "you're Haitian not African" he scolded me. That memory has always stuck with me. Growing up we spoke French and Creole in my house, and for dinner it was always Haitian food. Every band I lead always gives props to Haiti in some way.
Stoli: When I was living in Miami, I almost got jumped in middle school in the cafeteria. My Haitian friend got in the middle and those gangbangers never came near me again. Are Haitian's more loyal and tougher than the average person?

Blayer Point-Du-Jour: My parents were big on family values, living natural, eating Haitian food, and playing sports. All those things combined make my siblings and I a little tougher than the average person. Plus, we grew up in a rough section of Newark, New Jersey, and you have to be hard growing up in Newark. There was a certain demographic in our town that would always give the Haitians a problem, and by the time I was in middle school I get into about three fights a week. But, I really feel like we have good genes too. My siblings and I were all great basketball players in High School. Most of us played football as well. My cousin Jonal Saing-Dic plays for Michigan State right now. I try not to fight now that I'm older, but if someone provokes me their gonna have a 6'1 250 pound Haitian on their hands. Now that's a problem!
Stoli: When you started the group did you know what sound you wanted to create or was that a natural progression?

Blayer Point-Du-Jour: I started a project called Anna Gardens in 2002. I recorded about 15 songs but most importantly I discovered my own little writing formula. So when we started Kid Kreyol, our first songs were old Anna Gardens songs which we retooled.
Stoli: When you three came together were you friends first or did you know you wanted to create music together?

Blayer Point-Du-Jour: We've all been friends for 7 years now. We all met a college in Phoenixville, Pa. Matt and I started playing in a band called Miss Argentina in 2004. I encouraged Dan to move to Philly around the same time. Dan was drumming in a band called The Arctic. Around November 2006 Miss Argentina and the Arctic both fell apart, and we decided to work together in Kid Kreyol.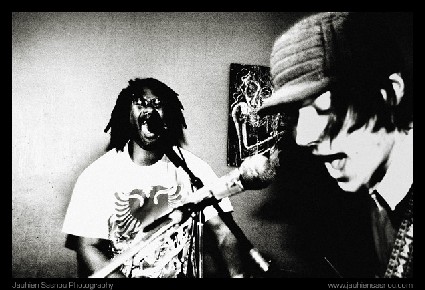 (c) Jauhien Sasnou 2008 / www.jauhiensasnou.com
 
Stoli: When you are not creating Kid Kreyol music what other musicians do you enjoy listening to?

Blayer Point-Du-Jour: I'm all over the place. Right now I'm listening to Clipse, "We got it for Cheap Vol. 2". I'm loving the new Freeway Album "Free at Last". When I'm about to go to a party I always play The Streets, "Original Pirate Material". My roomate recently put me on to Jay Retard, "Blood Visions". I'm loving the new Kenna album, "Make Sure They See My Face"! Kenna always gets bad reviews but you should seriously give this guy a listen. The new El-P record, "I'll Sleep When Your Dead" is great. Lastly on a recent trip to Montreal, Quebec I saw a Haitian band called ZENGLEN. There really awesome.
Stoli: How long did it take to record your new album, The Essence?

Blayer Point-Du-Jour: It took about a week. The first three days were spent tracking the main music. The three of us record live, and we ended up rocking out for about fifteen hours. The rest of week was spent adding all the extra parts and singing. Joey Getz laid down some additional percussion. Kim Hall played the accordion and sang some backups vocals. Josiah Kravitz played the Briton saxophone.
Stoli: What was your inspiration to create the album and what are you hoping to accomplish with it besides $$?

Blayer Point-Du-Jour: Money is the last thing we worry about. We put our own money into this band. We rarely ever get paid for shows. There are certain powers that be in Philly that use the local acts to fill the room then pay the touring bands most of the cash. I'm always writing songs. When we started Kid Kreyol, I started to really push myself to write a lot. Lots of our songs stem from my frustations with certain things, or lingering pain that I've been dealing with. I hope word of mouth will spread and we can be self sustaining group one day. Until that happens though, I just want people to hear our music and enjoy it, that's the most important thing right now. Until then, we will keep grinding and playing shows.
Stoli: Some people in the music biz feel that albums are no longer necessary and you just need to make singles for downloading. What are your thoughts on that?

Blayer Point-Du-Jour: There are so many bands these days it's hard to figure out who's real and who's an uninspired rich kid. Bands get signed, release two sub-par albums than fall off. I think the groups that release challenging, original music will remain. All these biters and fakers will go back to their parents house. Albums have been around for years. I can't really see any of my favorite groups just releasing singles. I'm a nerd though. When I listen to a group I like, I have to listen to the whole album. So If I buy an album it's gotta be a long banger. If an album just has one or two good songs on it, it will quickly find its way to into my garbage can.
Stoli: How much of your real life struggle is expressed in your music?
Blayer Point-Du-Jour: All of our songs are about different life struggles I've faced. I usually write when I'm upset about something I've been thinking about. Take the latest song we recorded, "Mansion Party". It's got a pretentious title but the events in the song really happened. The day we finished recording the Essence, the guys and I met up with my friend Tamara. She was mansion sitting, and this place was amazing! Ten bedrooms, a gigantic garden, a huge in ground pool surrounded by tall shrubs, and a grass area for playing touch football or whatever. We drank two cases of beer between seven people. We were so faded! Dan and I had our eyes on the same girl but he ended up with her. I was so jealous. In a drunken haze, I laid it on the line to this girl later in the night and she wasn't feeling me at all. The next day, I was so pissed at myself. I spent the day throwing shit around my apartment and punching walls. That experience gave me enough fuel to write a new song. The chorus reads "Green with envy//Drunk with jealously". The bridge reads "I made a fool of myself//That's how all the songs get written".
Stoli: They say that certain music speaks to a certain group of people. Is that true with Kid Kreyol and who are those people?

Blayer Point-Du-Jour: We borrow from a couple different genres in our writing. Rock, Hip-Hop, and Haitian music. We don't want to appeal to just one group of people. We appeal to many different demographics because we're so experimental. Jean-Michel Basquiat once said in a interview "I'm Kreyol, so i got a little French, European, and Haitian influence in me. A little bit of everything". So that's where were at. We are borrowing from these different genres to create something brand-new. Hopefully the people with recognize no matter what group their in.
Stoli: What can we look forward to from you fellas for the rest of 2008?

Blayer Point-Du-Jour: I'm trying to write another album. Right now I'm calling it Le Tour De Kreyol. Were gonna implement more Kompa and french language into our music. At the same time were gonna write faster songs and it will still rock!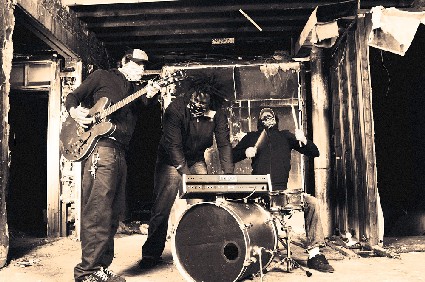 (c) Jauhien Sasnou 2008 / www.jauhiensasnou.com