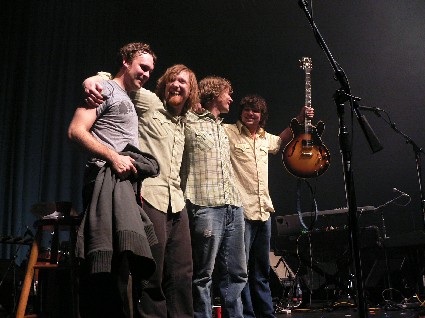 LOOK FOR TEA LEAF GREEN'S BOX SET, SEEDS, TO BE RELEASED APRIL 22, 2008
With a handful of hard touring years behind them, San Francisco's Tea Leaf Green has garnered the road experience and instrumental prowess to take their rock 'n' roll sound to the next level.   PopMatters' Greg Schwartz calls Tea Leaf Green "The heirs to San Francisco's jamrock crown" and notes the band's ability to "honor the past by using their influences as a launch pad to boldly explore new sonic territory."  
As they continue to come into their own in the live setting, Tea Leaf Green prepares to re-release their first three studio albums, Tea Leaf Green, Midnight on the Reservoir, and Living In Between, in their first ever CD box set.   Entitled Seeds, the release will be the first from TLG's new partnership with Surfdog Records . The scheduled release date is April 22, 2008.
In November 2007, after 10 years touring with Tea Leaf Green, bassist Ben Chambers left the band to pursue life off the road.   Now, Tea Leaf Green welcomes friend and colleague Reed Mathis (Jacob Fred Jazz Odyssey) to the TLG organization.   Audiences can experience Tea Leaf Green's electrifying live show this fall at theaters coast to coast. The current list of confirmed dates is as follows:
March 16-18 Jam in the 'Dam Amsterdam Netherlands
March 28 Stubb's BBQ Austin TX
March 29 Lakewood Theatre Dallas TX
March 30 The Meridian Houston TX
April 02 Soul Kitchen Mobile AL
April 03 WorkPlay Theater Birmingham AL
April 04 Rhythm & Brews Chattanooga TN
April 05 40 Watt Club Athens GA
April 16 Innsbrook Pavilion Glen Allen VA
April 17 Satellite Ballroom Charlottesville VA
April 18-19 Highline Ballroom New York City NY
April 20 Toad's Place New Haven CT
April 23 Revolution Hall Troy NY
April 24 High Fidelity Rochester NY
April 25 Higher Ground Ballroom Burlington VT
April 26 Paradise Rock Club Boston MA
April 27 UNH Solarfest Durham NH
April 30 Lincoln Theatre Raleigh NC
May 01 Neighborhood Theatre Charlotte NC
May 02 The Pour House Charleston SC
May 03 Variety Playhouse Atlanta GA
May 05 The Baby Grand Wilmington DE
May 08 World Cafe Live Philadelphia PA
May 09 8 x 10 Baltimore MD
May 10 Mr. Small's Theatre Millvale PA
May 22-23 Summercamp Chillicothe IL
June 01 Monterey Music Summit Monterey CA
June 05-08 Wakarusa Lawrence KS
July 05 ROTHBURY Rothbury MI
July 12 All Good Music Festival Masontown WV
July 25 FloydFest 7 – Family Affair Floyd VA
More dates to be announced.   Visit www.tealeafgreen.com for more information and updates.