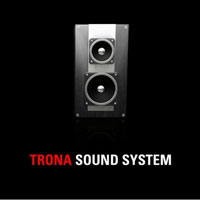 If you are old enough to have gone to the legendary Studio 54 in New York or adventurous enough to have experienced the new Studio 54 in Las Vegas then Sound System, the latest release by Trona, will have you twirling lights for hours.
This tribute to simple sounds made complicated by collaboration is meant to be played loudly as you visualize you escape from the noise that is life. Sound System offers several mood changes, while simultaneously maintaining up tempo breaks which are synonymous to the genre. The base lines, while heavy, do become redundant as you get deeper into the album. Trona never fully deviates from that basic kick, boom, and crash that reigns through out the underlay of this album.
Simple yet surprising vocals make this effort something to remember. The stand out single "Jaded Love" features a vocal variant of the 80's classic "Tainted Love". The song "Don't Remember" playfully speaks on what all of us have thought or wanted to say when some one approaches us at an event.
Trona's Sound System is a great substitution to the background music on your new video game. He definitely has laid the ground work for a bright future in the gaming industry. Unfortunately, no one has a prediction on how game sounds translate into record sales. The big question: Have you ever brought a full album after hearing a song on your favorite video game?
By Etcetera Carter