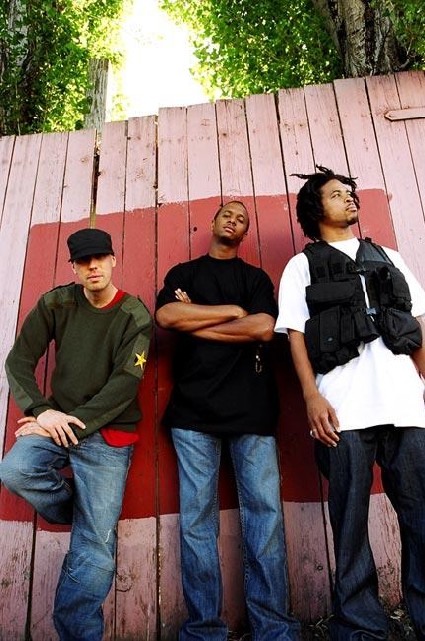 Good musicians express themselves through music. Great ones push themselves beyond the limits of what they have done before. And that's exactly what the Los Angeles-based Living Legends member The Grouch has done on his stunning new record, Show You The World. The 15-track album features guest appearances from neo soul singer Raphael Saadiq, hip hop powerhouse MURS, as well as Mike Marshall (Timex Social Club), Abstract Rude, Marty James (One Block Radius) and fellow Living Legends members Bicasso and Scarub.
On his first solo record in five years, The Grouch offers his usual well thought out, yet straight forward rhymes. But his production is more varied, sophisticated and polished than ever before.
Check out the video for "Artsy" here:
[youtube LCHV2I_Xog0 nolink]
"I worked on this record for almost three years," notes The Grouch of how he's developed as an artist. More, this record was an idea that sprang to mind after the birth of my daughter, Rio, in 2006. As soon as she arrived all I could do is think about wanting to show her everything that I love. I was quickly humbled when I realized I was learning as much from her as she was from me."
As a founding member of the original do-it-yourself rap crew, The Living Legends, The Grouch has been at the forefront of the west coast's independent rap movement for over a decade. The Living Legends continue to amass a devoted following of fans and have sold over 300,000 albums world-wide. As an artist outside the Legends, The Grouch has released 7 solo projects and 5 collaborative efforts including albums such as Fuck the Dumb (2000), Crusader for Justice (2003) and No More Greener Grasses (2004), and Heroes in the City of Dope (2006) with Bay Area stalwarts Zion I.
See the world through The Grouch's eyes this spring. Show You the World drops April 8th, 2008.
http://www.legendarymusic.net/
Track Listing:
01. Microphone Intro
02. Watch Watch (featuring Mike Marshall)
03. Clones
04. Artsy
05. Favorite Folks
06. Yardwork
07. God Bless The Elephant (featuring Abstract Rude)
08. Show You The World (featuring Raphael Saadiq)
09. The Bay To LA ( Featuring MURS)
10. Mom & Pop Killer
11. Never Die
12. Shero
13. Bring It Back
14. Hot Air Balloons (featuring Bicasso and Scarub)
15. The Time (featuring Marty J)
16. Breath