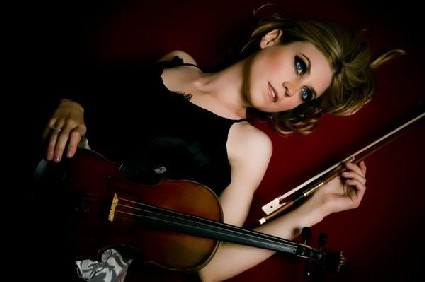 While Earning Heavy Critical Acclaim For Her Indie Debut 'String Music', Stafford Has Performed With MASS Ensemble (In Hong Kong, The Bahamas and Canada), Christian Artist Michael W. Smith And With Rap Superstar Kanye West At The Grammy Awards
 
A year after releasing her critically acclaimed indie debut String Music, Anna Stafford (www.annastafford.com) is busier than ever, caught in a crazy whirlwind of traveling and rocking like no other classically trained violinist fans have ever heard before.
Facing the future head on with a sense of optimism that her fascinating hybrid rock classical vibe will continue to capture hearts and spirits everywhere, she calls her latest CD Staring At The Sky. With kinetic song titles like "On An Airplane," "Arizona Washington" and "Oklahoma California" complementing the music's soaring melodies and percussive grooves, Stafford was heavily inspired by all the globetrotting she did as a first-call touring musician over the past year.
As a key ensemble member of the global multi-media music performance phenomenon MASS, she performed in Hong Kong for nearly three weeks; a party in The Bahamas for basketball legend Michael Jordan; and a show in Calgary. Her current itinerary is even more jam-packed, starting in Texas in March with MASS; the group is performing shows at the University of Texas in Tyler, Texas (March 4) and numerous indoor and outdoor shows for the opening of the Long Center for the Performing Arts in Austin from March 6-9. In May, she's playing 18 shows in Japan as part of a Los Angeles based contemporary tribute orchestra that performs the music of the legendary Percy Faith.
Stafford's schedule back home in L.A. has been equally full. Last year, just as String Music was being released, she performed at Staples Center with the multiple award winning Dixie Chicks at the Grammy Awards; this year, she was up on the Grammy stage again, playing behind Kanye West's memorable, multi-faceted presentation that included famed house music duo Daft Punk. At Christmastime, she played next door at the Nokia Theatre in an orchestra for Christian artist Michael W. Smith's holiday concert. Earlier in 2007, she headlined with her own music at the Los Angeles Art Show and did several local club gigs, including one at Molly Malone's.
Stafford's quartet also did a show for Ferrari in Pebble Beach, and she's working with instrument manufacturer Yamaha–one of her endorsers, along with Pirastro and Schertler–on a series of concerts for educators featuring String Music and the latest Yamaha four and five string models.
Stafford's been the go-to girl for everyone in need of an extra cool kick to their pop and classical music from the moment she moved to L.A. after receiving her Master's in composition from Arizona State in 2002. As a solo act or working with the string quartet she launched soon after she got to town, she's enjoyed a variety of multi-genre gigs: performing at the 2007 Emmy Awards Party, the Governor's Ball after The Oscars, the JC Penney Jam and the Grammy Awards; playing on TV behind pop superstars LeAnn Rimes, Andrea Bocelli, 3 Doors Down, Mary J. Blige and Kelly Clarkson ("The Tonight Show," "The Early Show," "Good Morning America"); performing in Europe and the Middle East–including a recent tour of churches in Salzburg, Vienna and Budapest; and playing onstage with Thrice, 30 Seconds To Mars, Jack's Mannequinn and the legendary Steve & Eydie. She's also done arrangements for the documentary "Alexander The Great" and the short film "Well Sooted."
Both live and on String Music, Stafford performs on a 2006 David T. VanZandt violin (whose style is based on the legendary work of the Italian Guarneri family in the 17th and 18th centuries), an 1813 Wilkenson and Perry Irish Fiddle. For rock gigs, she performs on Ned Steinberger electric violins and will soon be using a 5-string NS model.
"There's always a risk involved when you try to forge a new path and invent something of your own style," she says. "But from the time I took my first violin lesson at age nine, I was trying to integrate my love for rock into the classical. I know that classical crossover was a big thing in rock music years ago, so it's not like it's a completely new concept, but in a way it's still experimental. I feel it's always worth taking the chance because it's the only way I have to truly define myself. It's really exciting hearing the way it's turned out and getting such positive responses."
While working on Staring At The Sky with her cellist husband John Krovoza at their Stringvision Studios in Pasadena, Stafford got a kick out of the incredibly diverse press reviews she was getting for String Music. Everyone loved the CD, but some critics didn't know just how to peg it–was it classical? Rock? Rock classical? All of the above?
"I actually enjoy the conversation my music sparks as listeners debate over what it is," she says. "Everyone wants to go the simple route of categorizing music in specific genres, and I love creating a sound that breaks the mold and makes people ask, what is this? Some love it immediately, others get it eventually after asking, just what do you call it? My goal in writing and producing the music on Staring At The Sky was to keep this mixed vibe going but contrasting the more uptempo songs with gentler, more contemplative pieces like 'Arizona Washington' and 'In The Back Of My Head.'
"The other difference was the spirit of improvisation," Stafford adds, "which may actually add a touch of jazz to the mix! On String Music, everything was written out very specifically before I recorded it but this time I allowed myself some freedom by improvising some lines over the basic chords and melodies. I feel like all of my work with other artists is like training for me to write and perform my own music. I love taking all of the ideas and skills I've developed playing with these performers and putting them down creatively in my own context, with my own feelings and ideas. I like to develop my own style with each album and in turn share that with the artists I work with."