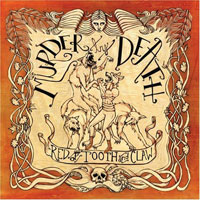 When you reach a certain age, being the emo kid starts to get lame so it's nice when your favorite bands grow as you do. Such is the case with Bloomington, Indiana's Murder By Death. From their 2000 debut to their newest offering the musical modus has stayed the same, but the character has matured. This is devastatingly clear on their fourth long-player, Red Of Tooth And Claw.
Adam Turla's troubled vocal now resurrects the late Johnny Cash or a manic Tennessee Ernie Ford and the result is remarkably poignant. In pure MBD fashion, the songs maintain apocalyptic narratives, but this time around are focused on one man's vita rather than global cataclysm. Especially on the album opener, "Coming Home" ("Crawling on all fours / I'm coming home / Turning brick walls into doors / I'm coming home") and the climax, "Spring Break 1899" ("And I jumped off the interstate to Highway 8 / To the bars full of girls who all know me by name / They all drink the same drinks / They all fuck the same").
Red Of Tooth And Claw is American Gothic noir in its purest form, setting the bar a notch higher for narrative-driven indie rock and Americana bands for years to come. If only more bands could evolve as naturally and stylishly as Murder By Death.
By Brian McKinney