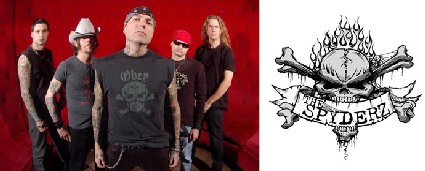 Give it up, Justin Timberlake–and leave it to the rock and rollers to bring sexual feelings back to the music. Not that they ever lost it in the first place. With the launch of the explosive outlaw rock band The Spyderz   www.myspace.com/thespyderz, former Biohazard www.biohazard.com lead singer and bassist Evan Seinfeld brings a much-needed infusion of erotic energy back to the stage, and he's taking no prisoners.
As the husband, best friend and manager to Tera Patrick www.terapatrick.com, the exotic multi-media sensation and indisputably the world's #1 adult film icon, he's not only the luckiest guy in the world, but the embodiment of the Rock star-Porn star lifestyle. The Spyderz are the musical extension of the man living everyone's dream, the soundtrack to what is hot in rock today and the perfect backdrop to all things sexy and wild.    
The band's raucous, SRO performances everywhere from New York to L.A., Vegas to London and Amsterdam–and their scorching signature riffs, marching rhythms, infectious hooks and anthemic vocals–have earned them raving sonic comparisons to Black Sabbath, Stone Temple Pilots, Guns N' Roses and The Misfits.
Evan's reinvention as a modern day next gen rocker with roots in the classic rock he grew up with has already been a bona fide hit on slates with Ozzy Osbourne, Iron Maiden, Megadeath and Motorhead (who shared the bill at Holland's big Fields of Rock Festival) and Dave Navarro, Tommy Lee and Everlast (who also played at the grand opening at the Starlight Tattoo shop at Mandalay Bay). The Spyderz made their debut in Long Island last year opening for Buckcherry.
Evan's connection to Navarro extends to other media as well. The former Jane's Addiction and Red Hot Chili Peppers guitarist is an exclusive in house director at Teravision, the $20 million company adult film company launched by Evan and Tera. The Navarro directed "Broken" won an AVN (Adult Video News) award for Best High End All Sex Feature.
Along those lines, The Spyderz perfect fuse the realms of rock and raciness. For   all the critical raves about the music, Evan is just as excited about The Spyderz' over the top live presentation which includes hot modern go-go dancers doing their thing, spinning on poles behind him as the band jams. Several times, Tera has made impromptu appearances onstage, dancing in lingerie from her newly launched, insanely hot Mistress Couture line.
"There's this huge void in the music scene today," Evan says, "all these boring alternative and emo rock bands with no sexual feelings in their music, just dudes wearing ugly   clothes from Hot Topic. Back in the day, Guns N' Roses and Motley Crue were all about hot chicks, but for some reason now it's become taboo. All the fun stuff is in the hip-hop world. With The Spyderz, I want to get things back to normal while also finding new ways to express myself musically. We're all about all the things I love: the sexuality of beautiful women, freedom, motorcycles, choppers, hot rods and muscle cars. This is fun music for guys who like sex and rock and roll. I've directed some of Tera's recent films and I'm excited about shooting a video for The Spyderz now. It's the the best of both worlds."
A much needed infusion of musical sexuality is not the only thing Evan's bringing back in 2008. He's also excited about celebrating the 20th anniversary of his original band Biohazard, which earned global acclaim, multi-platinum sales and years of world tours–to the tune of 250 concerts annually–opening for superstars (David Bowie, RHCP, KISS, Ozzy, Black Sabbath, etc) with its intense fusion of aggressive hardcore, punk and thrash metal, socio-political commentary and authentic hip-hop textures. Though Biohazard enjoyed a 15-year-run of best selling albums on labels like Roadrunner, Mercury and Warner Bros., this spring's high profile tour will mark the first dates featuring the Brooklyn-bred band's original lineup since 1995.
In April, 20 years to the day that Biohazard recorded its first demo, the reunited band launches six sold out arena shows Down Under, opening for Korn in Perth, Sydney, Brisbane, Adelaide, Melbourne, Sydney and Auckland, New Zealand. After a show May 17th in Sao Paulo, Brazil, they're scheduled for a slate of shows in the New York Tri-State area in June, major festivals in Amsterdam and Germany in July and major shows in August and September all across Europe.
"Here's the major difference between Biohazard and The Spyderz," Evan says. "Biohazard was my brainchild when I was in Brooklyn, running around with hooligans, a troubled kid growing up around traumatic social happenings like race riots, gangland murders and drugs. I was in a dark place mentally and emotionally when I started the band, and the hardcore music was a positive release for all my negative energy. The songs were very socially active and political. We sang about huge issues like government conspiracy, racism and class structure. The Spyderz is a big departure from that vibe that draws on my first love, classic rock, bands like The Doors, Stones, KISS, Zeppelin, Beatles and Hendrix. Biohazard was really hard while The Spyderz' music feels heavy emotionally but is still melodic. I always wanted to just sing radio ready songs people could sing along with, so the new group is really satisfying a huge piece of creativity for me."
It was only a matter of time (and Tera's strong encouragement) before Evan re-embraced his lifelong love for making music. But The Spyderz is just the latest of an insanely cool list of creative outlets that the outlaw Renaissance Man has enjoyed over the years. As an actor, Evan has appeared in dozens of films, but he's best known for his role as badass inmate Jaz Hoyt on the critically acclaimed HBO drama "Oz" for five seasons. Hooking up with Tera in 2002, Evan became her full time manager and the two began breaking new multi-media ground in the adult film business; they married early in 2004 in a secret ceremony in Las Vegas.
The two launched their production company Teravision, a top adult studio where glamour meets hardcore, into one of the industry's most successful. Teravision produces high-end glossy vignettes and features in high definition. Content is available in every conceivable medium–DVD, Blu-Ray, TV broadcast, Pay Per View, Internet, mobile phone downloads–while remaining on the cutting edge of emerging formats. With Teravision, Evan also directs and performs under the name "Spyder Jonez," (see the connection?) and he has produced a growing number of #1 hit movies, including Reign of Tera, Teradise Island and the new Teradise Island 2. Everything Evan and Tera can be accessed at www.terapatrick.com.
An accomplished photographer, Evan's works have been featured on the covers of Playboy, Penthouse, Maxim, FHM and Genesis, which Tera has been publisher of for the past four years. He has also written for many publications, including an ongoing column for Stuff magazine ("The Sausage King of Brooklyn") and has directed several music videos. He also designs and partially builds custom cars, hot rods and choppers and presides over a growing, immensely cool and eclectic car collection.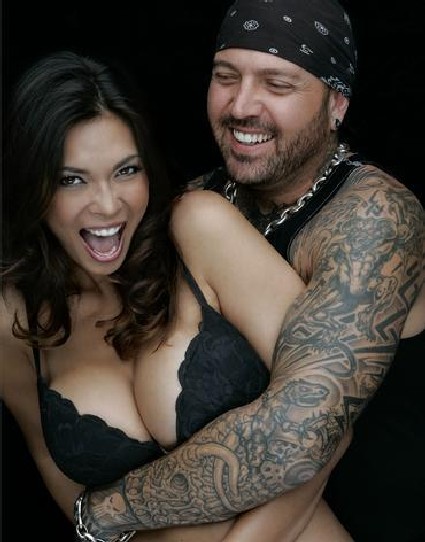 Beautifully blurring the lines between rock, adult and mainstream celebrity Evan and Tera–who are currently working on a book and TV pilot about their unique life, both titled "Rock Star Porn Star"–appear on red carpets throughout the world. "Many married couples pay lip service to the idea of being married to their best friend," he says, "but Tera and I truly are. We both want the same things in life, and are there to support each other and make things happen. By building Teravision into a multi-million dollar company with just an idea, no outside investors and circumventing corporate America, we have also created a true American success story that we hope will inspire others to go after their own dreams."  
BIOHAZARD Dates with KORN:
 
April 15 – Perth, AUS – Robinson Pavilion
April 17 – Adelaide, AUS – Entertainment Centre
April 18 – Melbourne, AUS – Vodafone Arena
April 20 – Sydney, AUS – Entertainment Centre
April 22 – Brisbane, AUS – Riverstage
April 24 – Auckland, NZ – Vector Arena
May 17 – Sao Paolo, Brazil