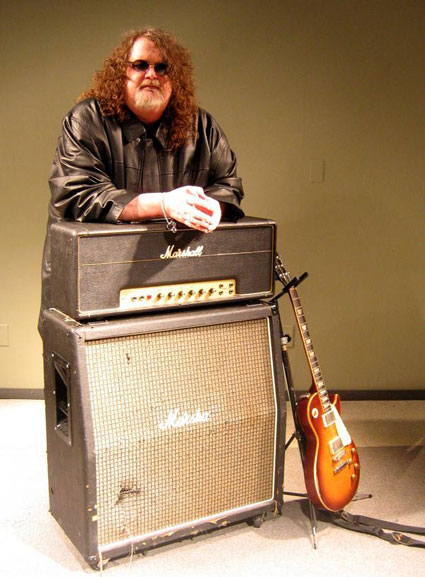 Darryl St. John picked up a guitar at age 21. From this early experimentation with a Gretsch Tennessean, he has made an unforgettable imprint on the music scene. An ad posted on the bulletin board at a Tech School for a guitarist led to Darryl's first band, Junction. Part-time shoe salesman and guitarist, Darryl's first professional gig was on July 4, 1971 in Escanaba, Michigan. A disastrous car accident in April '72 put Darryl in the hospital for months, and Junction was disbanded. Released in November, he soon formed another band, Atlantic Mine. After undergoing some renovations, Atlantic Mine found their niche doing covers in the clubs, noted mainly for their Led Zeppelin repertoire. During this time, they also began introducing some of Darryl's original songs. The band developed a friendly rivalry with Cheap Trick and often played the same venues until a series of personal tragedies among the band members forced them to disband in November '77. A period of serious introspection after the breakup of Atlantic Mine convinced Darryl that a move to New York City was the next step in his career. He and a vocalist friend were defeated by the explosive punk rock bands that had recently overwhelmed the New York music scene, and he returned to the Midwest and retired from music for 3 years. He ended this hiatus by playing with the band Metamorphosis, and was soon back into the groove of being a professional musician.
In the band "Metamorphosis":
"Having a partnership between he and his guitars few musicians have, he adds a new dimension to a rock band using special effects and special ability. Upon seeing Darryl play you will not be disappointed. The term High Energy is a well-worn phrase, but watching Darryl, the term takes on a whole new meaning. He has incredible power in his playing that is definitive."
—The Green Bay News Chronicle
A musician's search in '83 teamed Darryl up with a drummer from New Orleans and Tears was formed, complete with keyboards, doing 80's covers and some originals. In '85, Darryl was offered a job with Dazed & Confused, a new Led Zeppelin tribute band from Milwaukee. He left Dazed & Confused in '86 to form local band Red Light Fright.
In '89 Darryl moved to the San Francisco Bay Area and created a name for himself at the clubs playing jams. His talent and unique style attracted the attention of Neal Schon, Steve Perry, Peter Tork, Ronnie Montrose and Davey Pattison, among others. He was invited to play with Neal Schon as a regular, and joined Davey Pattison's band. During this time he also recorded an album with the band Alcivar, whose members were from Montrose, Robin Trower, Sammy Hagar and Gamma.
Darryl's debut in San Francisco:
"San Francisco's audiences and artists have been dazzled by his lightning and soulful guitar virtuosity. Darryl St. John is an extraordinary artist."
—Barbara Mauritz, Promoter, City Life Productions
When Davey Pattison rejoined Gamma in '92, Darryl returned to Wisconsin. He joined Black Dog and within days began working the club circuit, including a 2-month stint in Canada.   The band upkeep and hectic touring schedule led to the breakup of Black Dog, and Darryl took a sabbatical, using the time to rediscover the acoustic guitar, and compose new songs. Over the next years he experimented with acoustic formats and different local musicians, including work with Acoustically Speaking and Dog & Shovel. The only electric project was Northern Distortion, a showcase of some of the area's best guitarists.
Darryl says his musical inspirations were Jimmy page, Jeff Beck, Eric Clapton, John Sykes, Leslie West and Ronnie Montrose.   "My greatest experience performing was playing with Davey Pattison and Bill Lordan (both from Robin Trower Band)."   His next project was Acoustic Solo, featuring classic rock in an original format.   He has played in gigs with The Blue Cats and The Dave Steffen Band. A comprehensive sampling of Darryl's writing and electric and acoustic guitar work can be heard on The Basement Tapes, a CD that covers a variety of recording sessions over the years.
Darryl's Classic Acoustic show:
"Classic rock is a type of music most often associated with loud guitars and strong vocals. Darryl St. John, a solo performer, provides those strong vocals, but gives fans a taste of their classic rock favorites in a slightly different way, unplugged."   "St. John plays an alternately mean and subtle guitar, as well as bass pedals."
—The Green Bay News Chronicle
When asked why he ended the Acoustic career Darryl said, "I stopped playing out acoustically for a number of reasons. But in a word I just sort of phased it out in hopes of doing something else.   I wanted to mainly do recording, studio work etc. for other artists. Once I landed some work for various artists, starting with maybe one or two songs or so, my ideas grew to include whole CD's for people.   One kind of led to another. I've done 3 whole CD's now for others. This really led me to getting off my good intentions and finally doing my own CD. I started last May-the sixth to be exact, and the CD was just released on Feb. 29th. I made a point of getting it finished on that particular day —Leap year, I thought maybe some cosmic luck could come of it."
 About his new CD, War of Blue, a fan posted, "If you love the music of Deep Purple, old Aerosmith, Led Zepplin, Jeff Beck, Jimmy Page, Ronny Montrose, and (definitely the sounds of Mr. Darryl St. John, himself), this CD will blow your socks off!!!!     I asked Darryl what he wants listeners to get from his music and he said, "A good enjoyment and musical experience. I hope listening to my new CD, War of Blue, ignites the emotions and atmosphere of each songs intent."   He says he plans to play his guitar and make music until the day he dies. Joining up with Darryl (Guitar and Vocals) on War of Blue are Michele Mc Carthy (Vocals), Marc Golde (Bass and Keys), Zak St. John (Drums) and Greg Theil (Drums).   Darryl said, "The participation of my son Zak, as a father and son making music, is the heart of this project.   He is my dream drummer!"   "Zak has been included in my music in every way I could involve him. I had him come out on stage starting at age 3.   I got him a toys r us cardboard kit and he would bring that out on stage and play a song or two with my bands or acoustic act as well.   As he grew his drum kits grew and he really got the bug big time to be a drummer.   People like Bill Lordan (Drummer — Robin Trower) really helped him along".     Bill Lordan said, "Darryl, a unique guitar player, is a good friend I met through Dave Steffen.   I played and recorded a number of CD's with Dave Steffen."   "His son Zak is a great drummer that I was fortunate enough to mentor on occasion while I was with Dave."   Says Darryl, " Jason Bonham took a like to him as well.   A jam band I threw together had an opening for him.   So high school became college and in the summer or during school holidays when he was home, we would go out together and sit it with any band I felt comfy with. We started two of our own bands in the last couple of years only to have the usual band problems keeping it together. All attempts failed. So when I decided to do the War of Blue CD only one drummer could fill the bill.   Last January Zak moved to L.A .     He came home for a visit in May and that's when I booked the original studio time.   He laid down the drums for the first 6 songs at that session.   I didn't have a band and intended to do it myself (bass etc.) but the owner engineer of the studio was so wowed by Zaks drumming and my songs and playing he wanted to come on board.   At the last minute possible, after months of looking for the right singer, by pure luck I met Michelle. I knew immediately she was the one. She had not played in a band ever and only sang karaoke a little. A long time fan told me about her. And then a band was assembled."
"War of Blue has high energy Rock with great guitar playing.   The Engineer, Mark Golde, got them a state of the art sound." — Bill Lordan.
The CD is a mix of Darryl St. Johns originals and remakes of a few songs.   'Well, Well, Well', one of St. Johns, reminds me a lot of Led Zeppelin with a powerful guitar and haunting singing.   The CD is packed with bluesy rock.     I personally love what he did with 'Town Without Pity' (remember Gene Pitney?).   He turns it into an instrumental classic.     The title song 'War of Blues' has a taste of the 70's with a psychedelic sound and deep lyrics.   The mix is great on this one; it's sort of a folksy rock.
At the moment there is only one place you can buy War of Blue and that is from Darryl himself.   You can send him a message at www.myspace.com/darrylstjohn.