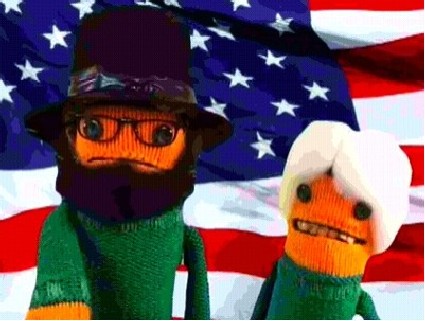 New record, new tour spark Giant Fever across America!
They Might Be Giants' latest disc, Here Come The 123s, is dominating   the charts! The CD/DVD set debuted in the top ten on Billboard, and at   number one on Amazon where it still currently resides weeks later.   Sales have been so strong it has buoyed their precious kid's effort, Here   Come the ABCs, back up the chart where it is now number two! This puts them ahead of kids' media beheamonths Hannah Montana and Kidz Bop!
TMBG is on a new leg of their 90 city nation-wide tour, out in support of both the new album and their critically acclaimed "The Else," produced by the Dust Bros.   The band has been playing sold out shows for 14+   crowds across the Midwest last week, and are on to Florida and Texas.
Two special kids shows have been added: Portsmouth, NH on 3/29, and New York, NY on 4/20. Check below for full list of dates.
Finally, TMBGs Friday Night Video Podcast for Families (we know it's   too long a title!) is turning into a national favorite, routinely popping   up in the top ten on iTunes' music podcast chart with hundreds of thousands of subscribers. The podcast is free, and features brand new videos every week. It's hosted by the John and John puppets (seen above celebrating President's Day).    
This is the link. it's one click away!
http://phobos.apple.com/WebObjects/MZStore.woa/wa/viewPodcast?id=268647482
THEY MIGHT BE GIANTS TOUR DATES
All shows 14+ except Portsmouth and New York
03/04:     Dallas, TX @ House of Blues
03/05:     Austin, TX @ Stubb?s
03/06:     Houston, TX @ Meridian
03/07:     New Orleans, LA @ House of Blues
03/08:     Jackson, MS @ Hal & Mal?s
0309:       Birmingham, AL @ Workplay
03/11:     Tampa, FL @ Jannus Landing
03/12:     Fort Lauderdale, F L@ Revolution
03/13:     Orlando, FL @ House of Blues
03/14:     Jacksonville, FL @ Free Bird Live
03/15:     SOLD OUT Atlanta, GA @Variety Playhouse. Second show added at 5:30
03/16:     Charlottesville, VA @ Satellite
03/28:     SOLD OUT Boston, MA @ Somerville Theatre
03/29:     Portsmouth, NH @ The Music Hall (Family show 2pm, Adults 8pm)
03/30:     Burlington, VT @ Higher Ground
04/20:     New York, NY @ Town Hall (2 family shows, 1 PM and 4:30 PM)