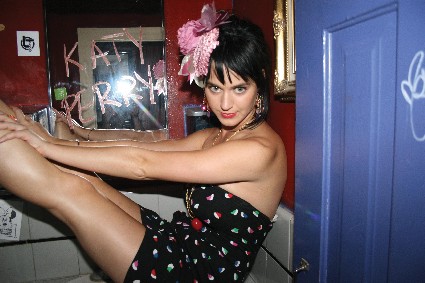 Capitol Music Group has already released a digital EP from pop-rock songstress Katy Perry — entitled Ur So Gay — through iTunes and other online retailers. The Ur So Gay EP includes the title track, a hilarious kiss-off to an ex- boyfriend; a club remix of the song by DJ/producer Junior Sanchez (Madonna, Shakira); "Use Your Love" (new version of The Outfield's hit single "Your Love"); and "Lost," an honest, searching ballad that shows a more vulnerable side of this talented, multi-dimensional artist who, though she's only 22, has been writing songs, playing guitar, and performing for several years.
Check out "Ur So Gay"
Ur So Gay (Explicit)
Ur So Gay (Clean)
The video for "Ur So Gay" will be premiering on MySpace on Thursday, March 13th
The middle child of two pastors, Perry grew up listening to gospel music and singing at church in Santa Barbara, CA, but "the heavens opened my eyes w1hen I stumbled upon a Queen record and I was forever saved," she says with a laugh. "Their musicality and lyrics were so flamboyant and fun and cheeky, I'd never heard anything like it before. I think I draw from wanting to be Freddie Mercury."
Indeed, Perry's theatrical flair and irrepressible sense of humor come through loud and clear on Ur So Gay, which is just a taste of what the public can expect when Perry releases her debut full-length album in Spring 2008. Working with an array of noted producers, including Glen Ballard (Alanis Morissette, No Doubt), Dave Stewart (Eurythmics), Dr. Luke (Kelly Clarkson, Avril Lavigne), Butch Walker (Pink, the Donnas), and Greg Wells (Mika, Natasha Bedingfield, Rufus Wainwright), Perry delivers her feisty, confessional songs with the confidence of a veteran storyteller. "Every single one of my songs is drawn 100 percent directly from my life" she says.
To get to know music's new "It" girl, please visit her official website http://www.katyperry.com or MySpace page http://www.myspace.com.katyperry