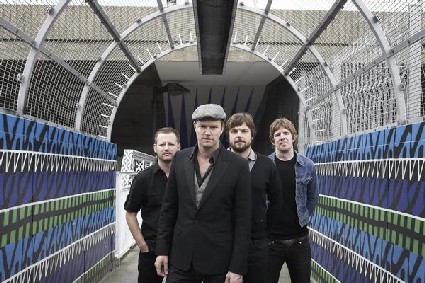 Dentyne Ice "Frog Kiss" Prime Time Ad Campaign Featuring Ben's Brother's "Kiss Me Again" Currently Airing
Do you know who provided the inspiration for The Knack's 1979 smash-hit "My Sharona"? Or which hair-metal band wasn't "fooling around" with its 1983 hit single?   Can you name the artist that's "bad to the bone"? Relentless Records/Capitol Music Group recording artist Ben's Brother and Dentyne are asking fans to take a music trivia quiz to test their music knowledge.
Last September, Dentyne tapped Ben's Brother's hit single, "Kiss Me Again," for its use in the much-talked-about Dentyne Ice "Frog Kiss" television commercial. The single has had remarkable digital sales success fueled largely by the commercial, which is currently airing during popular network primetime shows such as "American Idol," "Lost," "Gossip Girl," "Lipstick Jungle," "America's Next Top Model" and   "One Tree Hill," among others. You can check it out here:
[youtube wiW4ZMqwvgg]
Following the massive response to the advertising campaign, Dentyne and Ben's Brother decided to further develop their relationship through an online campaign focused on a flyaway contest, free downloads and a music quiz.
Just for hanging out on the site, Dentyne is offering up the tracks "Kiss Me Again" and another fan favorite, "Let Me Out," as free downloads via iTunes. In addition to testing their music knowledge and scoring free music, fans could enter to win a chance to see Ben's Brother perform in Austin, TX at the Levi's Fader House. Sponsored by Dentyne, the contest has garnered more than 8,000 entries. The winner and a guest will receive an all access pass to the SXSW music festival, airfare, hotel accommodations, VIP treatment at the Levi's Fader House – and they get to meet the band!
The quiz, contest and free downloads are all part of a unique, multi-platform "widget," which functions on Facebook, MySpace and other social networking pages, giving fans the opportunity to share it with friends and even grab it for their own homepages. Fans can grab it here:
http://www.bensbrotherdentyne.com/
Ben's Brother will join with label mates A Fine Frenzy and Ferras for a string of West Coast shows next week (see below for details), then head to Austin, TX for the South by Southwest (SXSW) Film and Music Festival, where they'll perform at Smokin' Music on March 12th and at the Levi's Fader House on March 13th. Past performances at Fader House have included Amy Winehouse, Ghostface, Feist and The Fratellis.
Growing up in London, singer Jamie Hartman was known as Ben's brother – Ben being his cricket-star elder brother. But that all changed with the December 2007 release of Ben's Brother's full-length debut, Beta Male Fairytales. Jamie and his band mates – Kiris Houston (keyboards/guitar), Dan McKinna (bass), Dave Hattee (drums) and Tim Vanderkuil (guitar) – have received rave reviews for the album, which includes "Kiss Me Again" plus a dozen other equally irresistible compositions ranging from the old school soul of the anthemic "Rise" to gloriously vulnerable ballads such as "Let Me Out" (which was tapped for the Thanksgiving episode of the hit ABC series "Grey's Anatomy"). "Hartman…knows his way around a beautiful chord progression and an emotive lyric," said London's Sunday Times, going on to describe the band's songs as "immaculately rough-hewn."
Ben's Brother – West Coast Tour Dates
3/4         San Francisco, CA                             Café Du Nord
3/6         Portland, OR                                       Doug Fir Lounge
3/7         Seattle, WA                                         The High Dive
3/8         Vancouver, BC                     Media Club
3/12       Austin, TX                                           Smokin'Music (SXSW – midnight)
3/13       Austin, TX                                           The Fader House (SXSW – 1:30pm)
3/14       Austin, TX                                           The Four Season's Lawn (SXSW – 1:15pm)