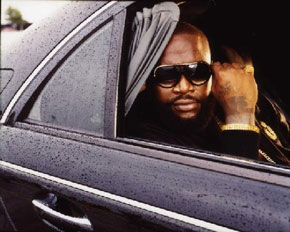 "THE BOSS" FEATURING T-PAIN IS NEW SINGLE, BULLETING UP URBAN AND RHYTHMIC RADIO CHARTS, WITH 17 MILLION AUDIENCE AT HOT 100
Slip N' Slide/Def Jam recording artist Rick Ross, who rose from ruling the underground rap scene in Miami, to becoming 2006's buzz-worthiest hip-hop artist with his #1 Pop/#1 R&B/#1 Rap major label debut album Port Of Miami — returns with TRILLA, the long-awaited follow-up and one of 2008's most hotly anticipated new releases, set to arrive in stores March 11th.
Busting open Urban and Rhythmic radio for TRILLA is Rick's new single release, "The Boss," featuring T-Pain.   "The Boss" was produced by JR Rotem, L.A.-based hitmaker for Sean Kingston, The Game, Snoop Dogg, Jennifer Lopez, Chamillionare, and others.   The new single moves up to #20-bullet on both the R&R/BDS and Mediabase Urban charts.The song's Hot 100 audience is also building, now at 17 million with 2,300 spins.
The streets couldnt wait for new music from TRILLA, as two bangers hit the blogs last week with a flurry of anticipation: "Maybach Music" featuring JAY-Z, and "Luxury Tax" featuring Lil Wayne, Young Jeezy and Trick Daddy, both produced by Justice League.
With "The Boss" video charting at #9 on BET's "106 & Park" countdown last week, Ross headed out on a whirlwind promotion, starting in Chicago, then making stops throughout the South in Memphis, Atlanta, Chattanooga, Birmingham, Columbus, Montgomery, Greensboro, Raleigh, Washington DC, Charlotte, and Columbia, South Carolina.   He is scheduled to appear on ABC's Jimmy Kimmel Live next Thursday night, March 13th.   Online, his personal "TrillaWorld" blog is in its third week of operation.   His http://www.myspace.com/rickross website shows more than 13.9 million profile views, and over 357,000 friends, with an amazing 22.4 million total plays.